The dining room is the most special space for every family, because it is a place for the family to share food and chat. Whether it is during the epidemic or not, family dinner plays a very important role in our life. You must hope to improve the beauty of your restaurant as much as possible,
Nowadays, the decoration design of industrial style is very popular. In order to attract customers, many restaurants will choose the popular metal wire dining chair with industrial style theme.
Iron dining room tables and chairs, durable and fashionable! Compared with wooden iron dining tables and chairs, iron dining tables and chairs may be more durable than wooden ones. After all, iron makes people feel stronger. In addition, the beauty of metal dining tables and chairs is also in line with the aesthetic vision of modern young people, which can create a fashionable and generous effect.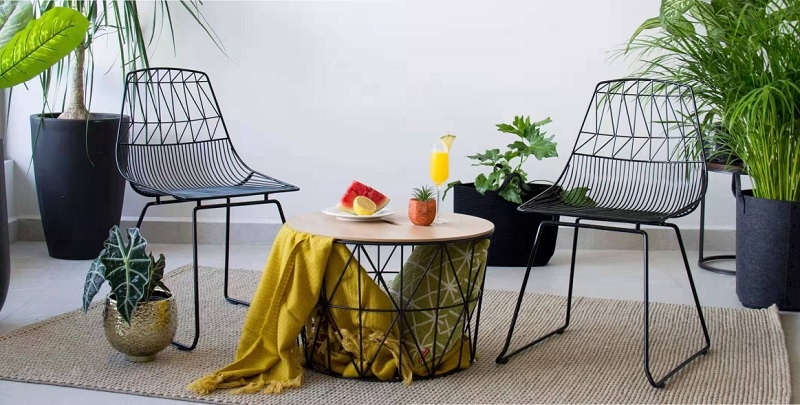 At present, there are more than 200 styles of iron line restaurant furniture produced by MAKA furniture. These iron wire furniture contains different ideas. Steel bars can be mixed with small side tables, all kinds of creative hollowed out iron patterns, and all kinds of smooth curve and creative modeling in line with ergonomics.
The hardware part of the iron style dining chair is mainly made of iron. The connection part is processed by welding process. After welding, the hardware chair frame will be polished. This not only makes the details of the iron retro dining chair look more beautiful, but also makes the hands more comfortable on it. After grinding, the hardware chair frame will be pickled, which is very important to ensure that the paint surface will not fall off easily on the metal frame. After that, the surface of the iron dining chair was painted. The cushions of iron chairs are usually made of leather, which can make people sit more comfortable. You can mix and match the cushions of the same color or different colors with the chairs. In this way, the dining chairs made in this way are more personalized and can make people have a sense of curiosity. Bring a modern and extraordinary effect to the surrounding environment.
The iron wire dining chair has a sense of industrial design, which can relieve people's pressure. The metal wire chair has a classic and generous atmosphere. The metal wire chair has a good balance and stability. It can be placed in any situation, with curtains, carpets, hangers, lamps and lanterns. In addition, it is equipped with personalized tea table and balcony flower rack, which makes the decorative furniture become flexible and full of passion.

A set of good dining table and chair can be used, and the dining environment is more comfortable. A family will chat after dinner, and the dining table and chair will directly affect the happiness of family members when they have a meal and chat. The selection of dining chair size can be summarized as follows:
1.The seat surface height of dining chair is 45cm, too high feet can't touch the ground, too low will make sitting posture uncomfortable;
2.When the tables and chairs are used together, the height difference between tables and chairs should be controlled within the range of 28-32cm.
The metal meal produced by Mark furniture has passed the test report of EU standard. The stability of the chair back, the edge of the chair and the leg of the chair have been tested. The bearing capacity is 300kgs,
We have strict quality requirements for the spray painting of chairs. All of them adopt EU standard green environmental protection paint, which is smooth but not loose, with strong adhesion and gloss. The paint and Pu cushion are lead-free, mercury free and orthobenzene free. They are absolutely environmentally friendly, making you feel more comfortable when using them.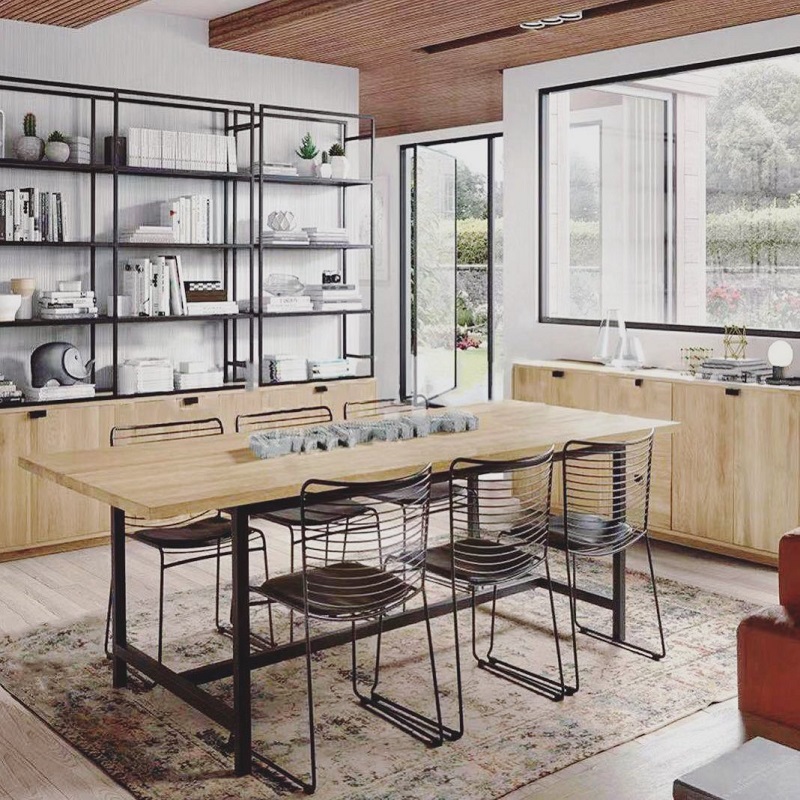 The curved metal branches form an organic shape, while the simple shape has complex structure.
The chair has a strong sense of sculpture and the dynamic shape created by metal wires. From any angle, you can see the smooth curve and perfect space surface of the work. Many foreign designers even use it as modern sculpture works.
The whole body is made of solid iron wire welding and spray molding. It has good toughness, high stability and is not easy to rust. Although it is made of metal, it is very comfortable to sit and fit the curve of human body. With anti-skid foot pad to protect the carpet from damage.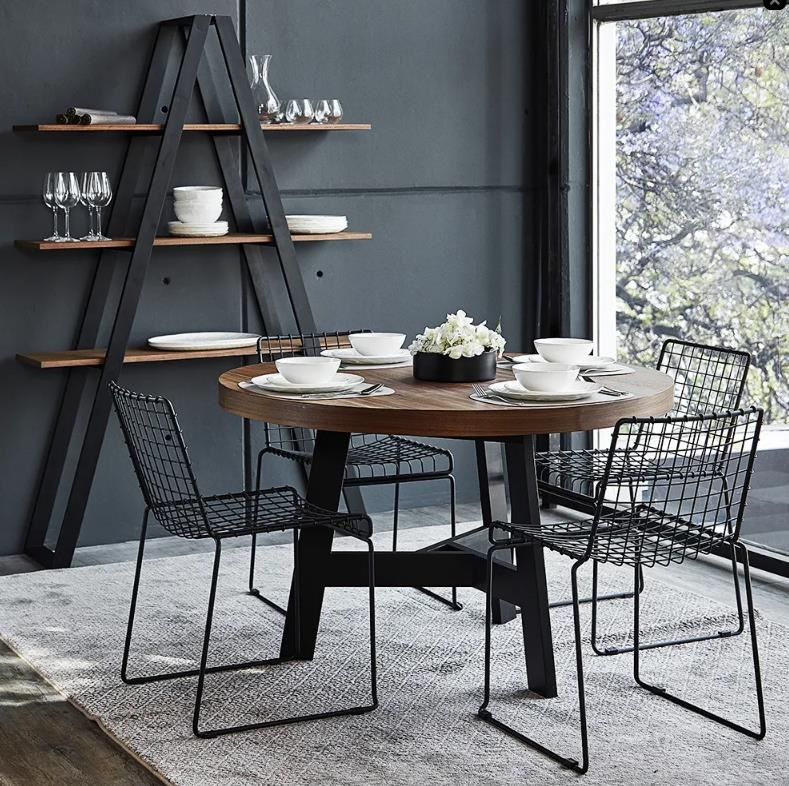 The most special feature of this dining chair is the large arc back, which is comfortable to lean on. Iron chair foot, load-bearing, antiskid plastic foot, easy to move. One color, one thought, one realm. Make a cup of original coffee and enjoy a person's comfort in the clear space. It is born with a natural charm into every family.
The back shape of the dining chair can increase the comfort of sitting. The simple shape is unforgettable. In line with the principle of ergonomics, let our body more comfortable and relaxed.
The chair surface is comfortable and wide, which is more suitable for our buttocks. Every day, there are always some time to stop busy pace, relax, think for a moment, and the real happiness is that every corner of the home can let us stop and have a rest.
The reason why this chair became a best-selling model has a lot to do with the unique design. This kind of grid design has always been a popular trend. It not only makes the space full of fun and creativity, but also easily combines with the space of different themes. The black or white effect looks very grand and grand, compared with the traditional wooden furniture, upholstery furniture and metal wire We believe that the hostess of every family wants to have a relaxed, harmonious and personalized atmosphere.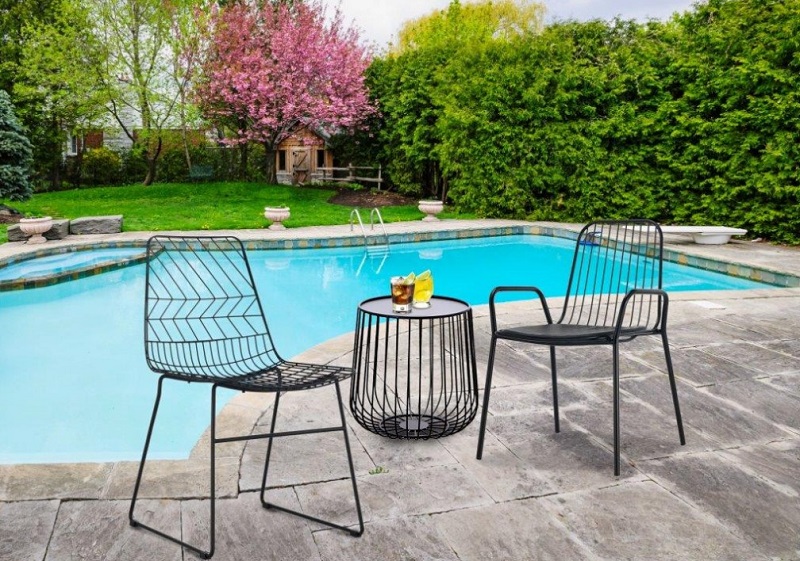 In addition to the family decoration often used iron chair, the most widely used is outdoor garden, outdoor restaurant, outdoor cafe, home balcony combination, is also more and more popular style in recent years. For outdoor iron wire chair, the chair is polished after welding and then coated with a layer of electrophoresis.
This technology is similar to the anti rust treatment of automobile surface. After electrophoresis, three layers of outdoor environmental protection paint are sprayed, which increases UV and UV protection.The color of chair is more natural and the adhesion of paint is stronger.
Therefore, we specially make the chair commercial stand outdoor test en 581 has accurate test on the strength and color fastness of outdoor chair, so the chair has double protection. First, electrophoresis does not rust; second, outdoor paint does not fade. It is very safe to use it in outdoor restaurants.
We know that the global economy is recovering from the recent covid19 epidemic, and we have tailored some solutions for our customers:
If you are a small retailer or middleman: if you have not tried, you can choose trial order. We offer no MOQ, any number can be selected.
If you are an importer or wholesaler: want to place an order for 40hc or 20gp, the delivery time will be very fast. The wire chair is about 20-10 days.
If you are in the trial sales stage and don't know the furniture: we can send you the test report and the first-hand details of the chair and the production process, so that you can also recommend to your customers, which will be more professional and helpful to your sales.
If you are an e-commerce company, we can customize the packaging method for you and make temporary inventory, so that you can replenish the online platform at any time.
If you are a retailer or a Chinese agent: you still feel that you want to see the actual sample, it doesn't matter. We are ready for you, you can contact our sales department to leave detailed contact information and address, and we can distribute the samples for you free of charge.
If you are a private owner: there is a sample room, we suggest you can choose more. We can hang the detailed size, bearing weight and test tag on the chair, you can show it to your customers comprehensively.
All members of mark furniture believe that we still need to further improve the quality and service of our products on the professional road. You are welcome to put forward your suggestions or opinions.
There is a Chinese saying: one cultivates, one gains, which means that the amount of effort determines the amount of harvest,hope the above information will help you understand metal dining chairs better.
We hope to cooperate with you, especially to be your loyal partner after the epidemic, to cooperate with you to open up sales and increase your profits.