How strong is a plastic chair? If you are buying one of these chairs it's worth knowing just how good it is and what you might be able to put on your chairs before you risk breaking it.
plastic furniture can be found everywhere in our life, in the time of COVID, plastic chair more and more popular because it is easy to clean, convenient.MAKA furniture is a professional furniture manufacturer, we here some of the customers said MAKA furniture's plastic chairs like an elephant. Because our plastic chairs can bear 500kgs loading capacity. so why MAKA Furniture's plastic chair can withstand 500 KGS weight?
Firstly,good plastic chairs raw material offer a big loading capacity
As we know, the plastic chairs made of Polypropylene Fiberglass and colors which those mixed by some one percentage. Polypropylene doesn't decay or rust and is resistant to general wear and tear for your peace of mind.Most of the plastic raw materials are transparent or milky white, a variety of plastic products to use or design needs, and require a variety of colors, this needs to be dyed in the plastic processing process;The common dyeing method is to mix a certain proportion of the color master or toner in the raw material before production, and melt the raw material with the color master or toner in the injection molding machine to produce the desired product color.
MAKA furniture's plastic chairs are made of Sinopec 's raw materials. Sinopec is the largest supplier of Polypropylene raw materials. It provides high-quality raw materials and good raw materials to provide basic quality assurance for good chairs.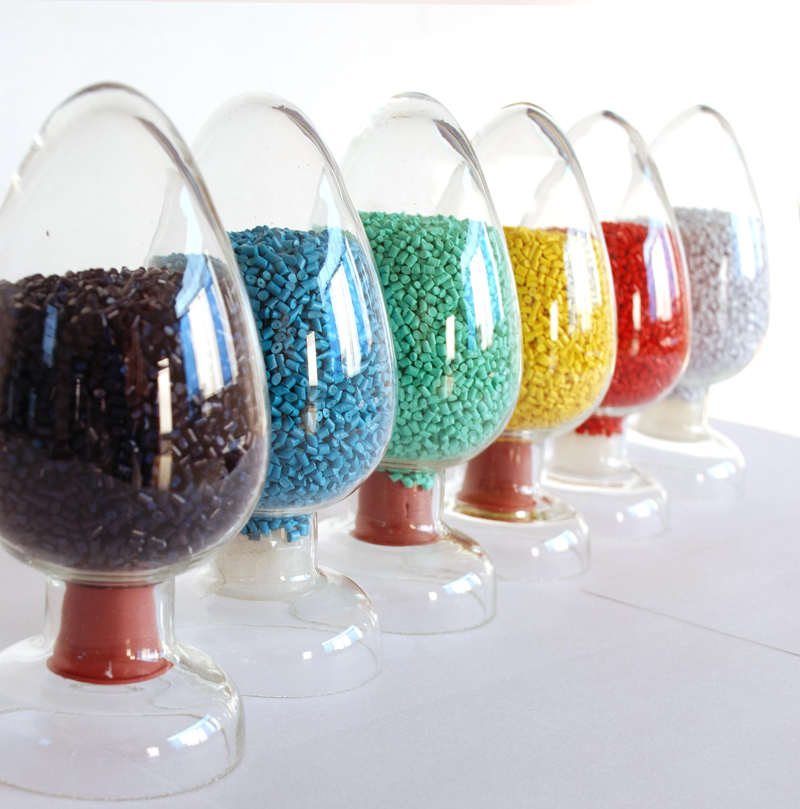 Second,Reasonable design, ergonomic design.
Our designer Michel Millot is from France. He is specialized in the design of household products according to the principle of mechanics,
such as the following 2model chairs product

Nordic Leisure plastic chair, simple but extraordinary ,extravagant but not luxurious .Fine grinding, smooth without burr.The chair surface of the product has a certain degree of full curvature according to the body structure, let people sit up, very comfortable chair back is oval circle design, beautiful and convenient to carry back tilt certain Angle,Back displays a convex angle to promote good posture.people in leisure, completely relax their body.High chair back for support as you dine.

Leisure chair is a simple design,with full of elegant atmosphere. Dining chairs are made of polypropylene and have a smooth line structure, giving a feeling that "a sense of harmony and calm". A lightweight chair with environmental material no pollution, taking it in your home is a smart choice. The resin modern chair can support 500kgs weight.
Also, an easy to take any places using, especially match the different environment, like outdoor and indoor, after years using still not change colors. With black, white, and pale grey color can match many kinds of material table, makes you feel relaxed not a serious atmosphere.
Third,Solid – provides a large weight for our plastic chairs
Four solid legs for a well-balanced structure.solid design, which provides a large support point for the chair. The weight of our chair is about 3.6kGS or so. This weight is a appropriate weight for a plastic chair which based on 100% new material.If it is too light or too heavy, we will look into the material of the product.
Let's have a look how much weight which MAKA furniture 's plastic chairs can bear. A series of load-bearing test cases for plastic chairs in MAKA furniture.
1, SGS professional test report shows-Max Load Test .
The sample deformed but not damaged when the load force was up to 500kg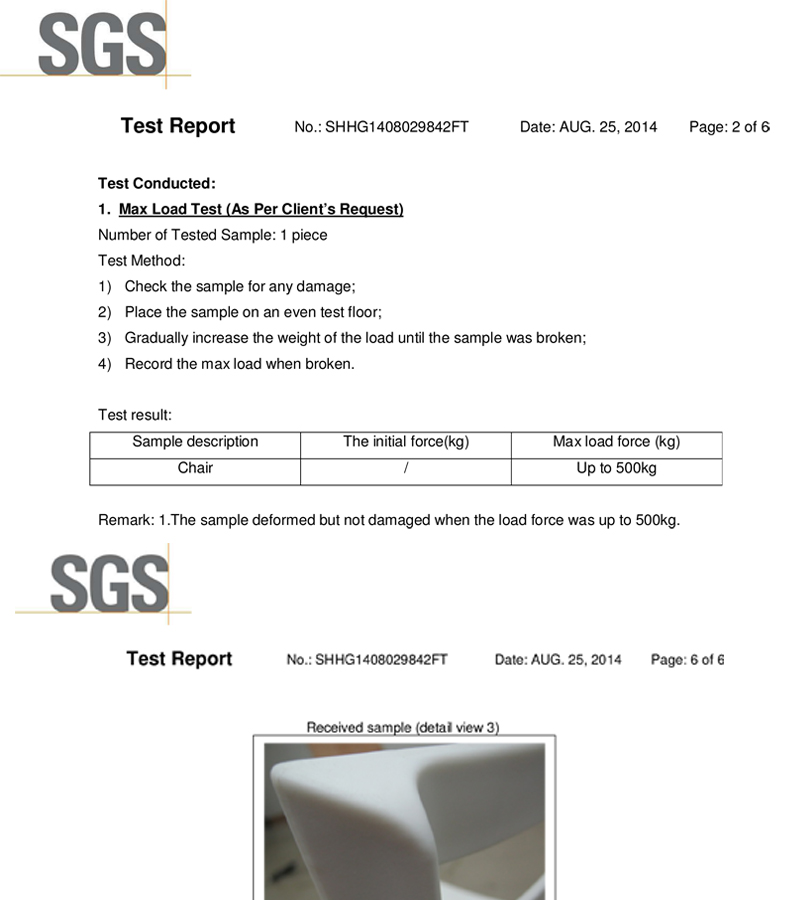 2,Take a look at a picture in our Canton Fair. Our plastic chairs are selling well in Europe, Australia and so on。
This is enough to show that the plastic products of MAKA furniture can reach the load bearing of 500kgs, and it is suitable for all major markets. It is convenient to use and also for commercial use, so you can buy it with confidence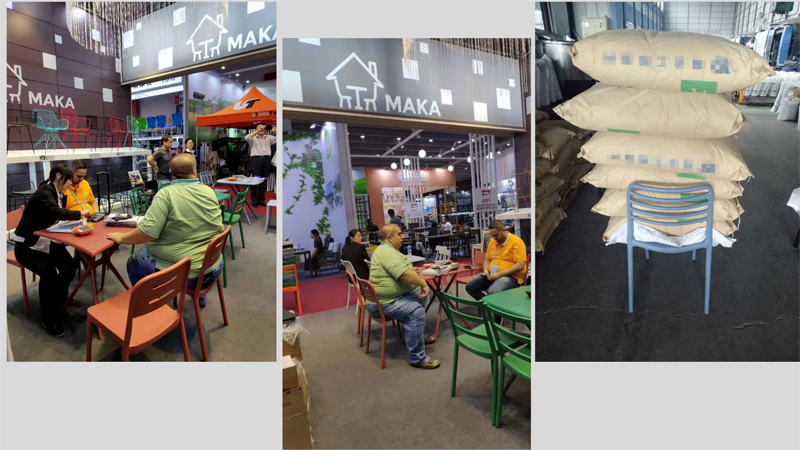 Let's review the advantages of plastic chairs
*UV resistant to prevent fading & discoloration.100% Waterproof.
*Loading capacity: Over 500kgs static load.
*Requires almost no maintenance. *No sanding, repainting , or staining needed. So no odor of paint, more environment-friendly.
*Perfect for indoor and outdoor events.
*Stacks chairs provide for better warehouse management, freight savings,and more efficient delivery. Chairs can stack for easy storage when not in use
*3 years limited warranty on normal using