During the epidemic, many people have to stay at home. Patio furniture is a very important part. Maybe you haven't considered decorating your garden or balcony before. Now is a good time.
1.Which place using patio furniture ?
Whether it is the private balcony of the family, the beautiful garden, or the balcony of the hotel, all need patio furniture to decorate. A perfect set of patio tables and chairs can add a comfortable atmosphere to your family environment. With colorful flowers, green plants, exquisite flowerpots, soft colored carpets and exquisite cushions, your balcony will become a beautiful landscape with feeling of nature and country.
Now is the winter of 2020, and a new spring will come soon. Retailers, wholesalers, e-commerce, furniture brand chain stores are starting to place orders, and patio furniture is a large part.
2.What is the important role of garden patio furniture?
After experiencing the epidemic, we have a deeper understanding of the importance of family health and family reunion. We can work from home, and then have a good rest time. You can sit on the exquisite garden patio chairs, put delicious fruits, juice, barbecue on the garden patio tables, and enjoy the delicious food with the family,
In particular, the balcony has warm sunshine and fresh air, which can let you relax your mind, sit on the comfortable balcony chair, lean back on the comfortable chair back, make a cup of fragrant coffee on your patio table, and add some handmade snacks.
There are many families with beautiful gardens, which need more design sense garden furniture to decorate. You can have an open-air party with your family, eat and chat, or put a beautifully designed patio chair and table next to the swimming pool.
Patio furniture is also especially suitable for families who want to change their furniture, because it can be used in many occasions and places. You can put it on the lawn, in the garden, on the balcony, or as an indoor dining chair. You can use it anywhere you want.
3.What is the material of patio furniture mainly use ?
One of the most important features of patio furniture is outdoor treatment, which is suitable for rain, sun and weather resistance.
For example, the outdoor patio chair with iron wire needs to be polished very smooth after welding to ensure that there is no place for rowing. The chair should also be added with special Ecoating and then spray paint. It should be noted that outdoor spray paint including UV protection, so that the chair will not rust after Ecoating, and the outdoor paint will not fade.
Plastic patio furniture, chair is 100% new material to ensure flexibility, raw materials added in the outdoor UV protection, so that the chair outdoor use will not fade color. Chair with anti-aging material is that the chair will not age and harden during using. Chairs are durable, easy to maintain, easy to wipe, and can be stacking to save space when not in use.
4.What is the most comfortable patio furniture ? like the patio table.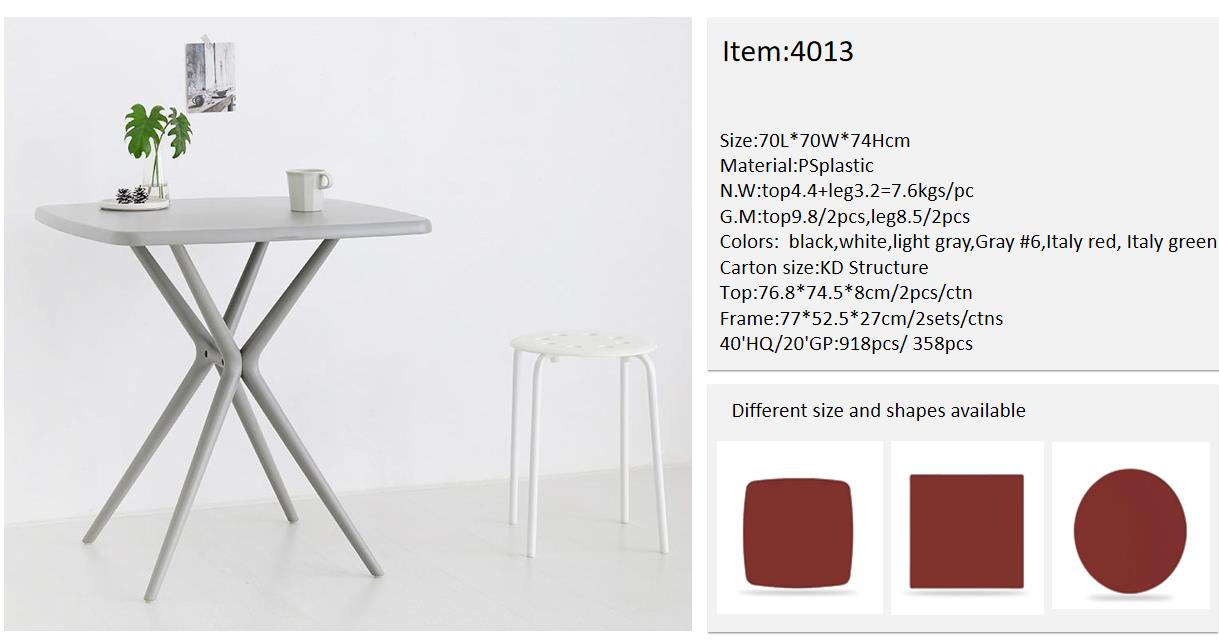 1.) The plastic patio table is suitable for 2-4 people. It is very light and easy to carry. The assembly is simple. It can be operated by one person in 1 minute, and it is very safe.
2.) The table top is provided with round, square, irregular rounded corners and square corners, with the dimensions of 70cm and 80cm in diameter. The legs of the table are all made of PP outdoor plastic material, which can bear the weight of 150kgs.
3.) It can be used for sunshine terrace, outdoor cafe, swimming pool chair, en12521 test outdoor commercial grade
4.) It will not take up too much space. It has multi-functional uses, and the desktop is smooth and stable. people can eat or even study or work.
5.Which patio chair is popular trend ?
Metal wire patio chair, industrial style design, flower shaped back and seat surface, No assembly, can be stacked, simple and chic style design.
armrest of chair can put arm on it , so the patio chair sitting more comfortable, wear-resistant and scratch resistant, very durable, rubber foot to prevent sliding and scratch the floor, chair bottom has x size cross support, improve stability performance.
After sandblasting of iron wire will make three-layer spray paint, no odor, not easy to fall off, luster beautiful. It is an ideal choice for balcony, terrace, outdoor restaurant, outdoor pub and garden patio furniture.
6.Why patio sets is most selling as garden furniture ?
Outdoor patio table and chair perfect match sets, patio side table and wire chair collocation is very popular now, can put in the outdoor scene, in the bright sunshine, also can match with a sunshade, a variety of garden furniture can be very good to decorate the outdoor atmosphere.
Patio Table can also be a large table or a small side table. Generally, it can be matched with two or three chairs, which is very suitable for enjoying the beautiful garden time, drinking coffee and chatting, ending the day's work people can relax both physically and mentally.
These styles are the current popular and most ordered patio sets.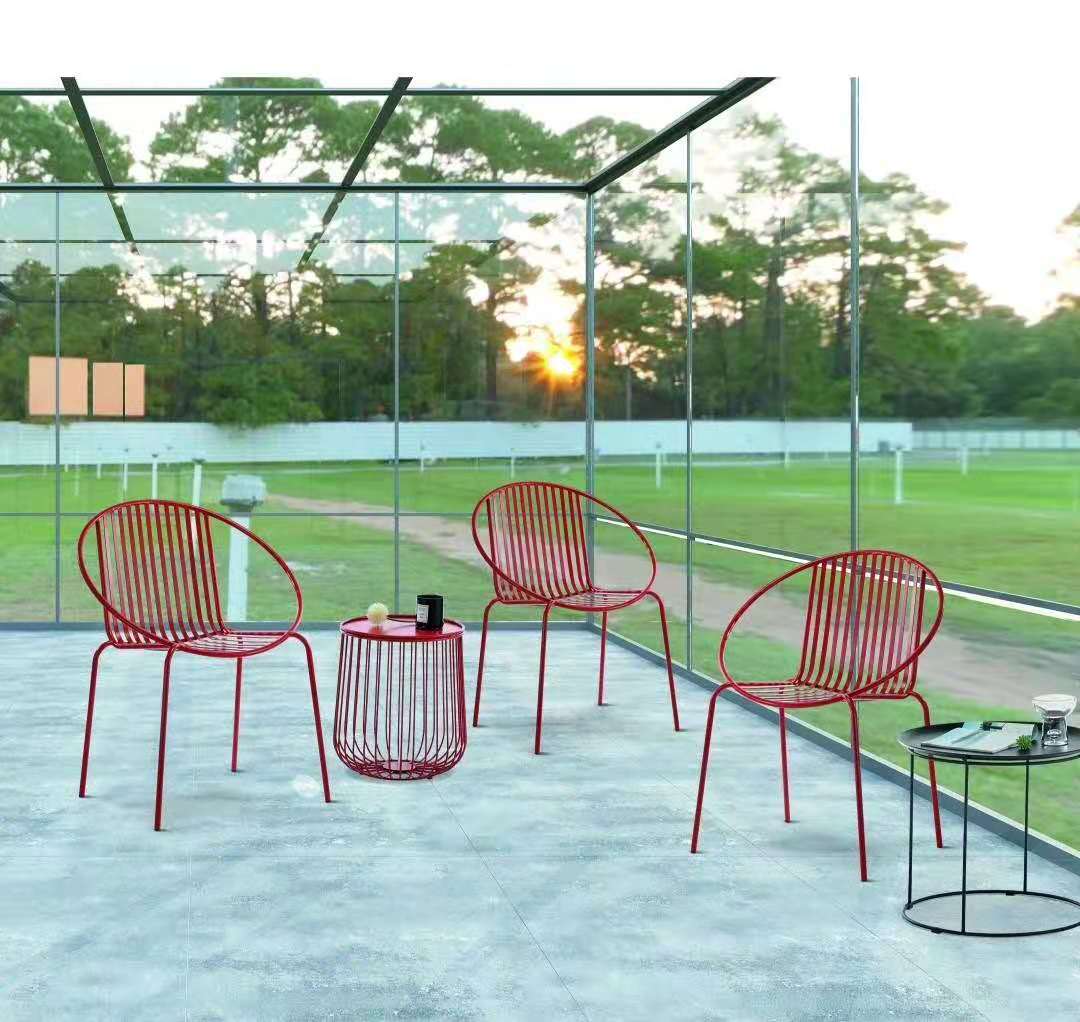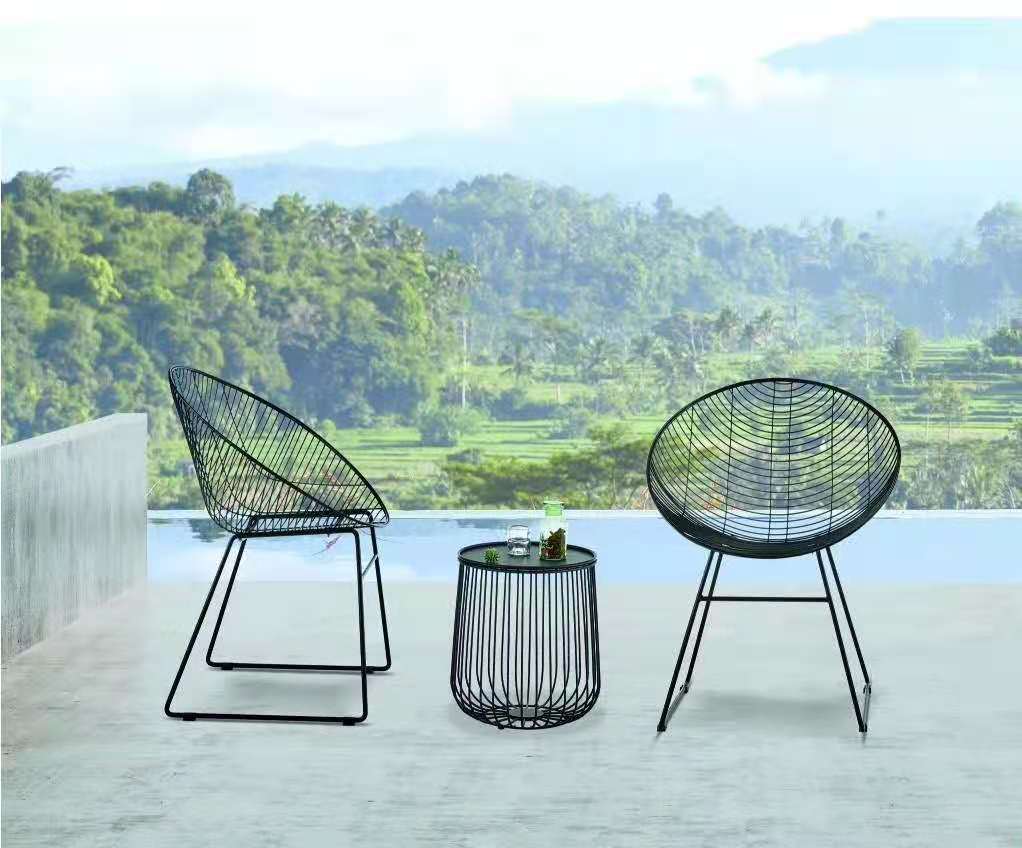 We hope that our sharing can help you. From balconies, pubs to outdoor bars and cafes, you can increase your outdoor space only at a low cost patio plastic furniture or patio metal wire furniture..