If you like the materiality of wood and the flexibility of plastic in your furniture, then a wood-plastic composite material is your best choice. It combines all the good qualities of wood and plastic, helps you in achieving a sustainable and eco-friendly way of living, and adds a touch of style and functionality to your home or business space.
Wondering what wood-plastic composite means? Here's a detailed overview of everything about wood-plastic composite furniture, their advantages and benefits, and some tips when buying wood-plastic composite furniture.
What is wood-plastic composite?
Wood-plastic composite, or simple WPC, is a composite material made of wood fiber or wood flour and thermoplastics, such as the ones widely used in the plastic furniture manufacturing industry.
Wood fiber has replaced natural wood in this composite mix, making it more sustainable. Since wood fiber is just an excess or by-product of wood processing, like the sawdusts you see when sawing wood, it doesn't contribute to environmental degradation.
When it comes to wood fiber or wood flour, the composition may be a mix of reclaimed wood, rice husks, plant fibers, starches, and wood chips.
The thermoplastics used in this composite can be PP, PE, PVC, or PLA, which may be recycled plastics as well. There may also be some inorganic fillers in the mix.
With these materials, you can see that wood-plastic composite is a great way to help the environment with its sustainability process. If you're living a green lifestyle, then wood-plastic composite furniture is an amazing option for your interior or exterior design.
Where is wood-plastic composite often used?
Wood-plastic composite is widely used in the furniture manufacturing industry. It is often used in making outdoor furniture, flooring, decks, railings, park benches, fences, and prefabricated houses.
Because of its properties, wood-plastic composite furniture is very compatible with outdoor settings, such as parks, gardens, verandas, and patios. However, it can also be used for indoor furniture, window and door frames, and interior design accents.
Wood-plastic composite furniture is the perfect shopping find for your home or restaurant. Whether you are looking to redesign your home or put up an al-fresco dining in your restaurant or coffee shop, this type of furniture is the best one.
There are also domestic and commercial grade wood-plastic composite furniture, so make sure to check the specifications first before buying the best furniture for your home, office, or restaurant.
Outdoor Furniture
Wood-plastic composite furniture is available for outdoor use in both home and business spaces. You can find tables, chairs, and stools that can be placed in outdoor settings.
Wood-plastic composite furniture is a great addition to styling your home, office, or restaurant because it comes in different textures and designs. The flexibility of plastic combined with the wooden texture will surely be an eye-catcher to friends and guests.
When it comes to outdoor chairs, the flexible material of thermoplastics allow the design to be ergonomic and comfortable, unlike wood which is stiff and may hurt your back.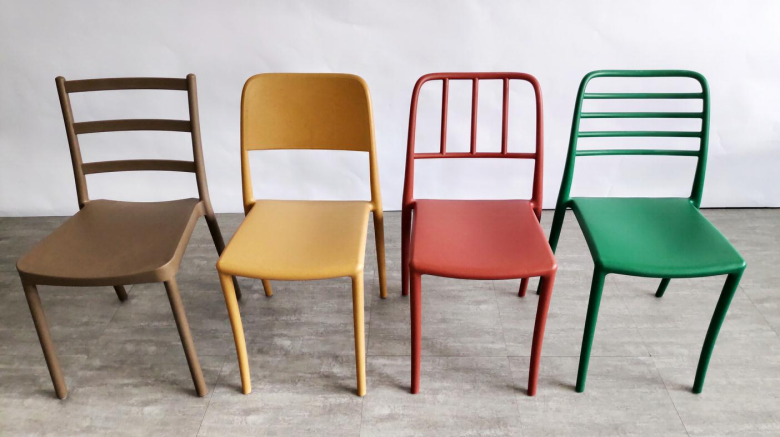 Indoor Furniture
When it comes to indoor furniture, the capabilities of wood-plastic composite are endless. It can be used all around the house.
Dining tables, chairs, and countertops may be made of wood-plastic composite. Bathroom furniture, such as vanity table, chair, and rack, will be more durable if made with wood-plastic composite because it then becomes water-resistant.
Even wardrobes, shelves, and cupboards can now be made of wood-plastic composite. If you like a stylish reminder of how easy it can be to have an eco-friendly lifestyle, go and put pieces of wood-plastic furniture around your home.
Decks, Flooring, and Cladding
If it frequently rains or snows in your area, it might not be a wise choice to have a wooden deck or outdoor flooring. It will just suffer from mold and rot, which will decrease the lifespan of your deck or flooring.
This is why wood-plastic composite is more commonly used in decks and flooring. Its rot-resistant and weather-resistant features make it more ideal for outdoor setups.
Wood-plastic composite is also used for cladding. It is a more practical choice because it doesn't degrade easily, which means that you don't have to change your cladding in just a short period of time.
What are the advantages of choosing wood-plastic composite furniture?
Sustainable
Nowadays, we have to look into the social responsibility of companies in taking care of the environment. Furniture manufacturers of wood-plastic furniture, like MAKA Furniture, contribute to environmental protection by using recycled plastics and reclaimed wood.
Sustainable and eco-friendly furniture also benefits your home and business. Because it uses cheaper raw materials, it is therefore more affordable and has less harmful chemicals.
So, if you want to achieve a zero-waste, eco-friendly lifestyle, opt for wood-plastic composite when buying furniture.
Long-lasting
The recycled plastics and inorganic fillers strengthen the wood materials making up a wood-plastic composite, so the end furniture is more durable and long-lasting than natural wood alone.
By using wood-plastic composite, your furniture is ensured to have a long lifespan, lasting for years to come. Even when used outdoors or with heavy utilization, wood-plastic composite furniture will not fail your expectations.
If you are looking for furniture that has good value for your money, wood-plastic composite is the way to go. It will be a good investment for your home and business because you won't have to worry about changing furniture every now and then.
Weather-resistant
When buying furniture, you have to take into account the different types of weather conditions in your location. Do you experience harsh summer days, frequent storms, or heavy snow? If you are experiencing extreme weather conditions, the changing of seasons, or fluctuating temperatures in your area, then wood-plastic composite furniture may be the best option for you.
Being weather-resistant means being able to withstand harsh weather conditions, may it be high humidity, heavy rain, or direct sunlight. While natural wood will suffer from water retention and decay when left in the rain, wood-plastic composite will remain in its original quality.
Furniture made of wood-plastic composite is also fade-resistant, which means that the colors will not easily fade or turn dull over time.
The weather-resistant feature of wood-plastic composite furniture can be tested especially in outdoor furniture. You can place tables and chairs on your patio, terrace, garden, or veranda and not worry even if they are left outside for long periods.
Rot-resistant
One of the downsides of buying wooden furniture, especially for outdoor use, is that it is prone to rot and decay. There is a huge possibility that termites, borers, and insects will destroy your wood furniture if not treated properly.
You do not have to go through such a huge hassle when you buy wood-plastic composite furniture. Because it is enhanced with thermoplastics, elements and agents of decay won't be able to destroy your furniture. It thus ensures that you have rot-resistant furniture in your home or business space.
Requires less maintenance
Wood-plastic composite furniture, especially those that are manufactured by injection molding, typically has no moving parts. This means that it won't easily break, which requires less repair and maintenance cost.
It also doesn't need to be regularly treated, unlike natural wood that needs to undergo frequent treatment to maintain its good condition. Repaints are also not necessary because of its fade-resistant feature.
When it comes to cleaning wood-plastic furniture, you don't have to worry about water retention because wood-plastic composite is water-resistant. You can even use this kind of furniture in the bathroom because it isn't affected by water and humidity.
Tips in Buying Wood-Plastic Composite Furniture for Your Home and Business
Inspect the finishing or coating
While there are wood-plastic composites that don't need any paint because of their natural coat and texture, it is still a wise choice to buy furniture that has a paint finish for added protection.
When buying wood-plastic composite furniture, make sure to inspect the finishing or coating to ensure its quality and durability. A paint finish will add a layer of protection to your furniture, make it more weather-resistant, and add value to your home or office design.
A coating will also ensure that the wood particles in the composite are safe from elements of decay. The plastic components will also be strengthened by paint.
MAKA ensures quality coating for every single piece of furniture manufactured for domestic and commercial use. Aside from protecting the finished material, the coating also adds style and elegance to it.
Look for the test certificates
Every furniture manufactured for home or commercial use must have available test certifications that ensure its quality. For example, MAKA's Song I Chair 2046 has passed the EN12520 and EN581, which means that it has been tested for durability, weight limit, UV protection feature, domestic and commercial use, and outdoor and indoor use.
Aside from giving you information about the quality of the furniture that you will buy, these certificates can also give you an idea about the product's lifespan and ideal usage. It also provides information about the safety precautions that you need to take to ensure the longevity of your furniture.
To know more about the international standards of testing done on different types of furniture, check out this blog post: 10 Signs that You are Buying Top Quality Plastic Chair for Your Home.
Check for patent
Another way to know that you are buying high quality furniture is the patent certificate. It ensures that your piece of furniture is original and not a cheap or mass-produced copy with lower quality.
Beware of furniture sellers online that could not show patent certificates for their products. These might be more affordable at first glance, but they will cost you money for repairs and maintenance in the long run.
MAKA's tables and chairs are all patented, undergoing international standards and processes in ensuring the best quality of furniture for your home and business. If you'd like to see a copy of our patent certificates, just drop us a message at https://www.bzmaka.com/contact/.
Choose the best style and texture
Of course, all of these tips will not work out if you couldn't find the best furniture that will complement your home or restaurant design. The good thing is that wood-plastic furniture is available in different textures and designs.
Some wood-plastic composites retain the grainy texture of wood, while others have a smooth plastic sheen and finish. They are also available in different colors, so you can choose which best fits your color scheme.
You can download our catalogue so you can see our range of tables and chairs. We also do custom-fitting and custom-designing of furniture pieces based on your design ideas. You can send us a message of your design so that we can advise you which furniture sets are best for your space.