The epidemic has brought a heavy blow to the container shipping companies, and it will take time to restore the normal transportation state. The large number of empty containers overstocked in the ports of European and American countries, such as the United States, Britain, Australia and other countries, has been stranded at the ports for a long time, resulting in the imbalance and blocking of the whole import and export speed, which further leads to the shipping market not being transported Enough. In addition, the European and American consumer season is coming, in the next period of time, shipping prices will remain high.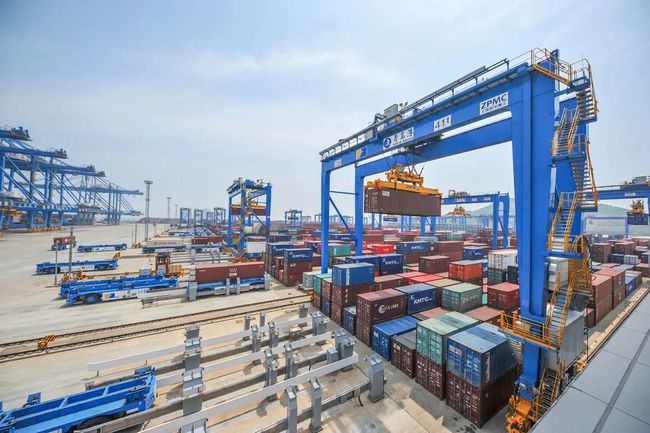 The shortage of containers may not be improved until after the Spring Festival next year. The freight rate of every 20 foot container exported from China to Singapore has soared by 253% in the first half of November alone. Besides one container problem, another important reason is that the liner companies have directly transferred the ships originally used for Southeast Asia routes to the United States.
Why does ocean freight keep rising?
1) Affected by the epidemic situation, many production enterprises in many countries have not been able to alleviate the phenomenon of shutdown and production, and the epidemic situation has not been effectively controlled. China's domestic production enterprises resumed production, and the proportion of domestic material exports increased greatly, resulting in the shortage of shipping space.
2) Since the outbreak of the epidemic, the global demand for cargo transportation has been sharply reduced, and major shipping companies have suspended shipping routes, reduced the number of trips of export containers, and substantially dismantled idle container ships.
3) Western Christmas, the arrival of Black Friday, many European and American merchants began to stock up. Since September, the proportion of exports has soared. Many shipping companies can't put out the equipment list and can't pick up the boxes.
4) Regardless of the cause of the epidemic, the cost of shipping will also rise from September to November in previous years. Therefore, in the three months of this year, the freight rates of Sino US shipping routes have skyrocketed by 128%, and other routes have generally increased.
Demand for E-Commerce orders soared, especially after the outbreak.
As a result, many companies have to let their employees work at home. Many families can't go out to get together. People have more time to stay at home. Online shopping is convenient and efficient. The most important thing is security. People can avoid too much contact with the outside world. Orders in the e-commerce industry have soared. Led by Amazon, e-commerce giants are expanding their warehouses and adding more transportation personnel.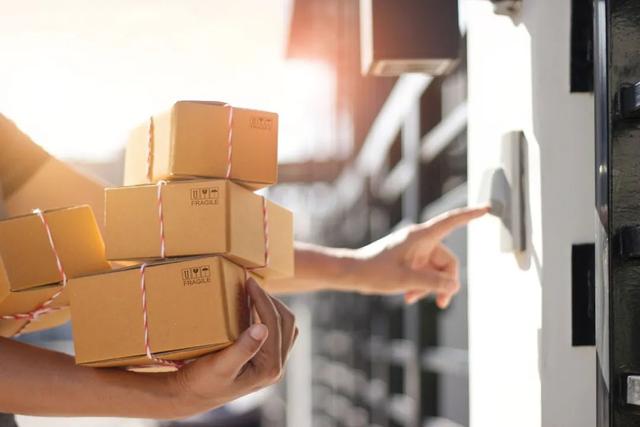 Now the shipping cost is rising, how to reduce the packaging volume and transport it to consumers safely and efficiently is a very important problem. Maka furniture has developed different packaging methods to maximize the amount of packing, help importers reduce transportation costs and increase the added value of products.
Briefly introduce our carton standard:
1) All the goods of Maka furniture adopt international standard mail order cartons. According to the weight of goods, there are 220-270 pounds
2) It has passed the standard drop box test and puncture force test of EU and US lines,
3) The cartons are protected against falling, and each chair is provided with an inner package to prevent wear and tear。
4) There are air holes in the inner package, warning words "protect the child", etc
What kind of packing did we make in the case of ocean freight rising?
1. L-type carton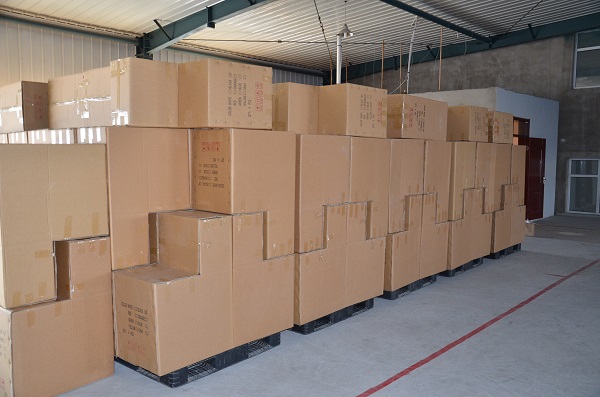 No matter plastic or iron chair, we can do the style and design of stacking. The carton is directly made into L-shape, and the two cartons together are a cuboid, which can save the space inside the container. Increase the amount of chair packing, the carton load-bearing is even, and increase the safety of packaging and chair.
2.KD structure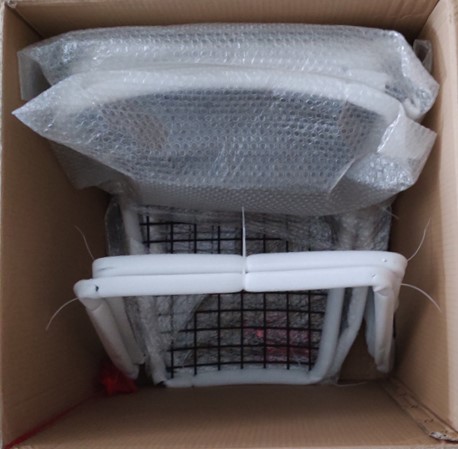 seperate the chair seat and chair frame, chiar frame can be stackabe, and chair seat and frame are packed in one carton, so that the volume of the chair can be reduced harf, in this way can loading double quantity of chairs, here recommend several classic designs for KD structures modern garden chairs.
3. Stacking and Stackable chairs.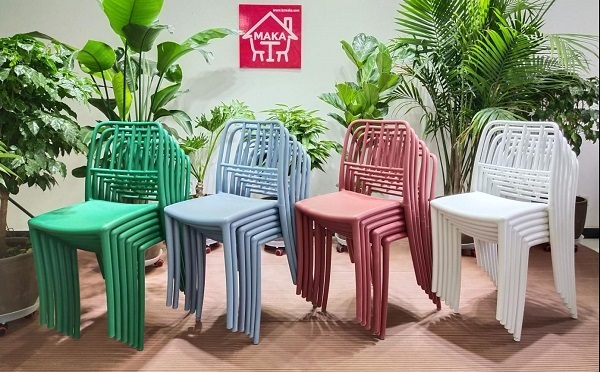 Why can our chairs be stackable? Is that safe?
1) The plastic chair is injection molded in one time, light weight.
2) There is no need to assemble, without spare parts, and the surface smooth without sharp parts
3) Quality stable, can support 300-500kgs weight.
4) PP material has flexibility, anti slip and anti scratch surface.
5) Each design can be stackable, more easier to store,
6) Waterproof, suitable for indoor and outdoor environment
7) Private spaces or public places can use, like living rooms and balconies, hotels, cafes, restaurants, bars, indoor and outdoor TV interviews, weddings, and outdoor gardens.
8) Simple and easy to clean, convenient for daily use or retail.
Therefore, the plastic chair is very suitable for the nude, stackable with anti friction inner packaging, Strong binding with paper pallet fixed, easy to handle. In these environments, plastic seats are often used together with outdoor tables design, tables and chairs with the same design style can not only highlight the design sense of the product, but also improve the flexibility of sales.
4. Paper pallet loading way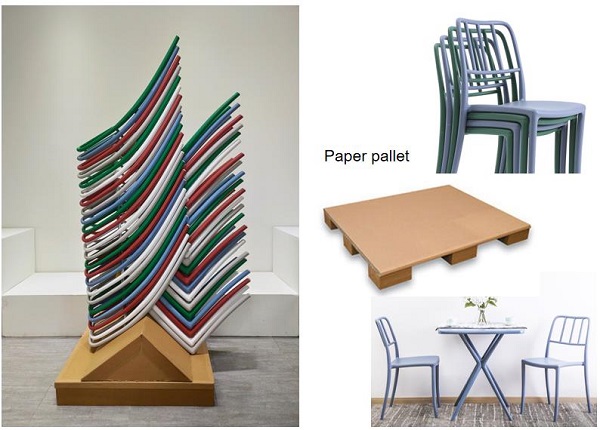 What is advantages of paper pallet ?
1) The weight of the paper pallet is about 3kg. The weight of wooden pallet is about 15-20kg. Air transport is particularly cost-effective.
2) Eco friendly, pollution-free, made from recycled fibers, 100% recyclable material, no need to return pallets again, thereby reducing costs
3) It can be easily customized according to product specifications
4) No nails, no need to assemble and disassemble, reduce the risk of injury to the warehouse and other areas of the supply chain, no risk of personal injury
5) There will be no parasites and insects in the wood and no damage to the ecosystem.
6) There is no need to fumigate like a wooden pallet.
7) Recycling for storage in shelf system
8) 94% of the International goods are transported on paper pallets
9) The paper tray is easy to pass customs inspection.
10) To enhance the reputation of enterprises, the use of paper tray expresses the importance of enterprises on environmental protection and cost saving, and it is the important that the government and consumers pay attention to.
11) The trend of the future. More business will turn to paper pallets as a solution to reduce, reuse and recycle their warehouse products.
5. Trolley used with stackable packing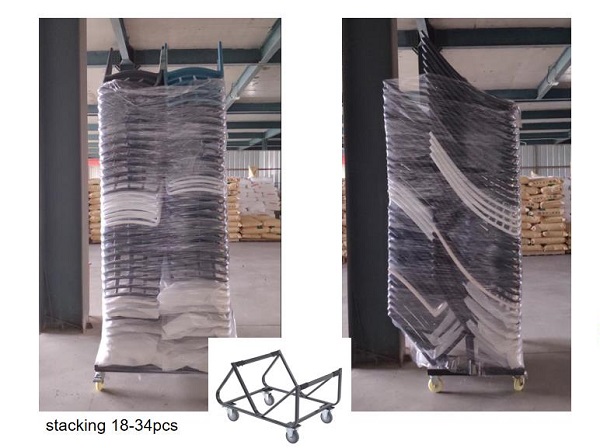 The trolley has movable casters. When meeting rooms, restaurants, weddings and parties, it is easy to move products to different places, reducing the labor and cost of manual transportation. When using, the chair can be quickly removed, and the chair can be stacked on the trolley, occupying a very small space. When the chair is not in use, it is stored in a trolley and pushed by a metal hand, steel trolley is very stronger and has high load capacity. It can also be directly used for other goods handling and storage. Some large warehouses, canteens, leasing and even wholesalers are very fond of the naked trolley.
The paper pallet and trolley have stable quality, strong and high loading capacity. They can be customized according to the selected chair, fully conform to the shape of the chair, and there will be no gap and shaking. After stacking, the chairs are very strong. The number of chairs can be stacked 18-35 pieces according to the different containers inner height. The packing volume increases by 1-2 times. It can be recycled for secondary use, and can be directly put into the warehouse. It is very convenient to pick up and sell. This packaging method is very suitable for large importers, retailers, e-commerce business , etc
Very importantly, our trolley and paper pallets are free. Customers can save the freight and increase the amount of loading, and they don't have to pay for the trolley or paper pallets separately. Large retailers or wholesalers can store their products directly with trolleys, or carry the goods to the designated warehouse by forklift or pull them to the store for retail. Saving the manpower and time of carrying is a big expense.
6. 2pcs/ctn or 4pcs/ctn to increase the amount of packing
According to the needs of e-commerce customers, we can customize cartons for customers. The most common case is one carton, two cartons or four cartons, which is in line with the e-commerce sales model. These cartons can be assembled into containers at the same time.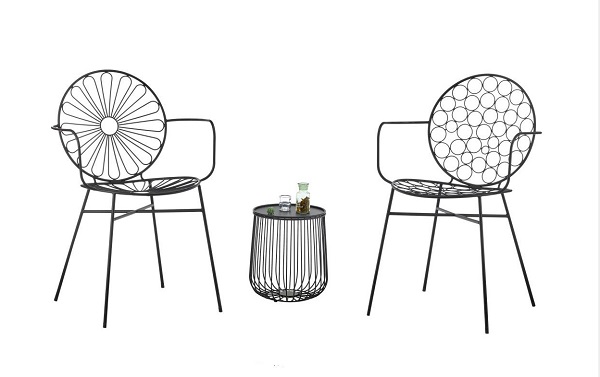 7. Sets packing like 2pcs chairs +1pc table or 2pcs chairs +2pcs tables, saving space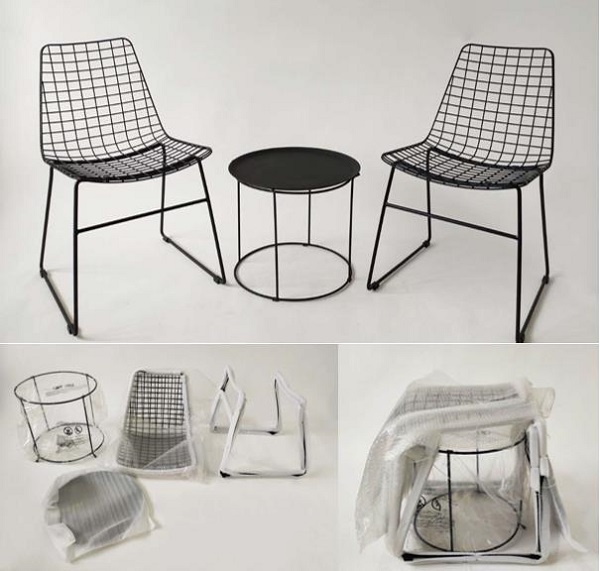 Many e-commerce customers or furniture brands sell complete sets, such as outdoor suits, balcony dining chair sets, leisure coffee table and chair sets. Two chairs and one table are placed in the home or outdoor garden, which is a good match. This is the popular trend now. Iron chair with small side table is more and more suitable for the needs of e-commerce consumers.
We can maintain the development of the new packaging method, three parts as sets into a small carton, product packaging quantity increased, but the volume shortage is reduced, not only that, there is no need for additional carton costs, three cartons reduced to one carton, three times the amount of packing saves a lot of transportation costs.
8. Small side table, one box, mail order packing, saving freight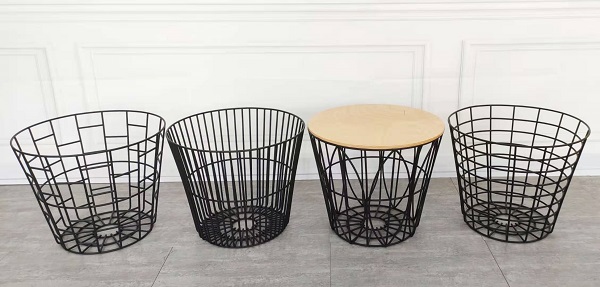 Small side tables are very popular in recent years, whether it's Ikea or jysk furniture brands, large-scale retail such as Walmart, or well-known e-commerce platforms such as Amazon and WAYFAIR, etc., dining When furniture's main product, small side tables of different sizes are becoming more and more popular. We have adjusted the packaging of cartons, which can be made into one carton and two cartons. The cartons are 220 pound mail order cartons, which can meet the standards of European Union and American e-commerce. The packing volume of the small side table is very small, light and convenient for transportation, and the packing volume is high. It is the main style for customers to place orders.
When the international logistics cost is rising, we will make some more plans, hoping to increase the packing volume, save transportation manpower and material resources, and take into account environmental protection measures, so that our products can be recycled and recycled. If you have the same requirements, you can contact us to make a package plan for you. Maka furniture will try its best to meet your needs. thank you!