Affected by the second wave of the overseas epidemic, the overseas home economy is playing out, and the demand for furniture products is increasing.Since the third quarter, China's foreign trade exports to speed up the response, furniture export orders is increasing.As for the furniture export,some customers worry about how to guarantee the products will not be damaged during transportation.
The packaging that you choose for furniture during transport can make or break your business. Selecting the wrong transport packaging solution could lead to damaged products, unhappy customers, and lost business.
Obviously, curbing product damage during shipping should be a high priority – but it's not quite as simple as it sounds. First, you have to determine where damage is likely to occur during the product's journey to its destination and then determine the best way to eliminate it.
Product damage during shipping is a serious business menace. It inflates operations costs, creates irate customers due to delayed deliveries and puts a heavy strain on inventory – not to mention the doubling of shipping costs to replace damaged goods.With the continuous development of e-commerce,more and more customers pay attention to packing.
To solve this problem, Maka furniture has also improved the packaging to enhance the load-bearing capacity of cartons.
No matter how big or small your parcel is, it's a good idea to pad it out with plenty of bubble wrap to add an extra layer of protection to your items.
Regardless of how you intend to ship your goods, it is critical that you fully consider the potential hazards to which they might be exposed and design a transport packaging solution that will keep them safe.
As the manufacturer, we provide the mail order packing, help the end users to transport furniture safely and securely without product damage. As the supplier, we create packaging solutions catered to your mode of transportation using the materials that will give your goods complete protection.destination in perfect condition while minimizing your total cost of logistics.
Inter Packing:
Air Bubble Film
Commonly known as Bubble wrap,it is a modern material in sphere of packing, which is used for packing and filling and is resistant to pressure, moisture and shock.With good shock absorption, impact resistance, thermal bonding, non-toxic, tasteless, moisture-proof, corrosion resistance, transparency and other advantages.The Air Bubble Film of intermediate layer is full of air, so the body is light, transparent, elastic, with sound insulation, shockproof, anti-wear performance, widely used in furniture and other shockproof buffer packaging.
EPE(Pearl cotton):
It is a new type of environmental protection packaging material, with waterproof ,moisture proof, shockproof, sound insulation, heat preservation, plasticity, toughness, recycling, environmental protection, strong impact resistance and many other advantages, and has a very good chemical resistance.
For wire chairs,we use EPE which provide packing coverage for frame and seat margin.Then put the Air Bubble Film on the chair seat to avoid surface scratch,reduce furniture shaking in transit.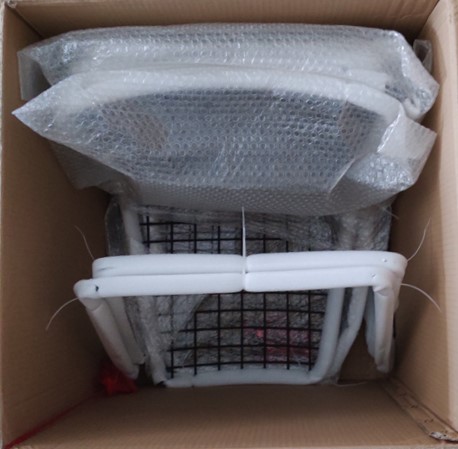 For plastic chairs,EPE bag protect the whole chair,please check the below packing.
Outer packing:
MAKA Furniture provide mail order packing,five-layer corrugated boxes for all chairs and tables.
The structure and type of corrugated board are highly correlated and the shape of corrugated and corrugated size. Corrugated shape of corrugated board compression plays a decisive role.Corrugations are divided into three types according to the size of the corrugated arc: V-shape, U-shape and UV-shape.U – shape corrugated board flute nearly round peak.Soft and elastic, as long as the deformation does not exceed the elastic range, u-shape corrugated can quickly recover the original shape after loosening.More smooth, don't appear in the flute peak cut off the phenomenon of corrugated core paper.Buffer performance is good, corrugated and paper bond firm degree is high, but the amount of adhesive is strong pressure resistance。
V-shape corrugated paper flute peak close to a triangle, characterized by higher strength, smaller radius of the arc.Corrugated paper and surface paper adhesive less, not easy to bond, easy to flake.The UV-shape corrugated board is between U-shape and V-shape, with most of the advantages of V-shape and U-shape, its elasticity and processing performance is better than V-shape, and the flat compression strength and material is better than U-shape.The UV – shape has most of the advantages of U – shape and V – shape, high compress strength.Maka furniture use UV corrugated board.The buffering performance is good, so when receiving the external pressure impact, the crushing deformation speed is relatively slow.

Five layers corrugated board also known as double – sided corrugated board.From the outside paper and the middle pad paper two pieces of corrugated core paper bonding.Two layers of corrugations can be made in different combinations, usually B and A.Type A corrugated on the inside of the carton to buffer, type B corrugated on the outside of the carton to make the surface of the carton more beautiful after printing.Five layers of corrugated board with greater strength, usually used for packaging heavy weight vulnerable goods.
Along with the interior and external packing, the package labeling also help reduce product damage.It prevents damage during the hustle and jostle in shipping.Labels instruct handling staff on the exact way to stack, arrange or even lift a package. Labels also identify the nature of the package contents and how it needs to be treated at different places, from the warehouse pallet to the cargo container.Use labels like 'Fragile', 'This side up', 'Up to 10 stacks only'.What's more, it is also a good way to put shockproof label on the package to avoid damage.At present, the shockproof label (impact indicator) has become the recognized "careful handling" logo, the purpose is to tell people the message is clear and cannot be ignored.By using the mark, the loss of goods in transit will be reduced by 50 to 90 percent.
MAKA cartons have passed 3A drop test,which can meet the requirements of e-commerce customers.During the epidemic period,we also developed new packing ways for e-commerce business and stores,put one set(two chairs and one table) into one carton.The set packaging is not only helpful for ocean freight, but also saves a lot of storage space.We can customize the packaging requirements according to the needs of different purchasers.With customized packaging designed to minimize the potential for damage. If you are an e-commerce vendor,you will like this packing.
For more information,please visit our website:www.bzmaka.com.