With the improvement of modern public aesthetic, furniture has not rigidly adhere to practicality, and the sense of design is also very important. With the help of this article, I hope that we can have a certain understanding of furniture design.
Simple design runs through the design of modern furniture.Whether it's indoor or outdoor furniture.Simple design concept, delicate and exquisite workmanship, this is not only a product, but also a work of art with fashionable charm. The combination brings aesthetic life enjoyment.
We already know traditional outdoor furniture, such as rattan weaving, outdoor washing cloth, outdoor teak, etc., have a common feature, that is, the price is expensive and easy to get dirty, which is very bad for cleaning. The iron wire and PP chair breaks the deadlock, overturns people's habitual thinking of outdoor furniture, and belongs to a more novel and creative design.
We are Maka Furniture has been established for more than ten years. It is located in Bazhou City, Hebei Province, one of the largest furniture production bases in Asia. It is a large-scale manufacturing enterprise engaged in plastic and metal wire furniture, integrating R & D, production and sales.
Our products include indoor and outdoor tables and chairs made of plastic and iron wire, mainly used in restaurants, dining room, hotels, gardens, offices, conference rooms, parks, balcony, leisure places etc. And we have our own design team, we can customize products according to your requirements.
After years of tempering the company is growing, our products have been favored by friends all over the world.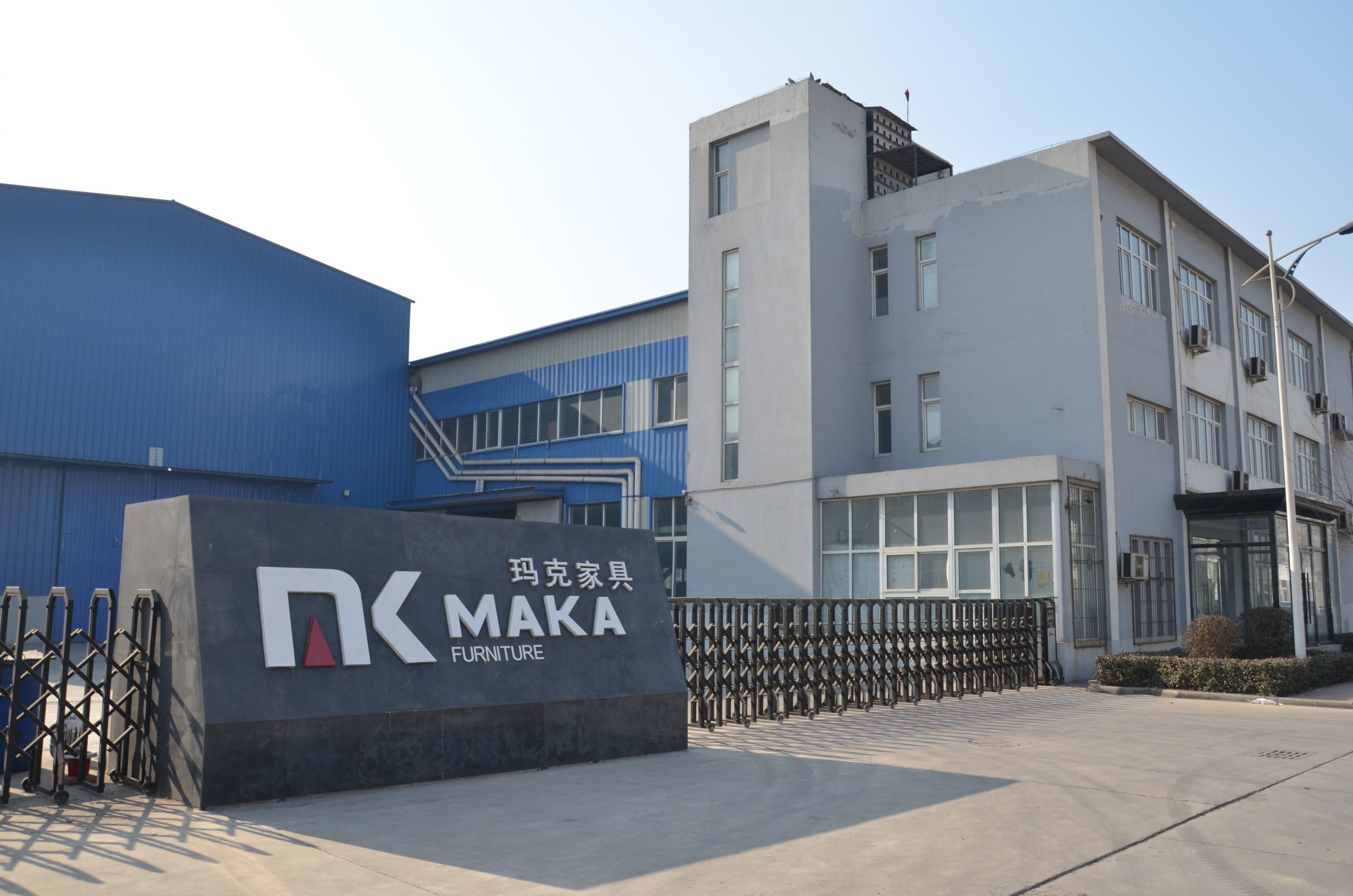 In order to let you have a more intuitive understanding of our topic today, I will use the products of our factory one by one for you to show different design can make your life better.
First of all you will see this KD packing table, The simple line streamline design brings different visual effects to the dining table used indoor and outdoor.
Solid one-time injection molding process and special anti-skid part of the foot make the table quality even better.
We can also offer a variety of common colors for you to choose. You can rest assured that all tables can be used in catering related places, because we all use environmental friendly materials.
When used in the open air, you don't have to worry about color fading. They are waterproof and anti fading materials with a 2 years warranty.
Excellent KD packing, you can save it just take a little space when you don't use table. If you want to know more, please contact us.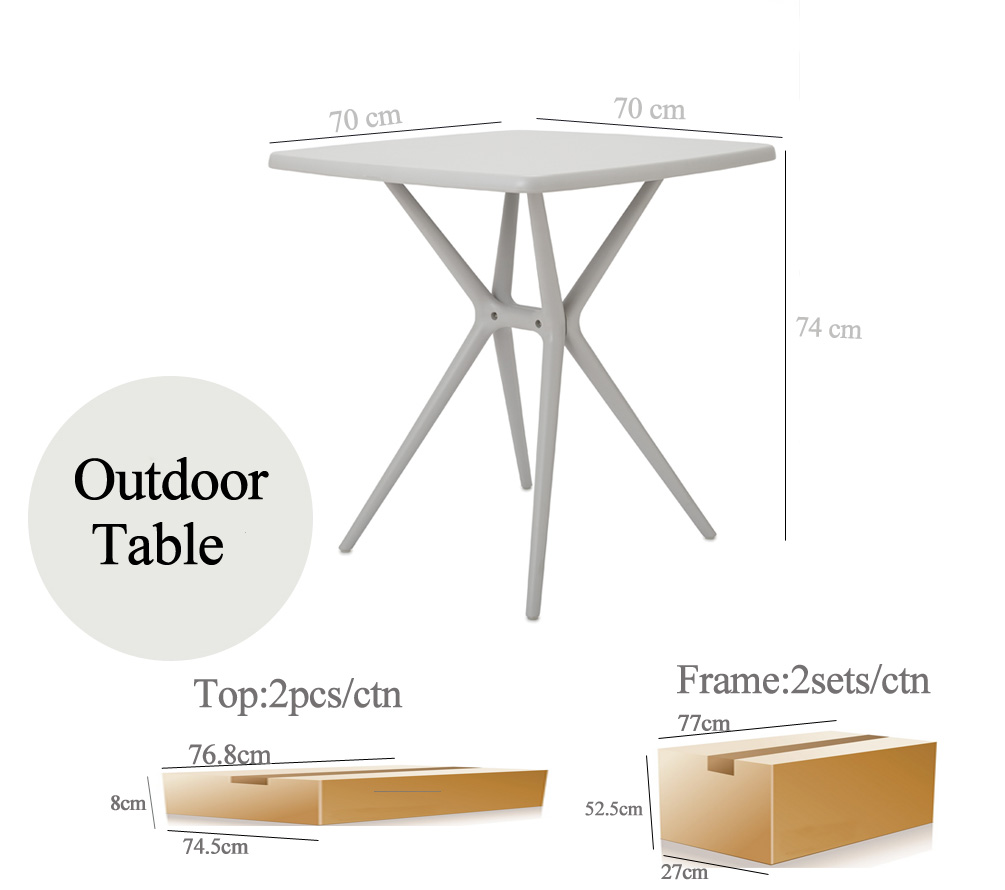 PP table we have another face shape, round dining table top gives you a softer feeling. The larger table size is suitable for more friends together to use this indoor and outdoor universal table.
KD mail order packing design is very friendly to retailers and e-commerce. You can match our PP chairs with several pieces or more chairs.
We have five normal colors for you to choose.
If you have your own ideas, we can customize or print your own logo on the product. We will serve you wholeheartedly.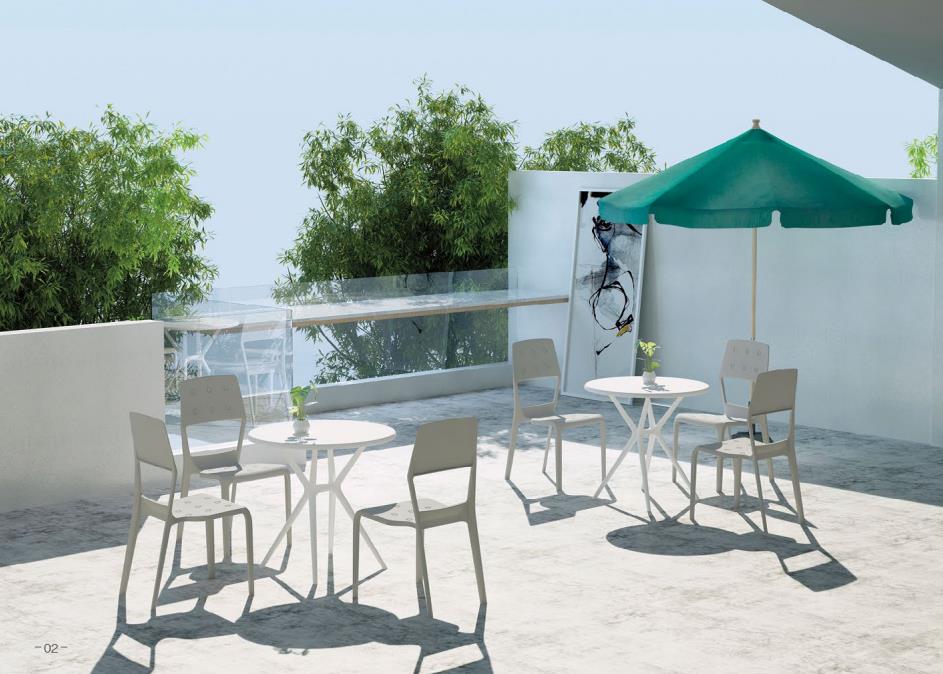 For the table we have another use and design, Let's have a look at this elegant and generous metal wire side table is our product with European Patent Certificate.
It is the most classic garden furniture in our factory. It can use indoor and outdoor. With it, you can enjoy the sunbathing and put some desserts and drinks you like on the table, which is a perfect match.
The top of the table can be removed,can be used as a table or as a shelf. By the way, if you are a DIY enthusiast, you can also paste nice wallpaper on this table surface to change its color. You can also put some ornaments on it to make the table become unique.
We have a variety of colors for you to choose, Elegant Black, Oriental White, you can also customize the color according to your preference.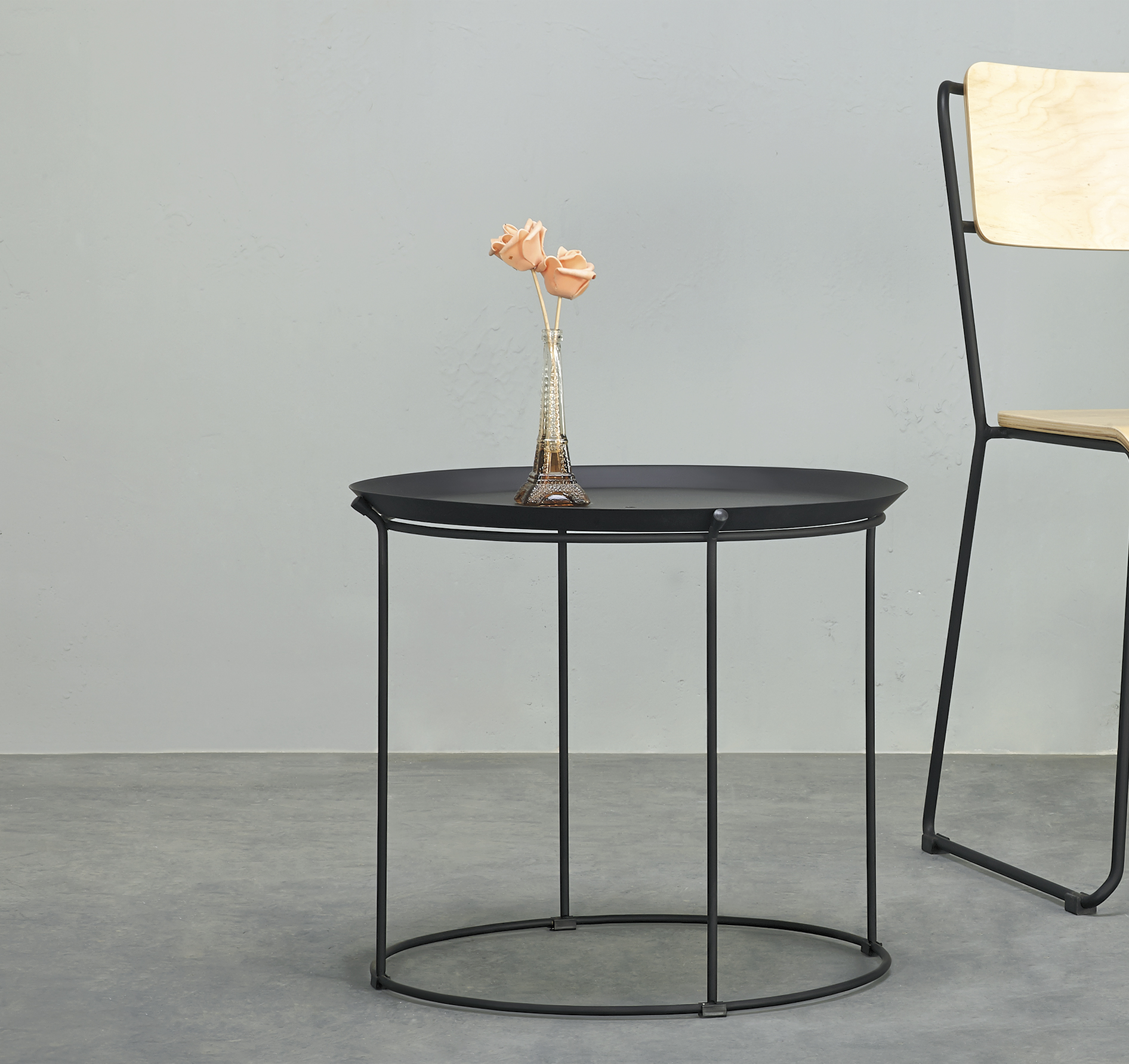 Next you will see our special metal chair, In order to relax in the garden, we suggest buying some leisure furniture.
Look at this black metal chair. Fresh lines ergonomic streamlined, the design of the back with wavy lines makes the Nordic style signification prominent.
The chair is both beautiful and safe. Our products can pass the EN851 / EN12520 / REACH tests.
After the PU cushion matched it becomes more luxurious and modern. Metal chairs can be used in indoor, outdoor, home, hotel, wedding, garden, coffee shop and other places.
You can use it match our metal side table, that will be great. Our products always bring customers the best experience.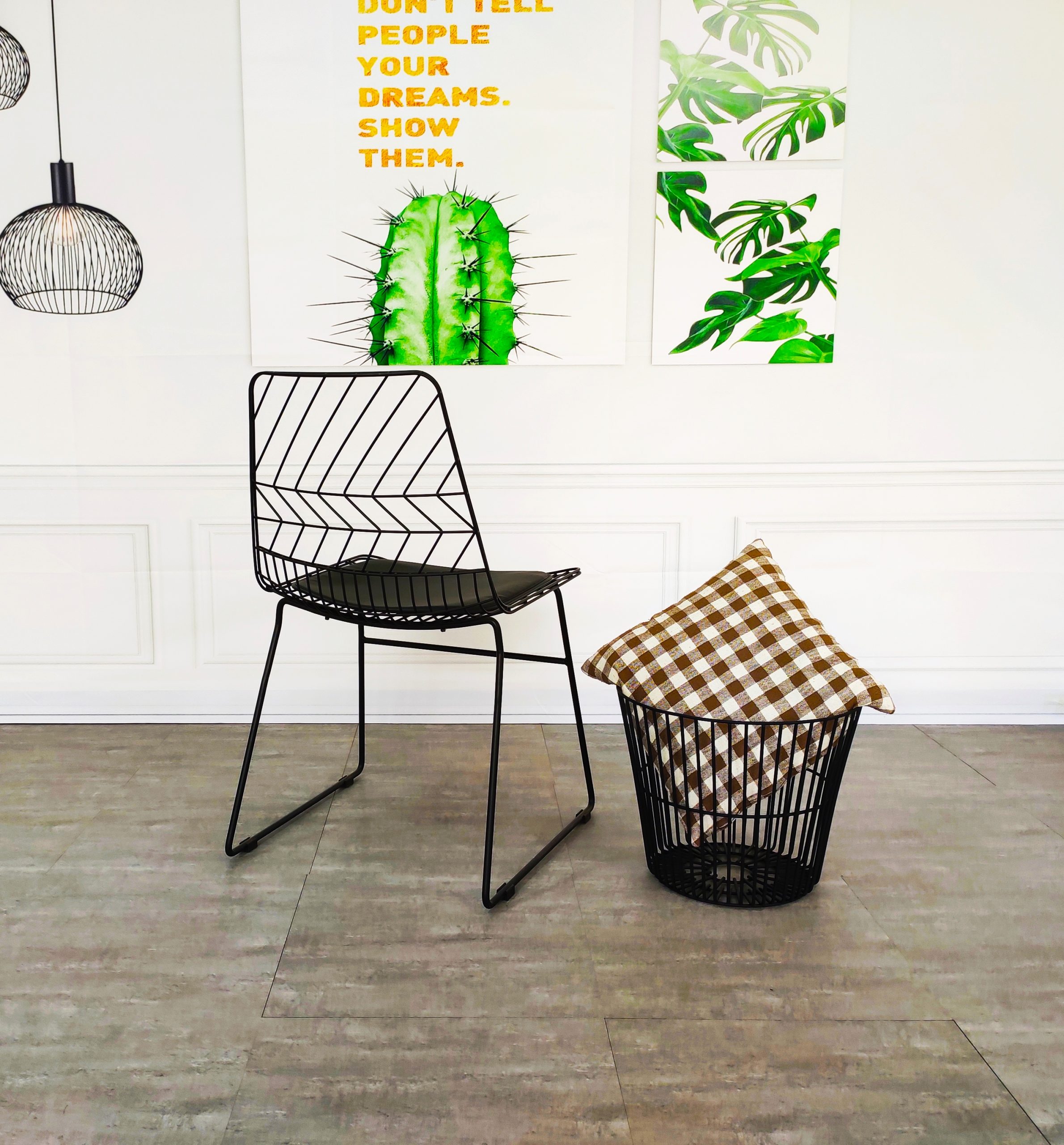 We have chairs of other heights. You can see that the height of this metal chair is different from other dining chairs. We have various chairs for all kinds of occasions and people.
This is a typical Nordic style simple line chair. You can match it with a slightly higher table that feels like a small bar for outdoor and party use.
This chair is not restricted by any site. You can use it anywhere you want. With it, you can enjoy the sunshine outdoor.
There are also two different kinds of sitting height products in this series. You can use them together. We also support other colors for you to choose. If you have a special color you like, we can customize it for you to match your perfect outdoor party effect.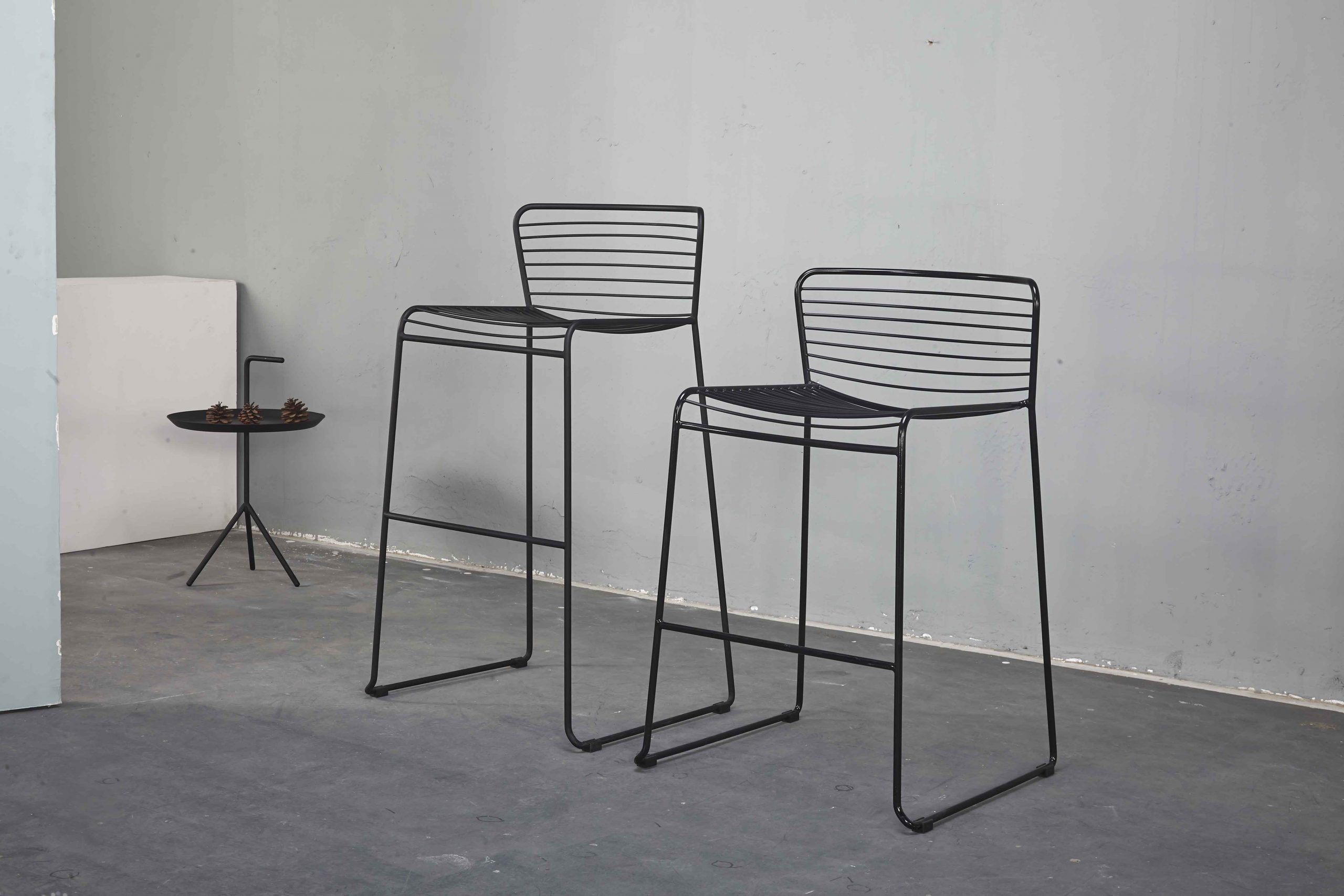 Take a look at the design of this iron chair, The unique grid design gives you a refreshing feeling. It has an industrial design to reduce people's pressure, natural element comfortable texture, return to simple life, such a design makes the home full of warm.
From practicability, we all use solid wire and EU standard paint, which has strong adhesion and keeps luster.
PU pads are also available. If used outdoor, we provide special outdoor waterproof fabric cushion to make the chair more comfortable.
It is equipped with black anti slip and anti scratch bolts and can be used on any type of floor. The bearing capacity of the chair is 300 kg and the weight is about 6.4 kg. This chair is also safe for the children.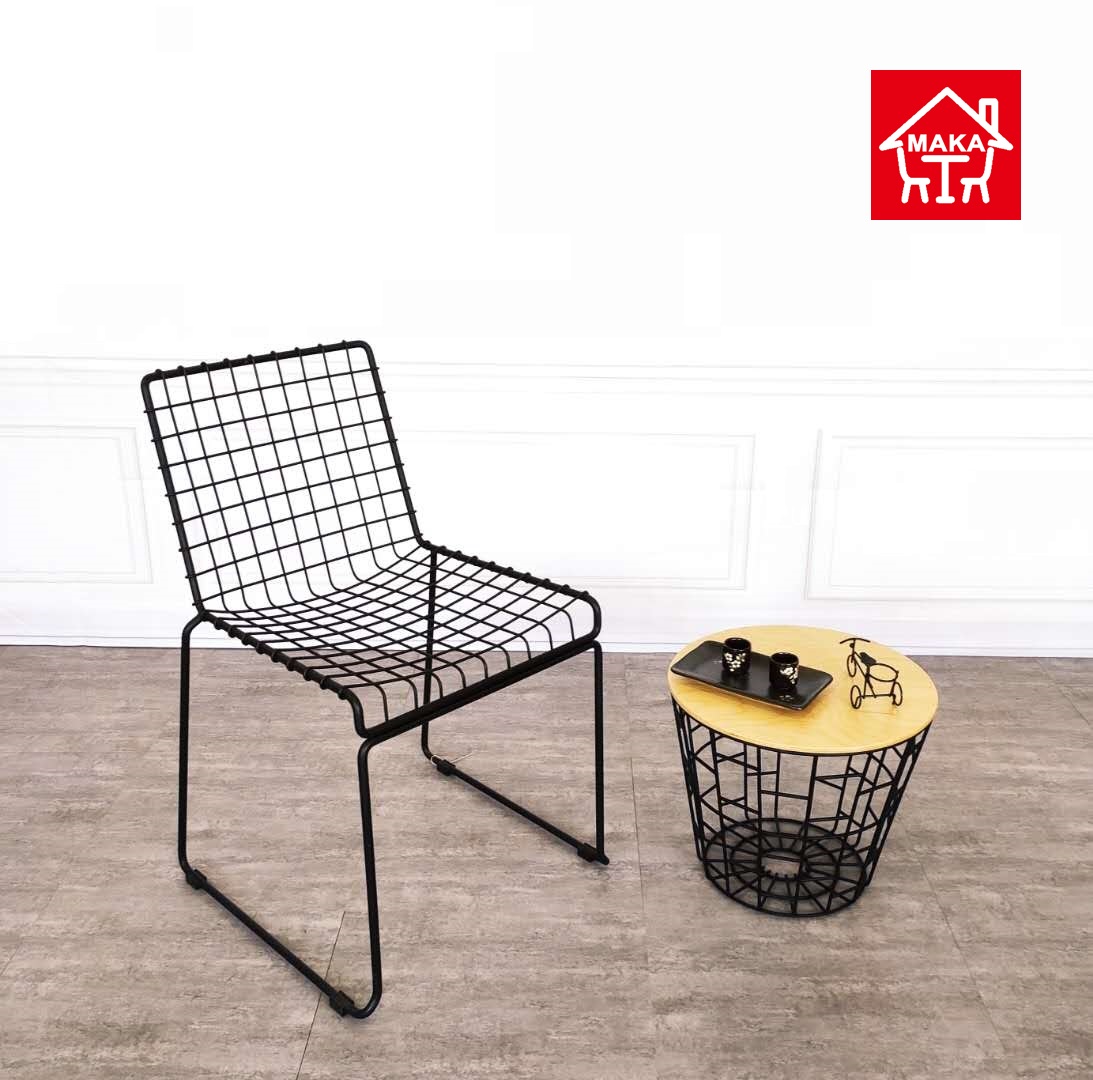 Compared with other products, this one is undoubtedly different. Chair itself is lightweight, hollow iron tube, can be put to anywhere, indoor and outdoor use, the color is also very special, different from other ordinary black and white.
If you want to keep the room transparent and spacious, this chair will be a good choice. A small restaurant with this kind of chair can be perfectly integrated into your home decoration.
The quality of the product is excellent, the physical and chemical test report can be provided, and it is safe and beautiful through EN581 and EN12520. It will bring you unprecedented visual and sensory experience.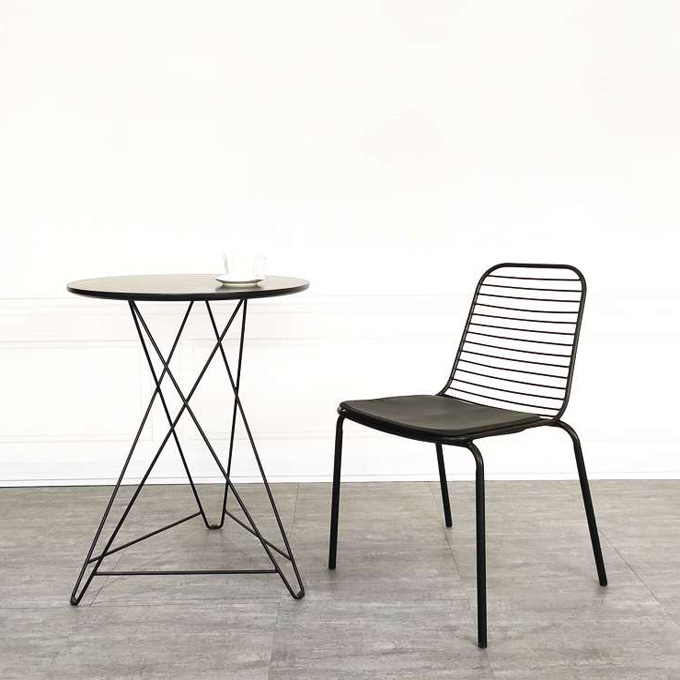 This one is so special round chair back like a shell so cute, red brings you passion, shell element gives you more outdoor feeling.
You can guess that it can be used outdoor, especially in a sunny afternoon, and enjoy tea and flowers with several friends. The parallel line and ergonomic chair back design make you feel more comfortable than ever before.
The chair leg cross line design is not only unique, but also has safety performance to ensure the chair is stable sufficient. The protective pad on the foot of the chair can be rotated and is suitable for uneven ground.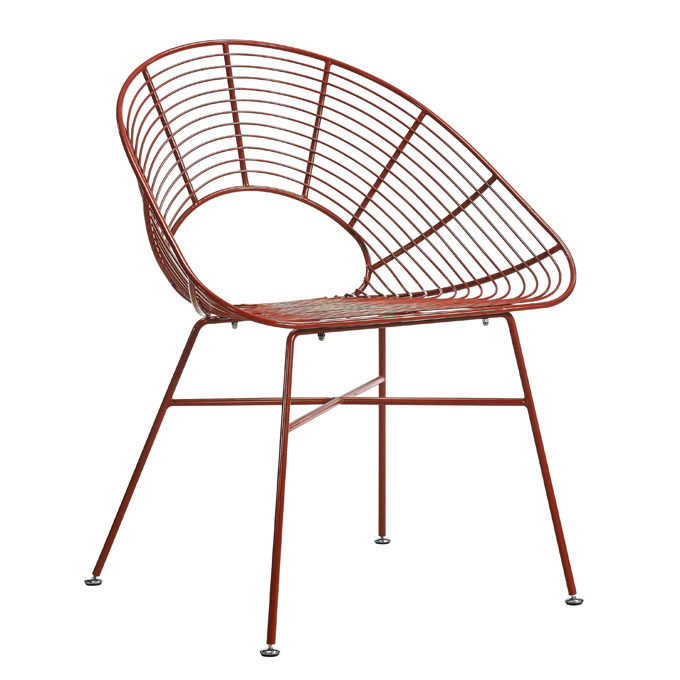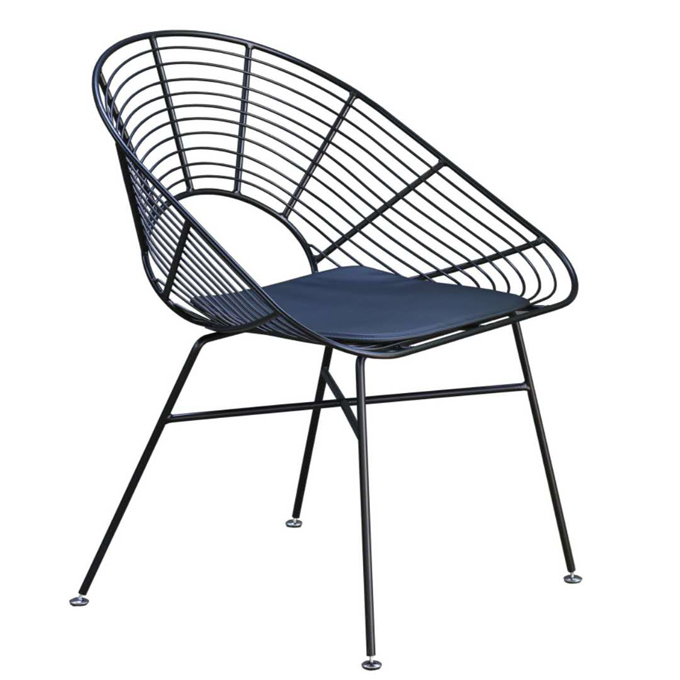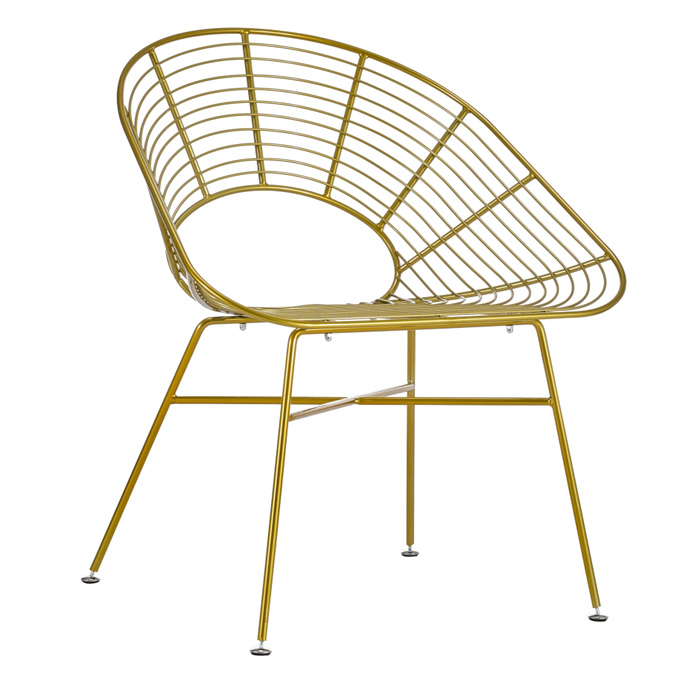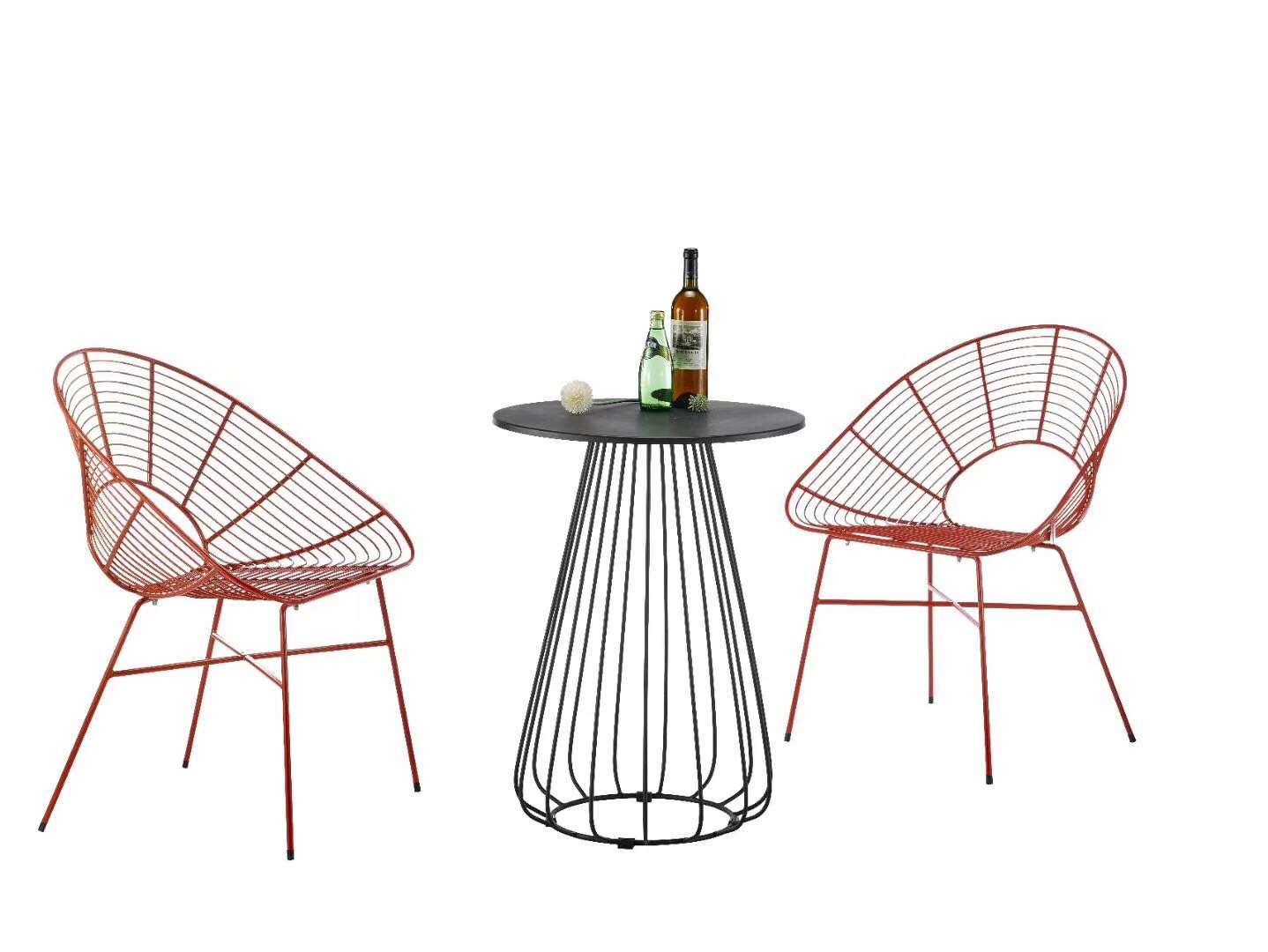 The above for you to recommend a number of our design products, from the material and design for your home to provide a new visual effect. We are a professional furniture factory with more than ten years of experience. We can not only offer you with good design, but also we are very trustworthy in quality. We can provide professional indoor and outdoor certification EN12520 EN581 and various patent reports for customers.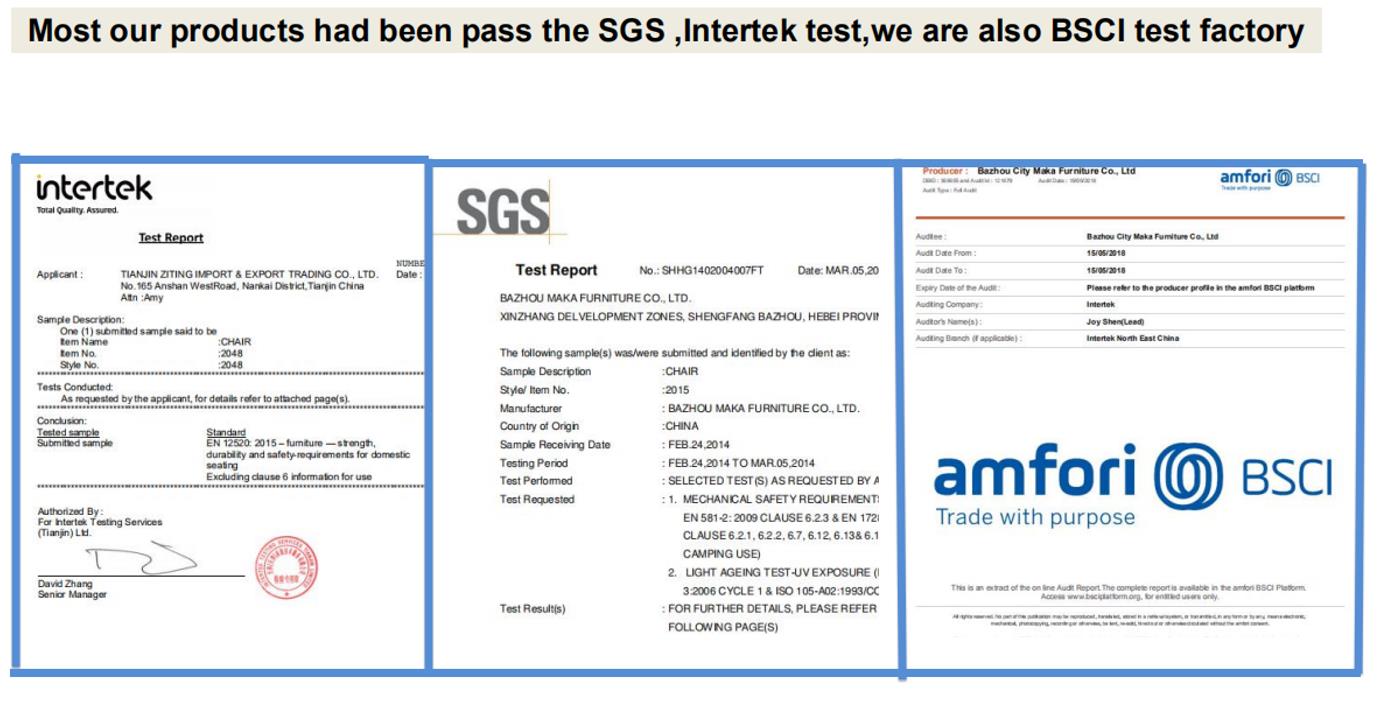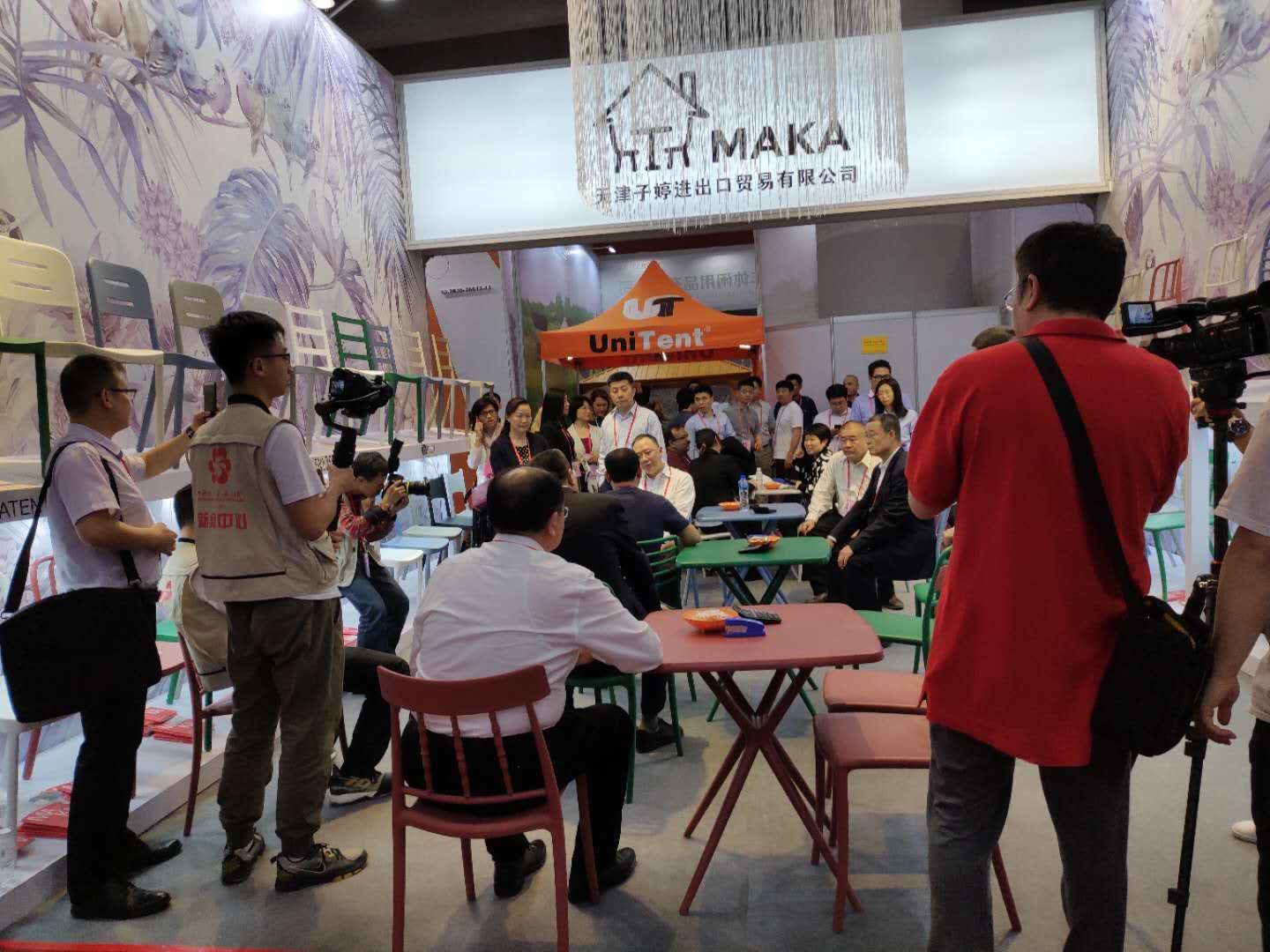 If long time outdoor, inevitable wind and sun, wire and plastic furniture to avoid this.The metal texture of the iron wire chair is not a boring ordinary black and white color. Please take a closer look. We provide luxurious light, low-key matte, low-key semi light. The gorgeous light makes the chair vivid and sharp.Wire products with spraying materials are environmentally friendly, you can freely use in food related places. After the Pu cushion is collocated, it becomes more luxurious and modern. Now many families belong to small living spaces. These shiny furniture helps Enlarge the sense of space. Our products not only focus on design, but also are very good in practicability. Every product conforms to ergonomics. The seats have special cushion collocation, which makes the customer experience more perfect.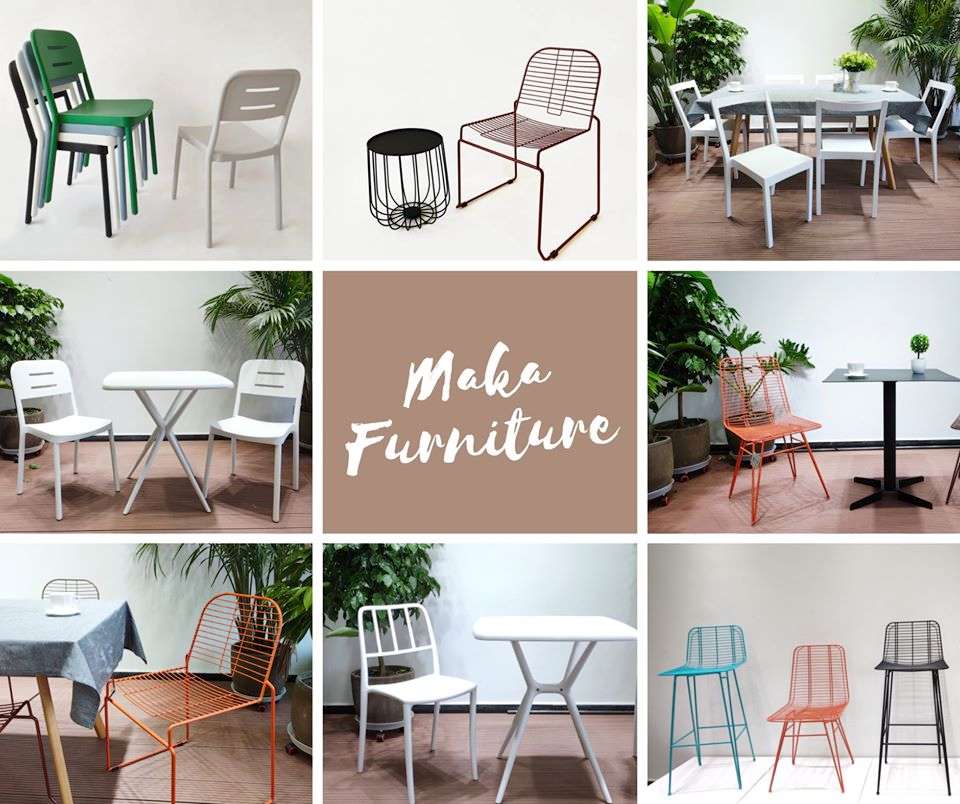 Maybe friends will ask us, how about the weight of chairs? Our chairs have passed the EU standard test. The stability of the chair back, the edge of the chair and legs of the chair have been test too. The weight capacity 300kgs, Even though you have a strong friend use it you don't need to worry about the quality of our chairs.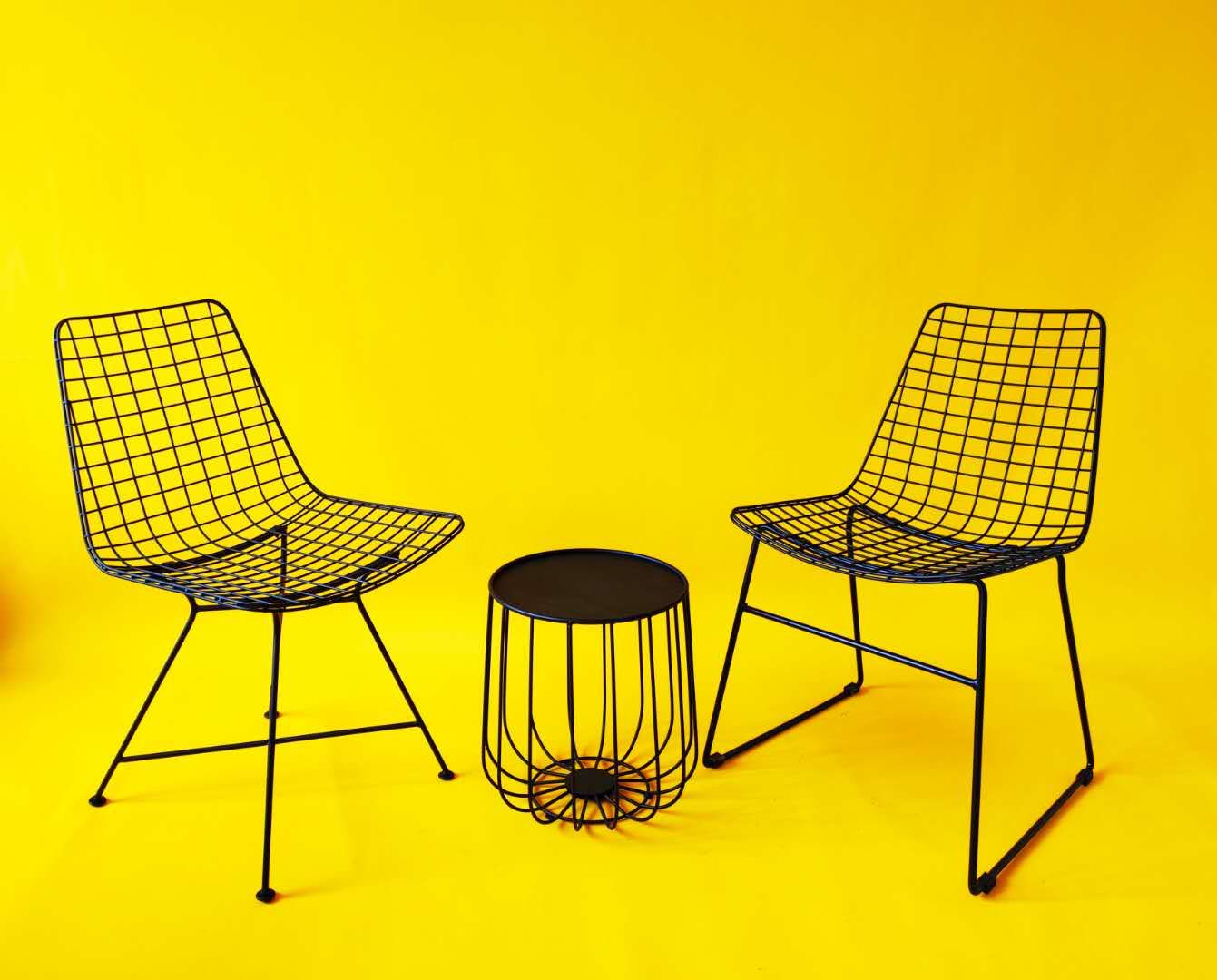 All members of MAKA Furniture think that we still need to further improve the quality and service of our products on the professional road. Welcome to put forward suggestions or opinions. We hope that today's detailed explanation can let you understand the new design chairs,we hope to cooperate with you, especially to be your loyal partner after the epidemic, to cooperate with you to open the market and increase your profits.