Europe is a continent with a relatively developed economy. It is located in the northwestern part of the Eastern Hemisphere, on the west side of Asia, and is part of the Eurasian continent. It borders the Arctic Ocean to the north, the Atlantic Ocean to the west, the Mediterranean Sea to Africa to the south, and the Asian continent to the east. Most European countries belong to developed countries.
For the Furniture Market,Europe is more pay attention on Original design.Intellectual property disputes are most in the European market.That's why we focus on design by our self .Follow some our top selling on Europe market.
Maka Furniture is the ultimate manufacturer for dining chairs and armchairs, our mission is not only to supply bulk , but also to help and provide customers more ideas about furniture decoration. Covering a wide range of products, materials, and shapes, here you can find a complete furniture collection.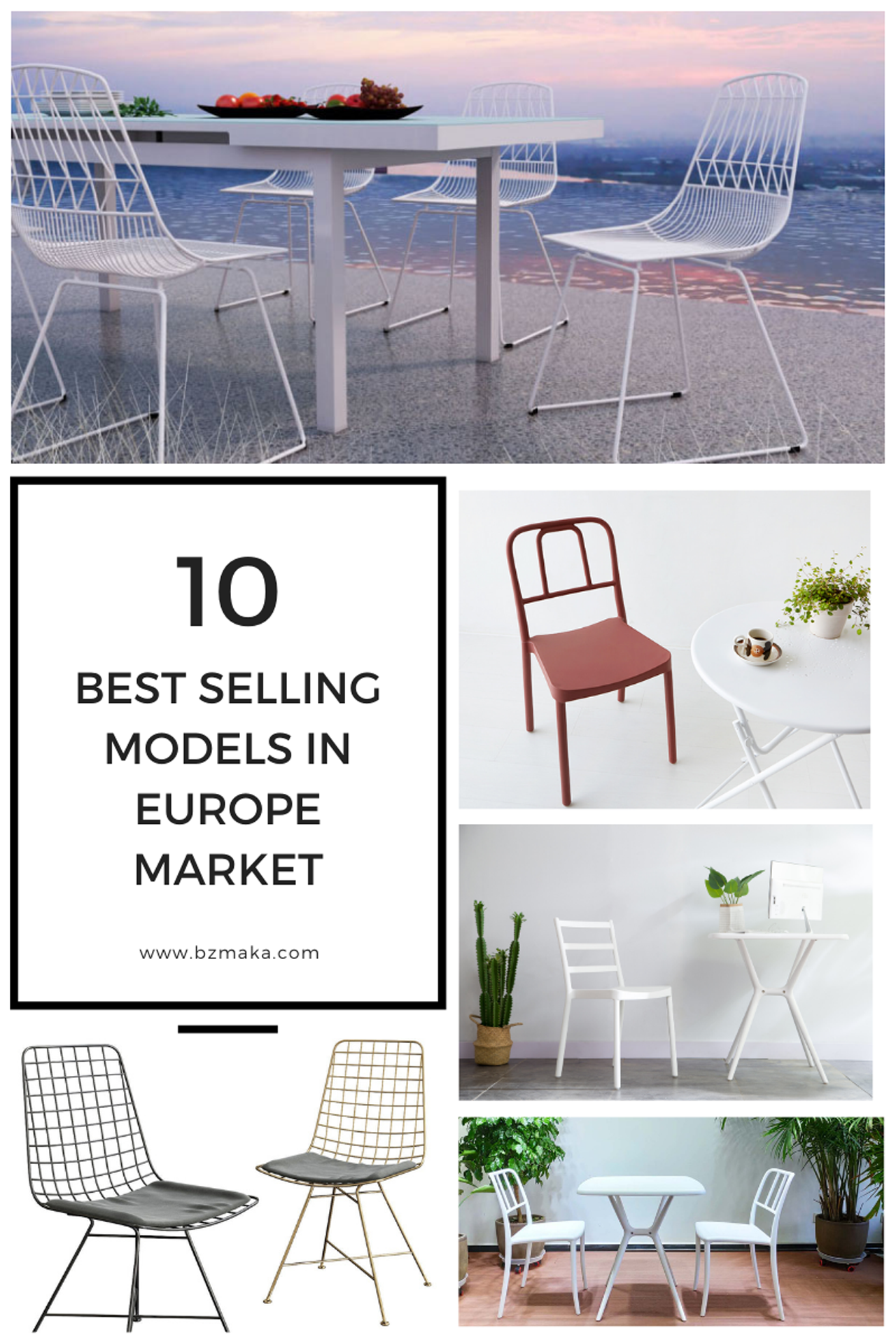 No.1 Plastic chairs made 100% raw Material.#2047
The perfect blend of functionality and comfort.It is versatile, light,attractive and very original.Made of high quality polypropylene plastic.Comes with non-slip and anti-scratch studs.Curved and ergonomic backrest.Adds modernism and distinction to the environment.Stackable and very easy to store.Ideal for terraces, dining rooms, offices and bar areas.Suitable for indoor and outdoor use.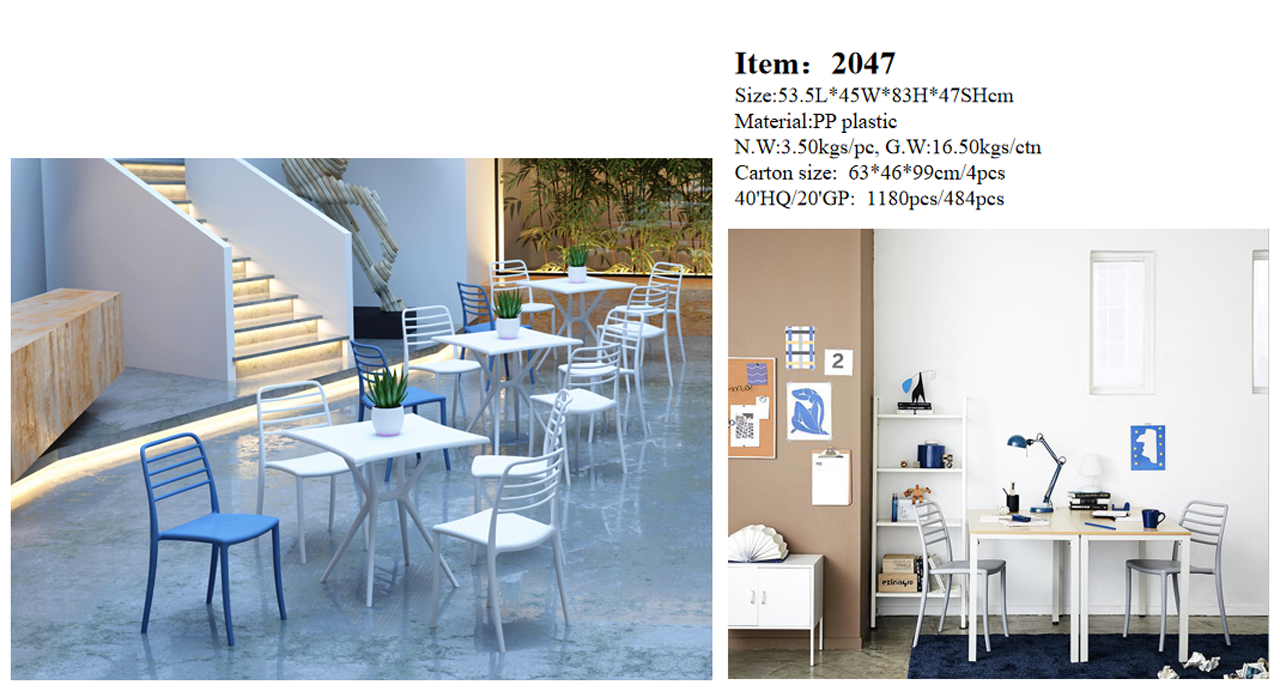 Also have table for match this chairs for chairs and table sets,provides more than just a place to eat or relax outside—it's also an extension of your indoor and outdoor decorating style.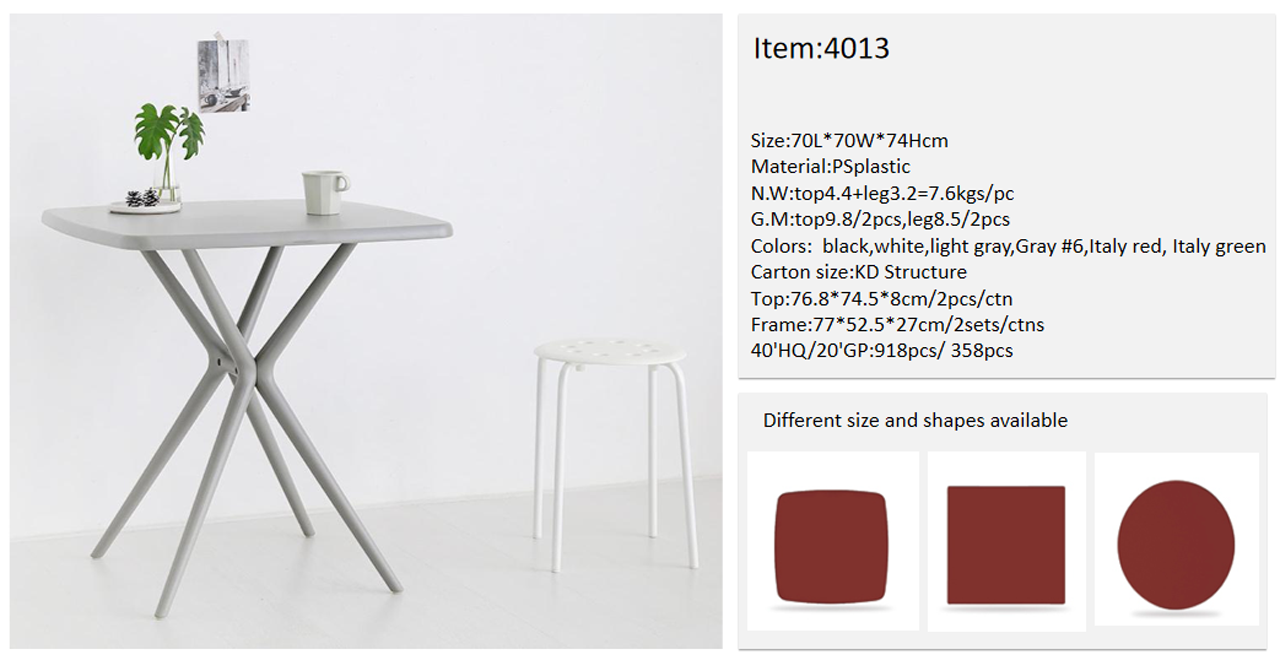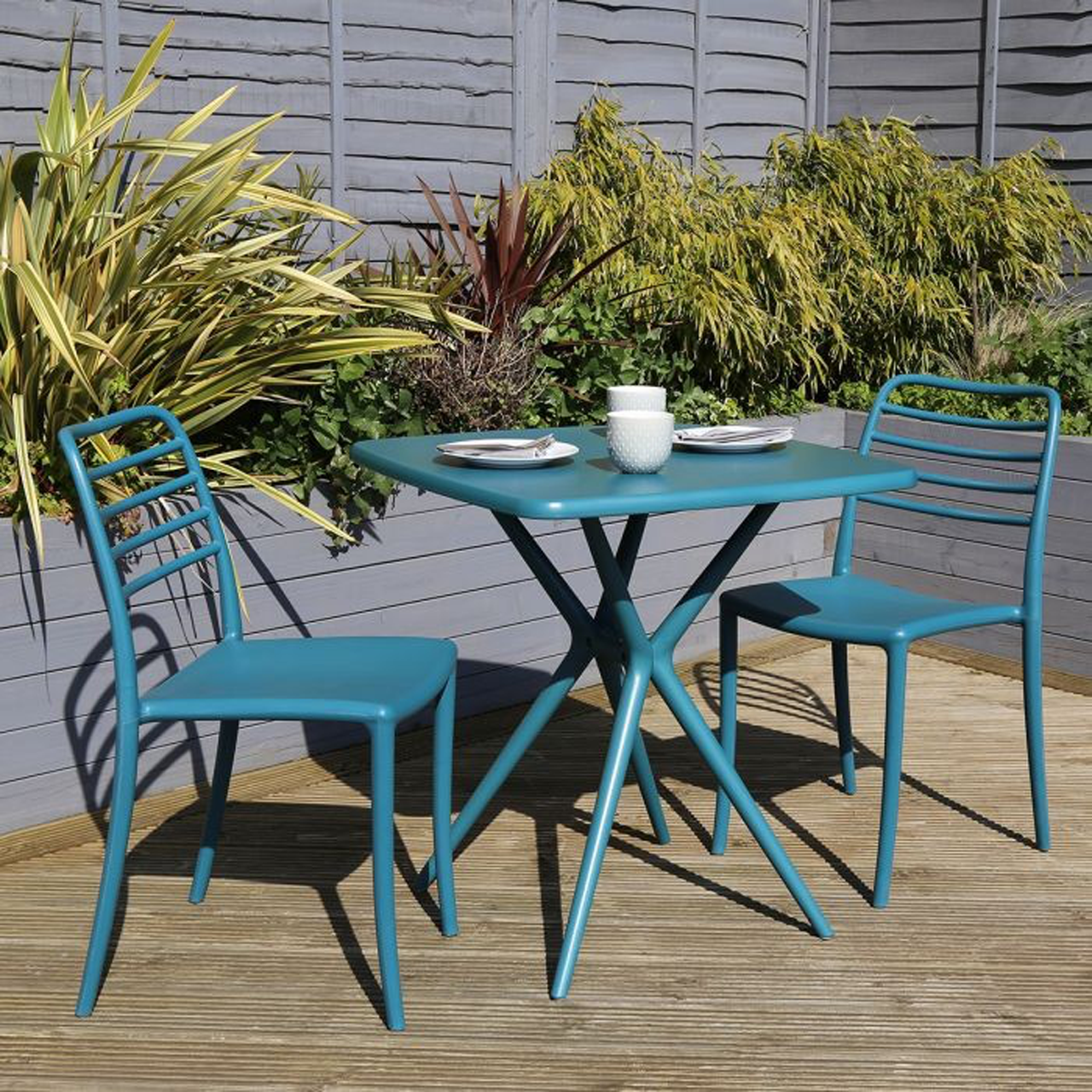 No.2 stacking dining chairs.-#2048
Nordic Leisure plastic chair, simple but extraordinary ,extravagant but not luxurious .Fine grinding, smooth without burr.Strict selection of material,100% new raw pp material ,More durable. Add UV anti – UV, anti – fading.Easy to clean,no color change.Design chairs for big load bearing,load bearing is 500kgs.The simple exterior design is pleasing to the eye. A variety colors for your choice.Fit the human body curve, improve the sense of comfortable sitting.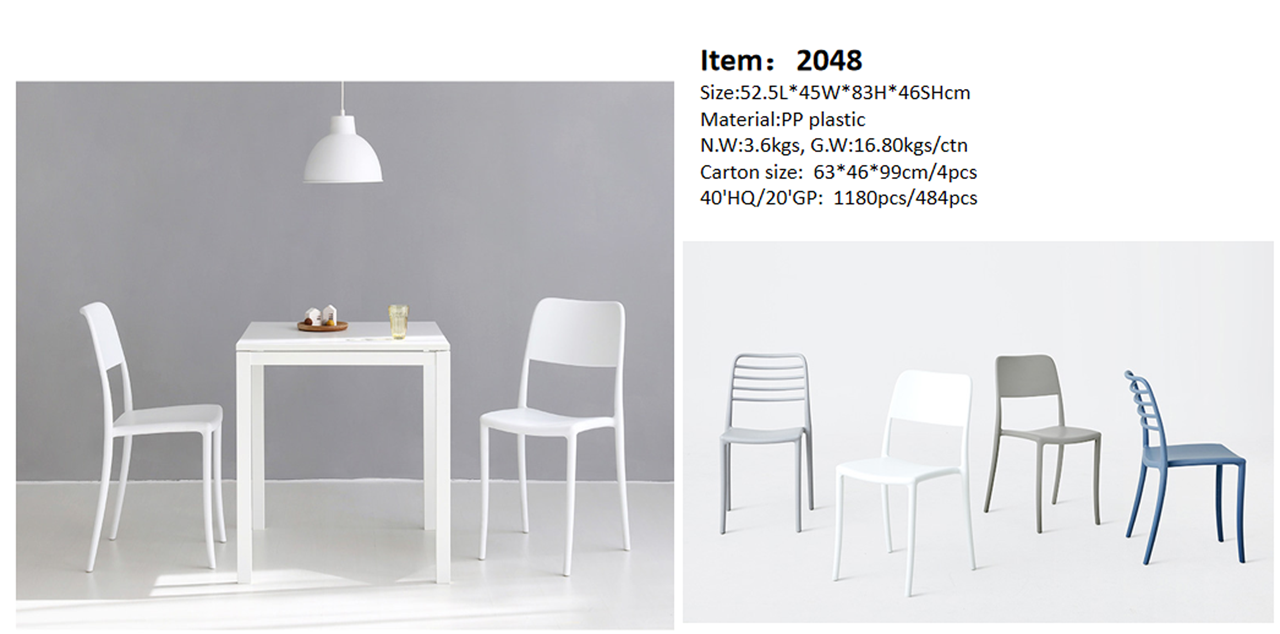 Customers general use on follow place :Dining room, Garden kitchen,Living room. Office, Patio chairs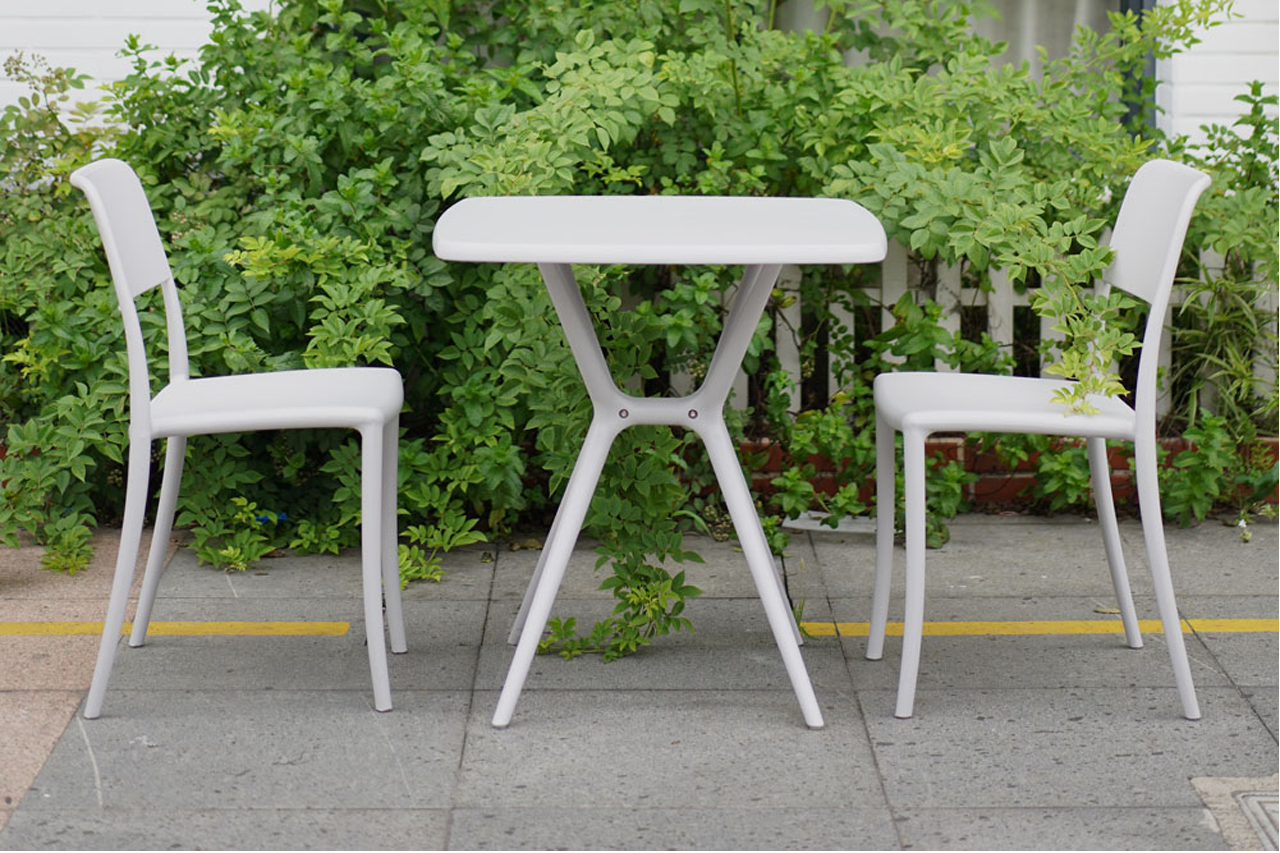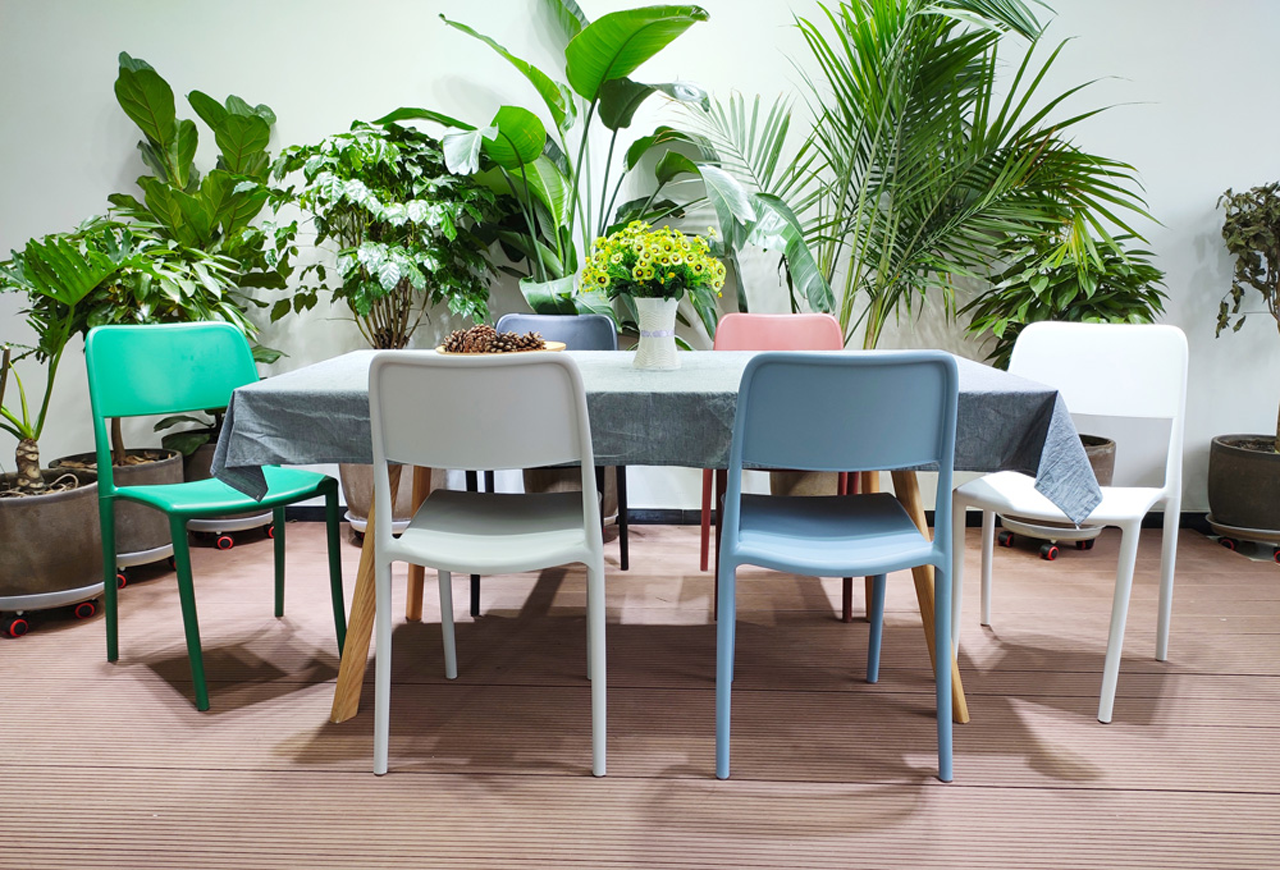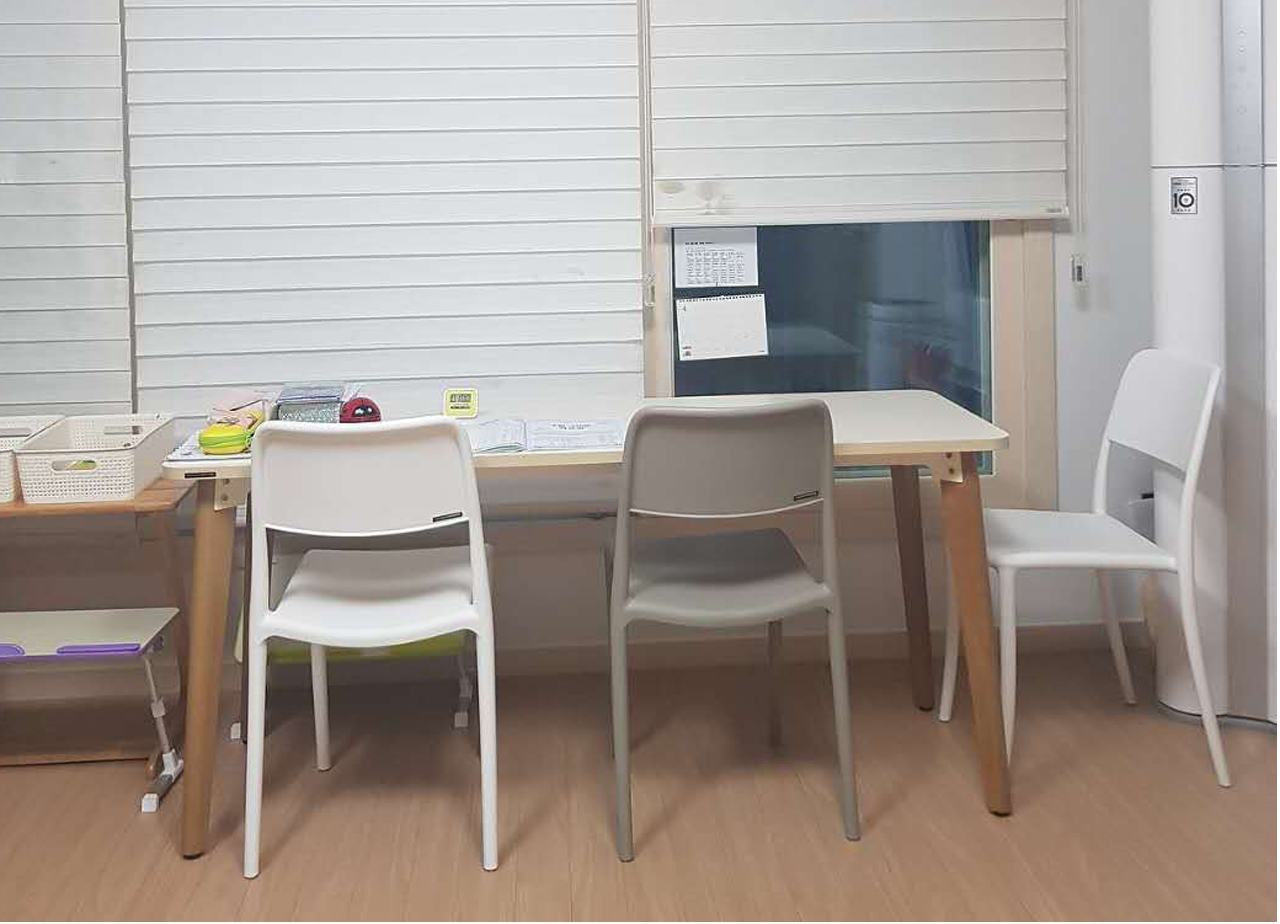 No.3 New models outdoor chairs #2063
With the special back design, people like to put this chair in their dining room, living room. No need to special moving, the chair will show the generous style.The plastic chair is strong enough to be a durable furniture, and has a "basic" aesthetic design that allows it used for indoor and outdoor.Though its design is simple, this chair's neutral hue gives it the versatility to blend with a variety of scenes.It's nicely weighted and stackable for easy storage on the off-season. It is also a good choice to use it as office chair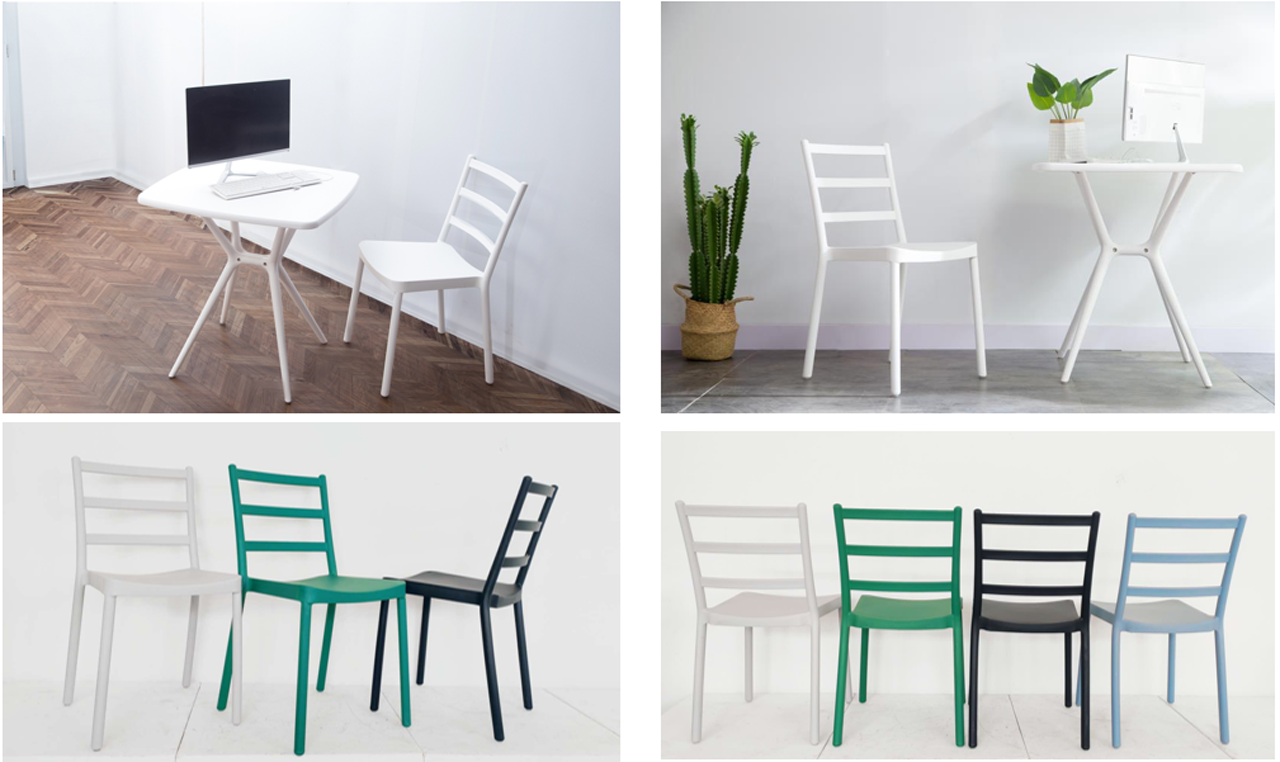 Plastic Furniture Advantage
. Plastic chairs is available for Australia ,Europe Market .With UV can outoor used .
.Stackable can save space and for wedding and rent business used .
.Easy clean and store .very Convenient to carry and many colors to choose
.Constructed of polypropylene for durability and style
. Polypropylene doesn't decay or rust and is resistant to general wear and tear for your peace of mind
· High chair back for support as you dine
.Back displays a convex angle to promote good posture
.Four solid legs for a well-balanced structure
· Chairs can stack for easy storage when not in use
· Neutral white finish to effortlessly complement your existing aesthetic
No.4.Dining chairs made by plastic seat and Metal frame-#6004E
Nordic simple dining chair, ergonomic design, both look and practical quality.High quality plastic seat with 4 legs for bearing big loading. Suitable for a variety of scenarios, whether shopping malls, hotels, restaurants or home are applicable.These chairs are always a good idea! They fit every style and you will have so much fun With them. Important features: Legs made of metal , Seat is made of plastic .Must be assembled Styling advice: This is of course a great dinner chair and what about a chair in your bedroom to keep your clothes nicely of the ground?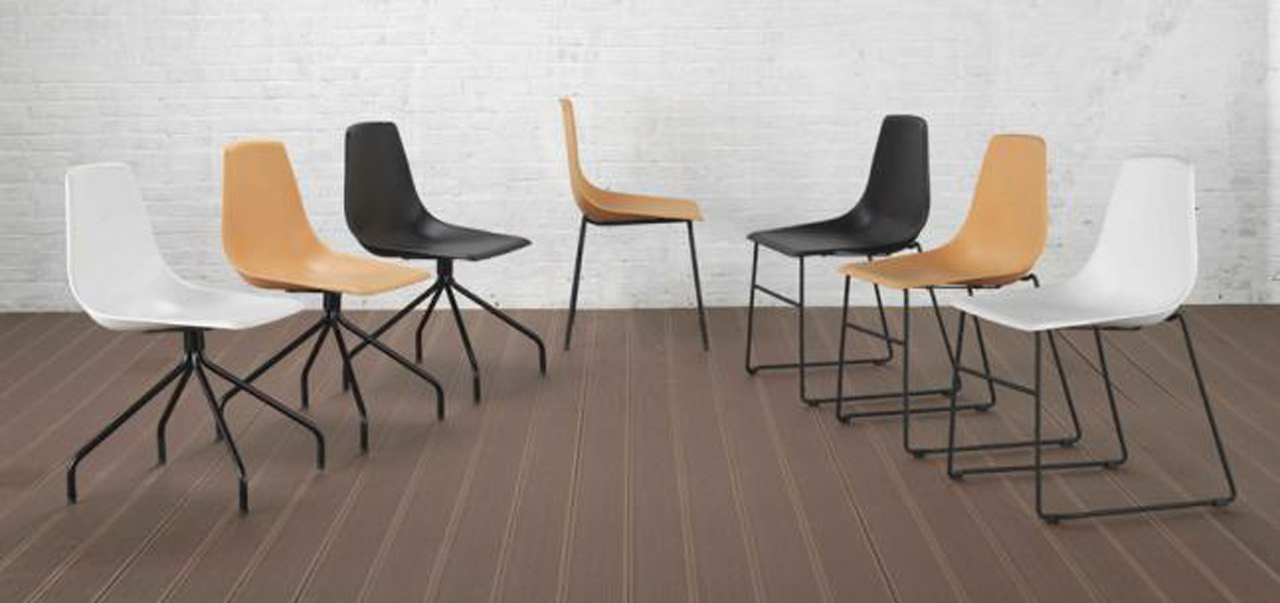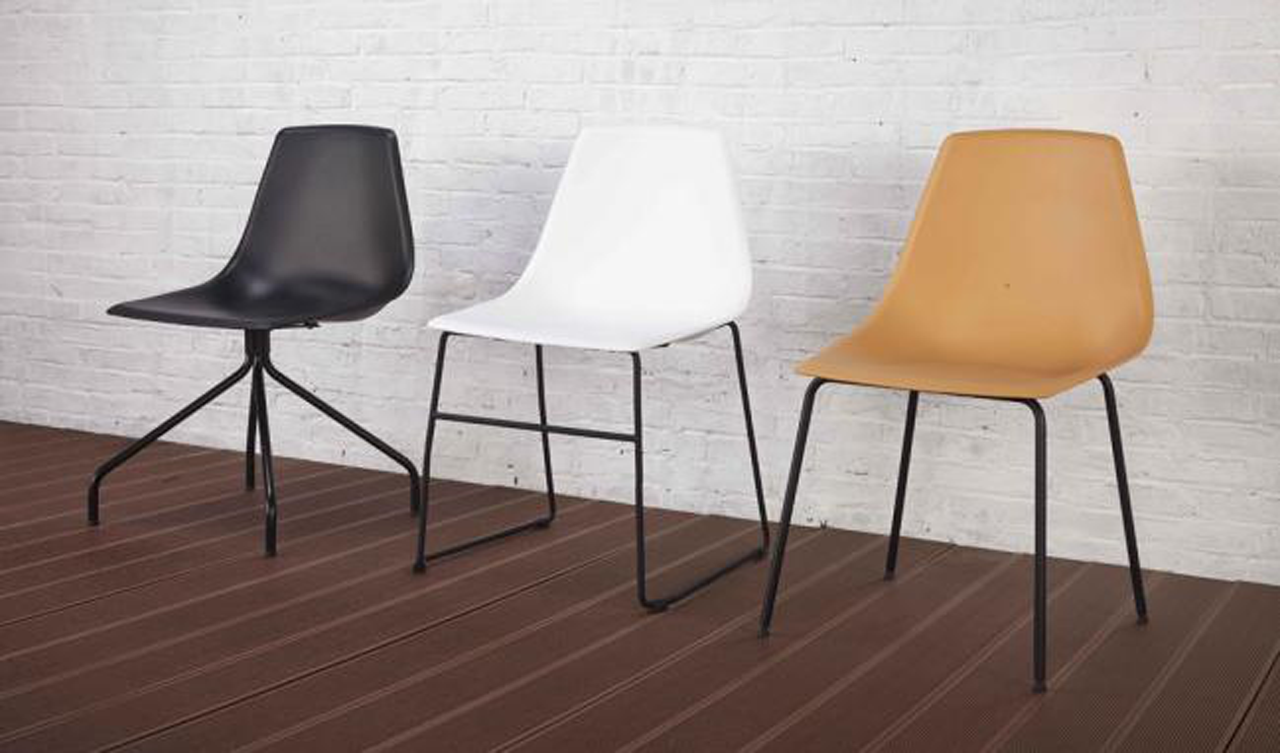 KD Packing way for save package CBM for Online sales way.
.pp seat with metal frame can outdoor used .
.special design decor your home beautiful and also comfortable seating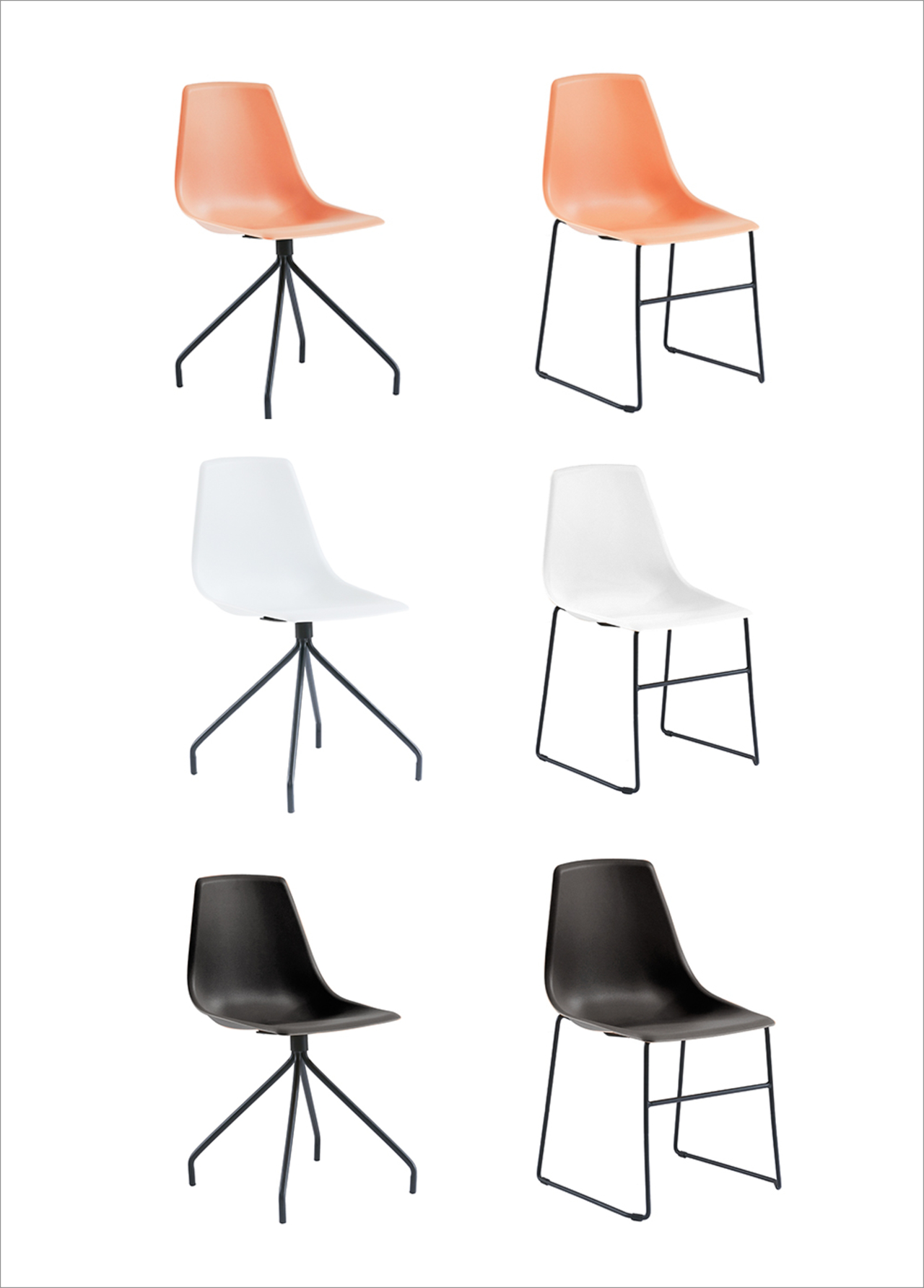 Also other frame for your check as follow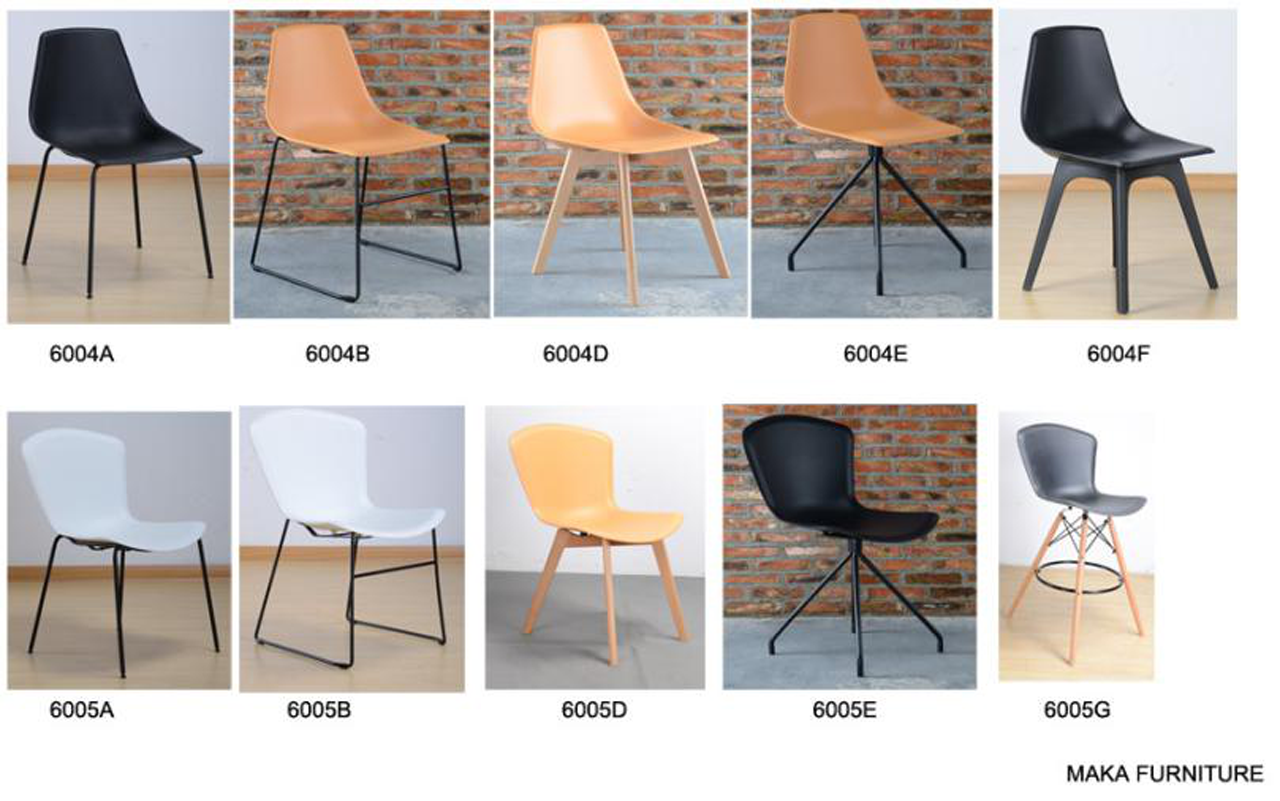 Most of the customers are used in e-commerce, furniture decoration stores, wholesale and large quantity of imported furniture stores, retail furniture stores, DIY stores, outdoor appliance stores, Christmas gift stores, online B2C shopping, TV shopping, supermarkets, etc
It is emphasized here that our iron wire chairs are very popular in the European market, especially the two models, 5017a 5017b
No.5 Metal mesh wire side chairs-#5017B
Nordic modern iron leisure chairs. Fashion and Leisure style iron chairs ,The structure of the iron frame adopts the principle of mechanics, which is more stable ,iron line style has more design sense.Health and safety paint.Safe and not pungent offer for protect the environment. Simple Scandinavian look ,Wired seat is extremely strong for your peace of mind,Matching cushion for comfort and style,Stoppers on feet for stability.Easy to assemble, simply screw together, for your convenience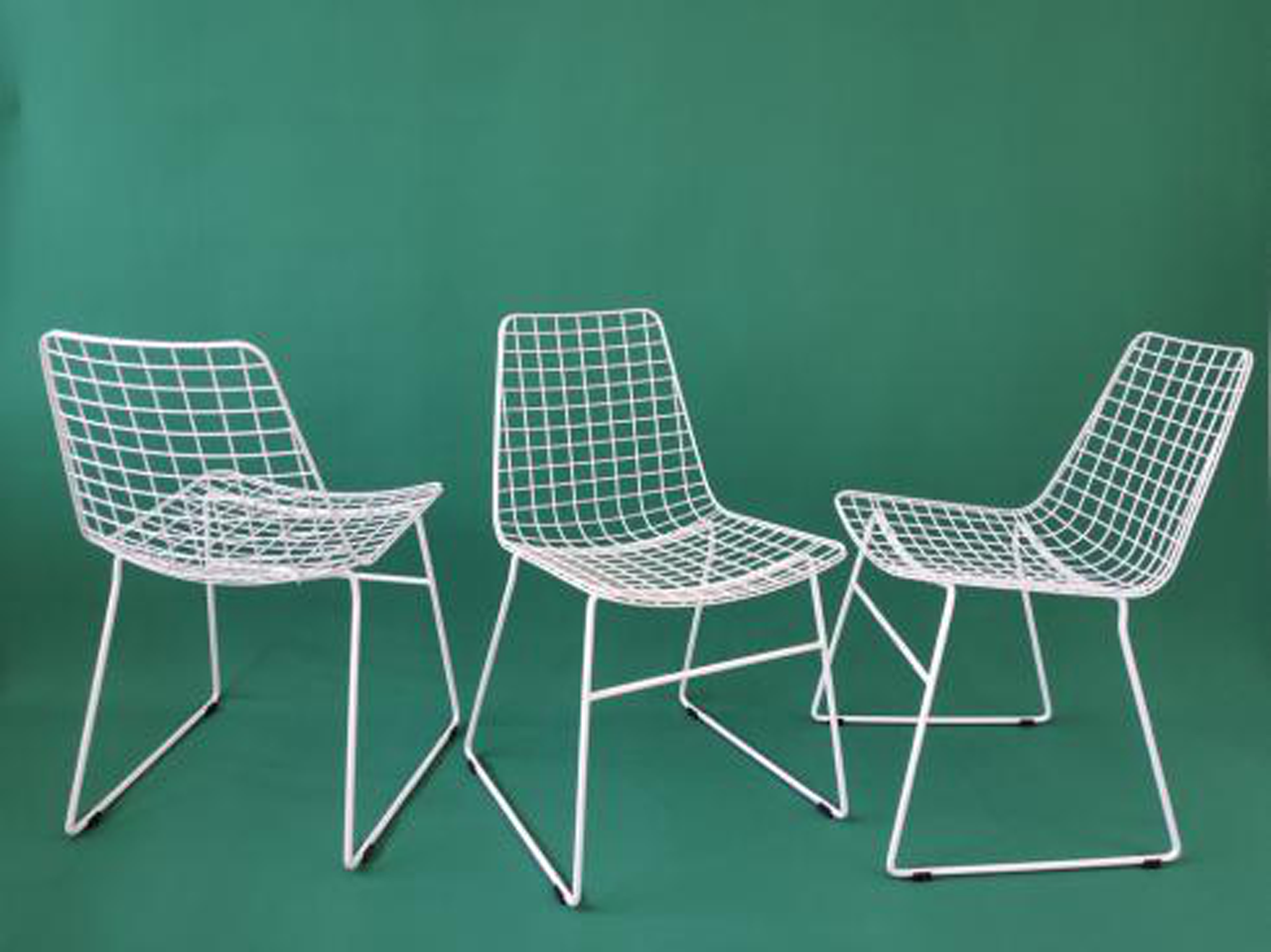 NO.6 Scandinavian metal side chairs #5017A
We all know that the restaurant is the most special space for every family, because it is a place for family to share delicious food and chat. Family dinner plays a very important role in our life during the epidemic isolation period and at ordinary times. You must hope to improve the beauty of your restaurant as much as possible. Now you see our metal wire chair 5017a With the effect of wooden table, more Scandinavian and industrial modern wind, the chair is stable and durable.The A-frame is like a girl's skirt and Coca Cola bottle, which makes the chair look slender and elegant,There is also this U-frame. The U-frame is often the solid and durable type favored by customers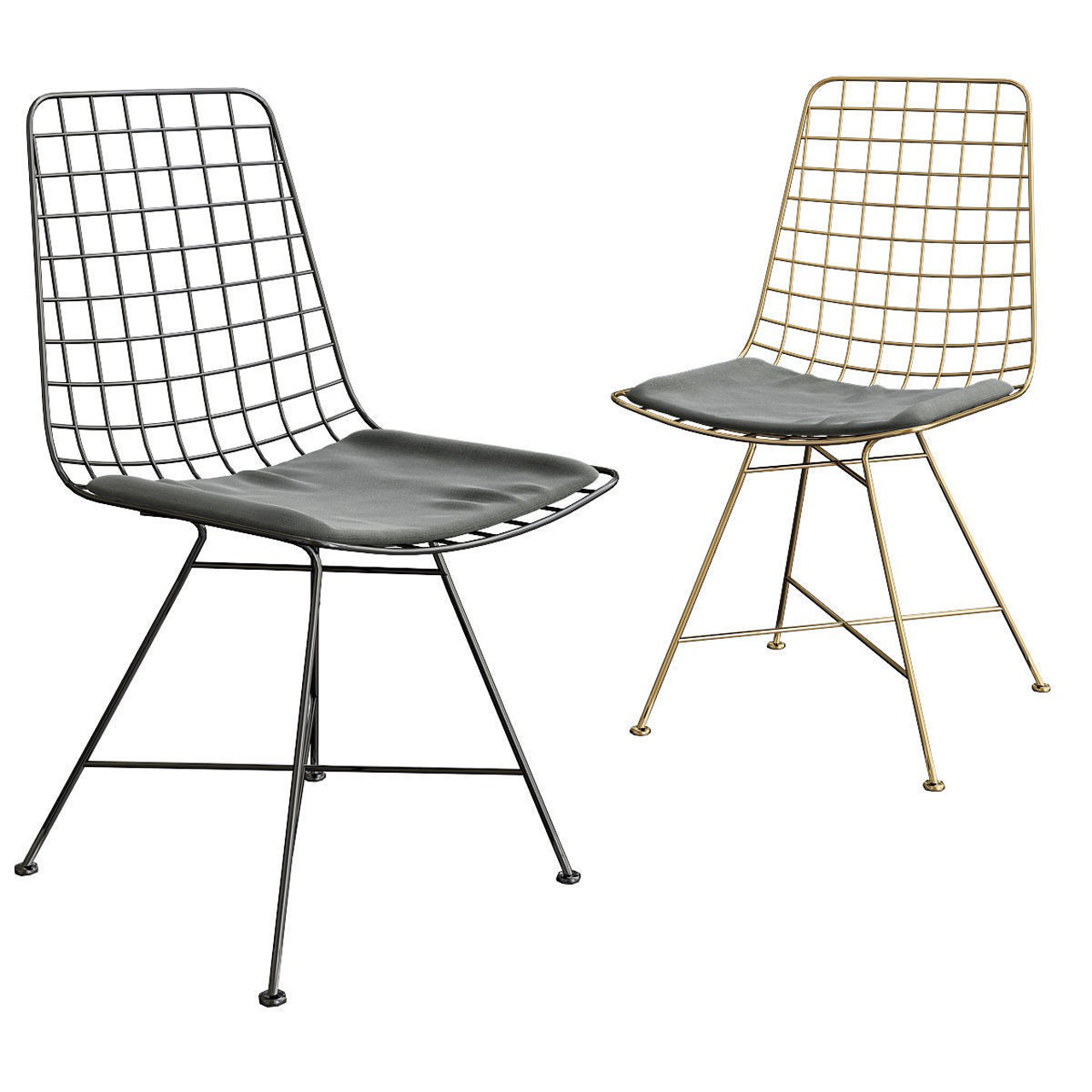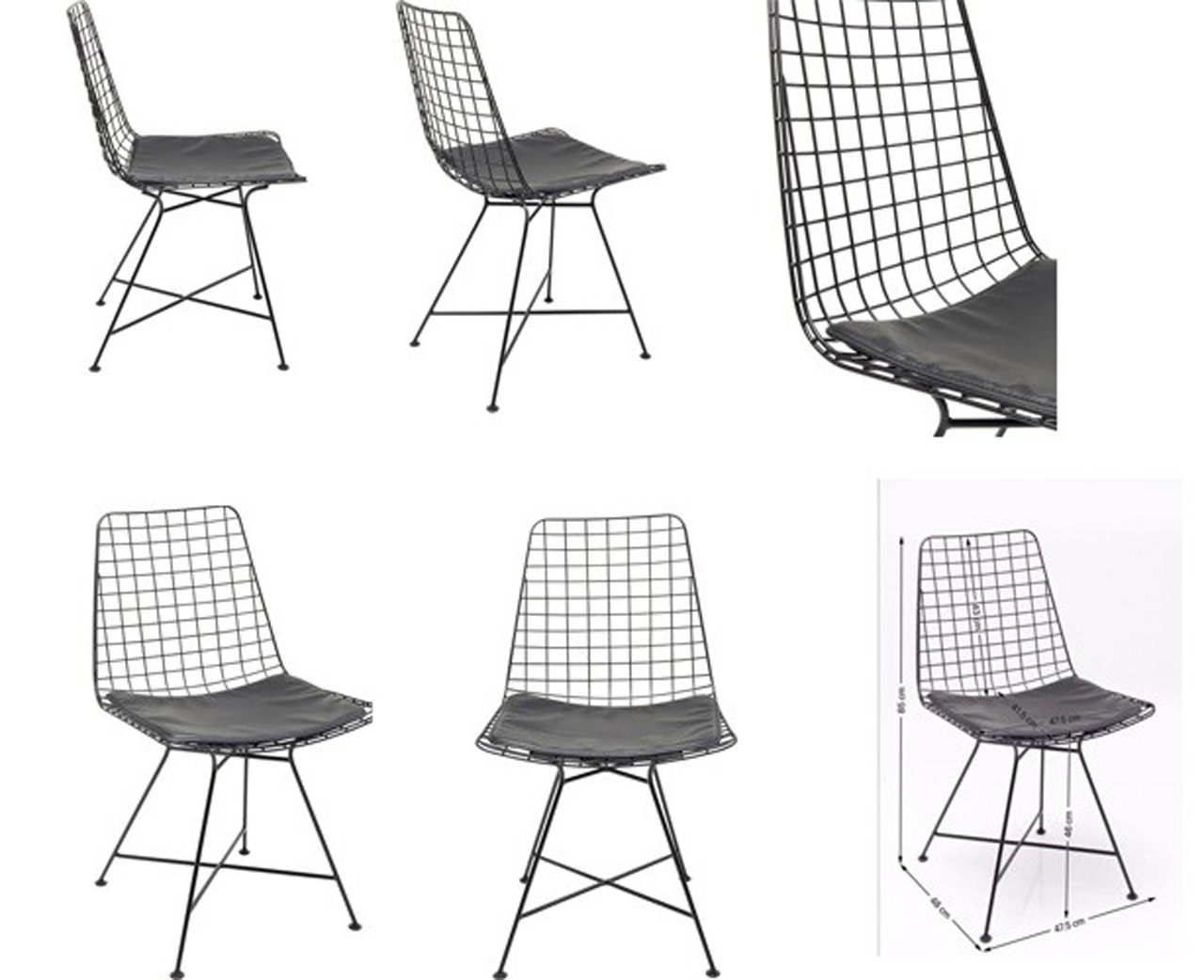 NO.6 Mesh metal side chairs #5020A
Simple modern Nordic chair , personality creative outdoor chairs. Classical mechanical structure, It is a piece made of high quality steel, a very tenacious and durable material, capable of supporting up to 150Kg.solid steel main frame, strong and stable. suitable indoor and outdoor used . Stackable design for save space. simple and extraordinary, luxury but not.Make your spaces overflow with exclusivity, style and personality!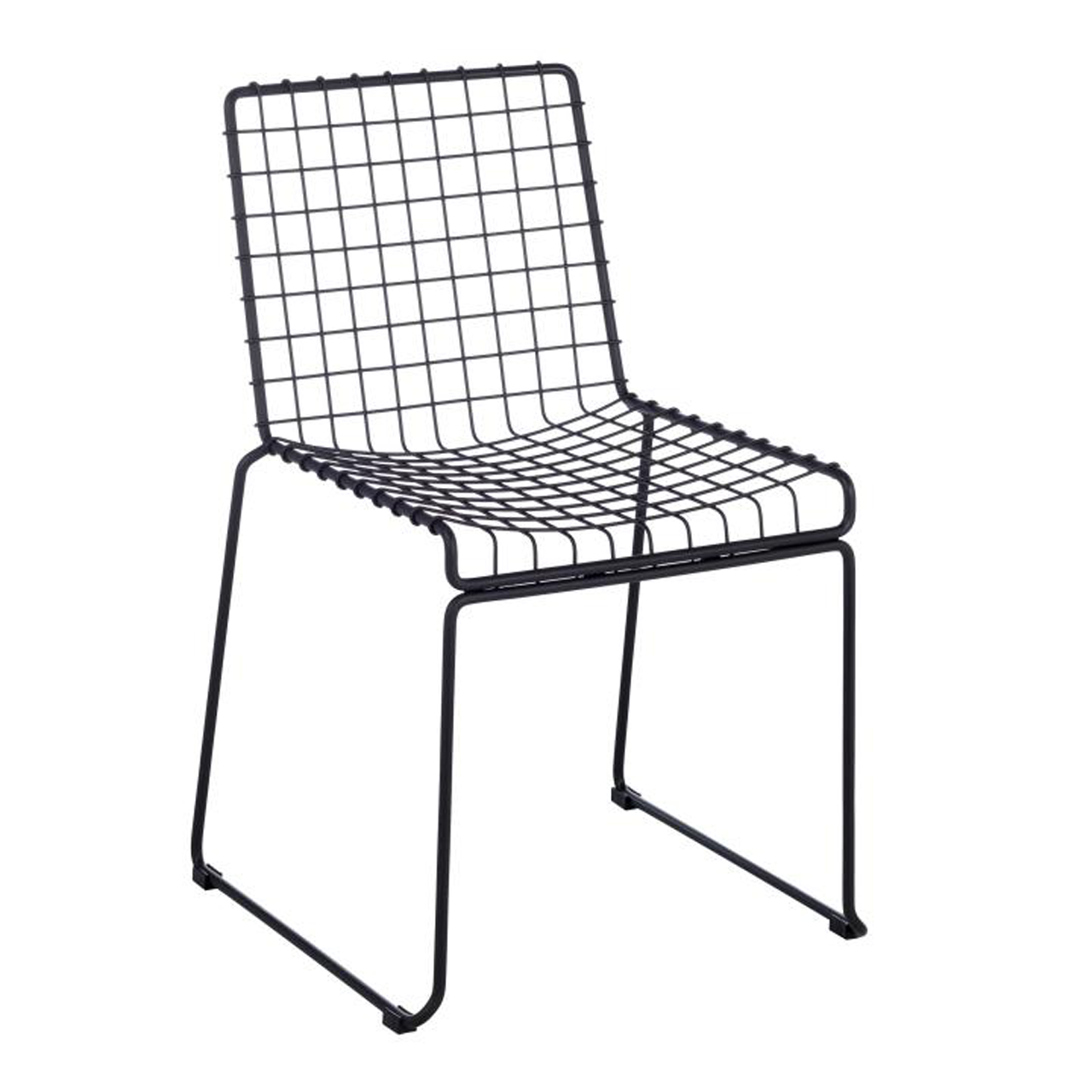 No.7 Mesh metal side barstool 5020B
Bar Stools are always a stylish seat ,Bring casual, versatile seating to your kitchen island or counter bar with dining chairs in counter height or bar height, with backs. Some stackable design for save space when not used .in a wealth of designs including upholstered stools and more.Timelessly classic,or elegantly traditional, choose solidly constructed bar stools that will serve you well at your home bar or restaurant.Browse our bar stools with confidence, you are sure to find the perfect match to suit your needs.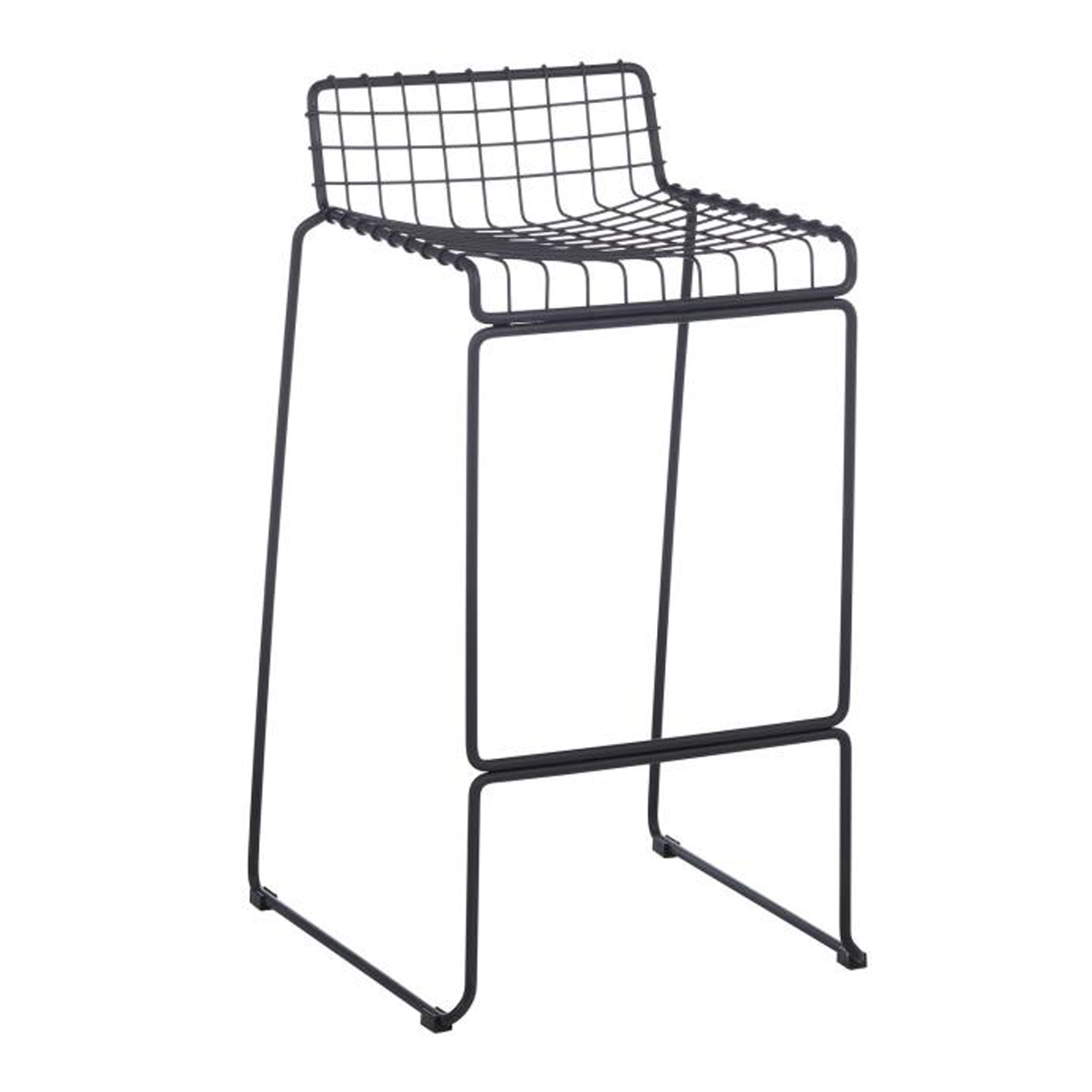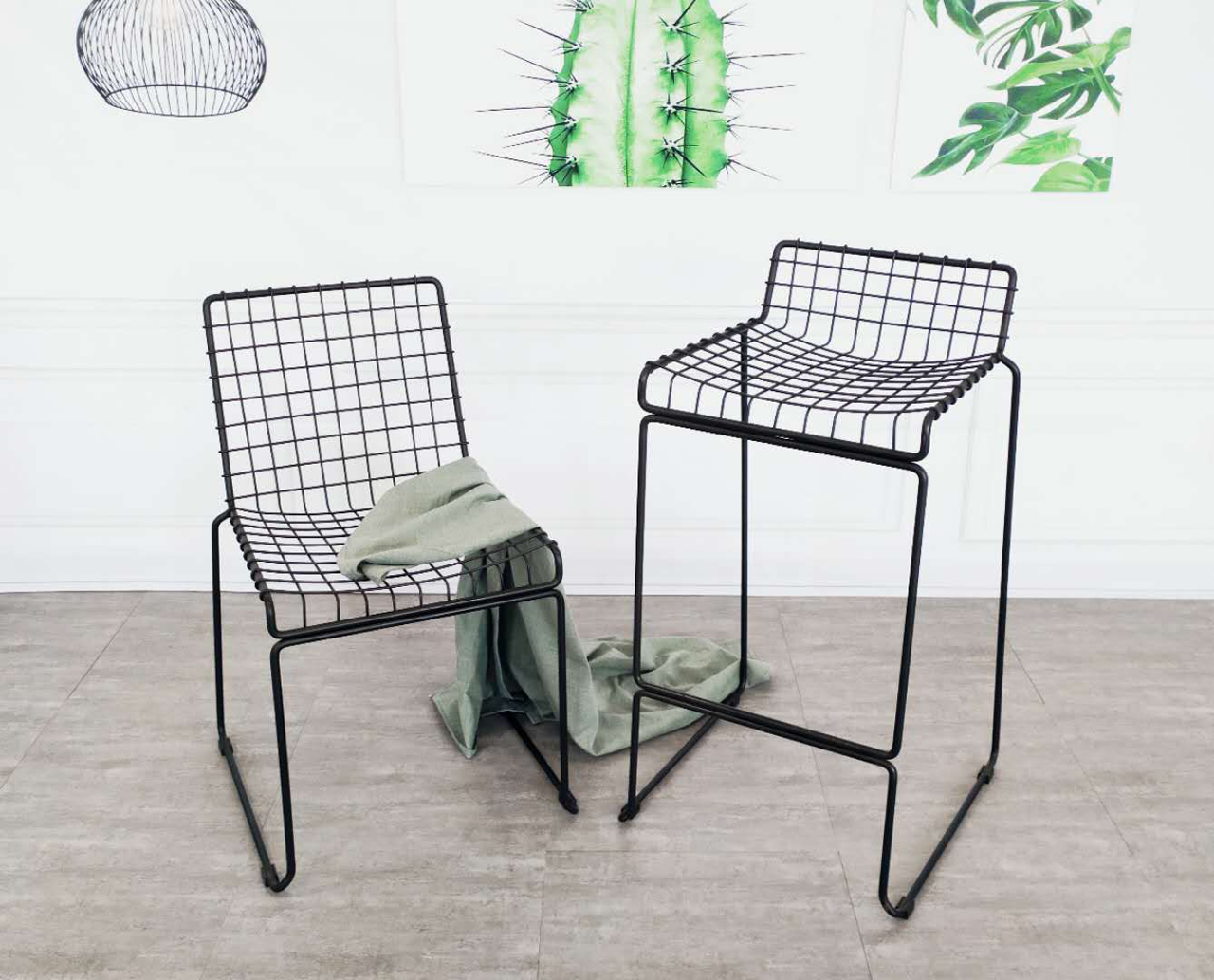 No.8 metal side dining chairs 5001F
The iron wire chair has been in existence for at least half a century. It has a sense of industrial design, relieves people's pressure, has an affinity for metal mesh, shows classic and generous air, and the balance of the metal wire chair Stability is very good, you can put the chair on any occasion, and curtains, carpets, hangers, lamps and lanterns match into a whole, in addition, with personalized small tea table, balcony flower rack, is to decorate the furniture become flexible and full of passion.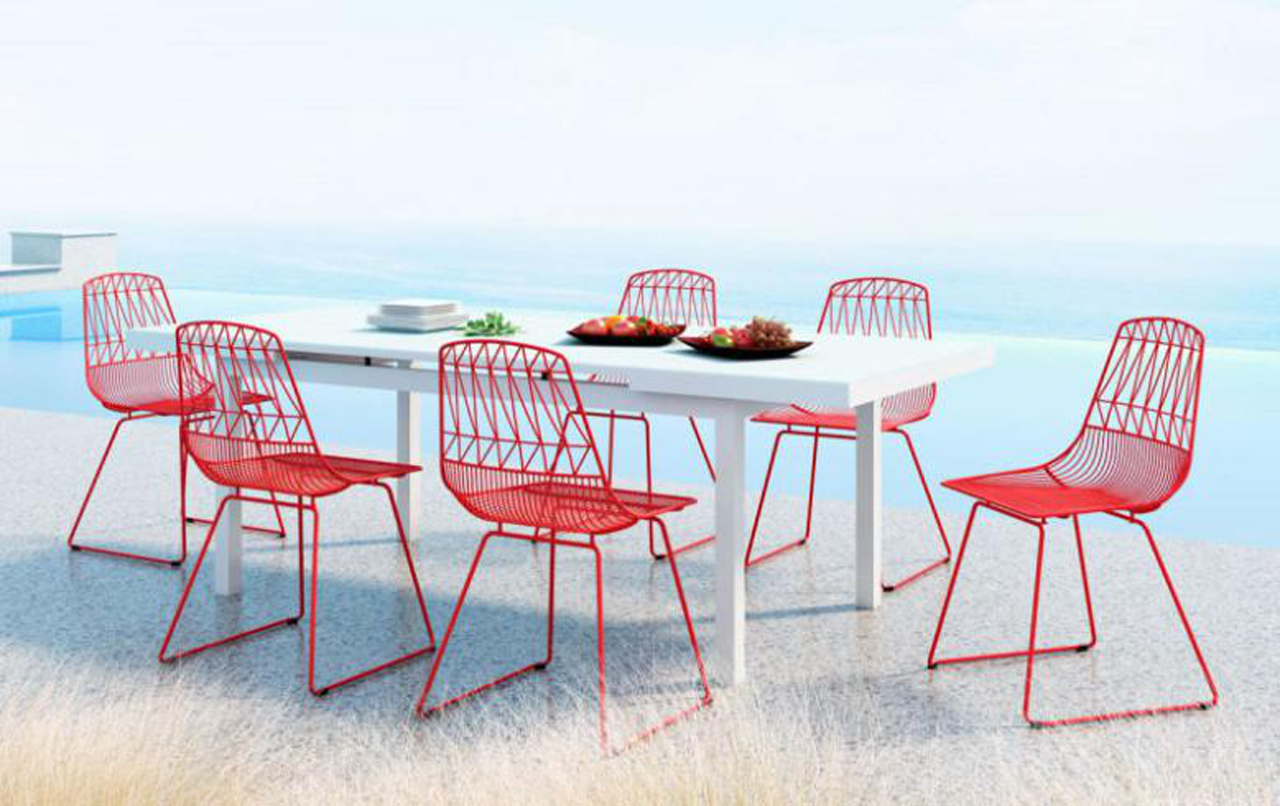 No.9 metal side dining chairs 5026A
Follow models chairs are KD package way .Most of the customers are used in e-commerce, furniture decoration stores, wholesale and large quantity of imported furniture stores, retail furniture stores, DIY stores, outdoor appliance stores, Christmas gift stores, online B2C shopping, TV shopping, supermarkets, etc.It is emphasized here that our iron wire chairs are very popular in the European market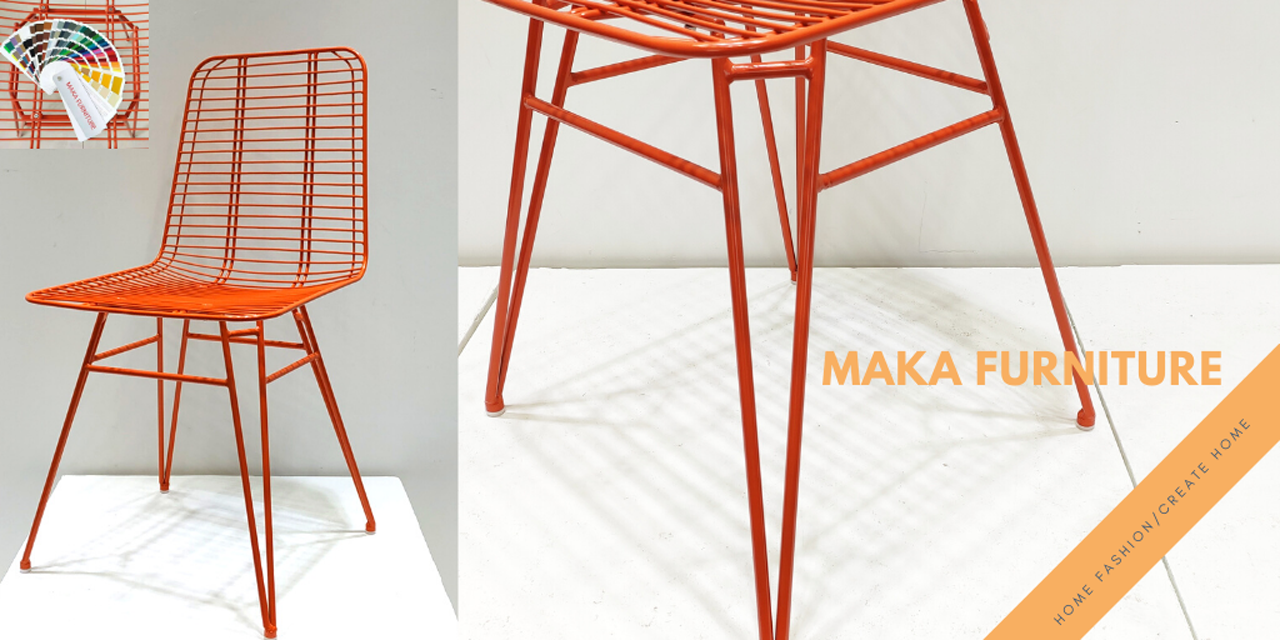 No.10 Metal side dining Bartool 5026B
Follow models barstool chairs with very stable frame for a big loading bear capacity .KD package way for E commerce business way .
Suitable for indoor and outdoor use. Cushion is available for comfortable seating feeling . This models are popular for Europe market and with big loading capacity.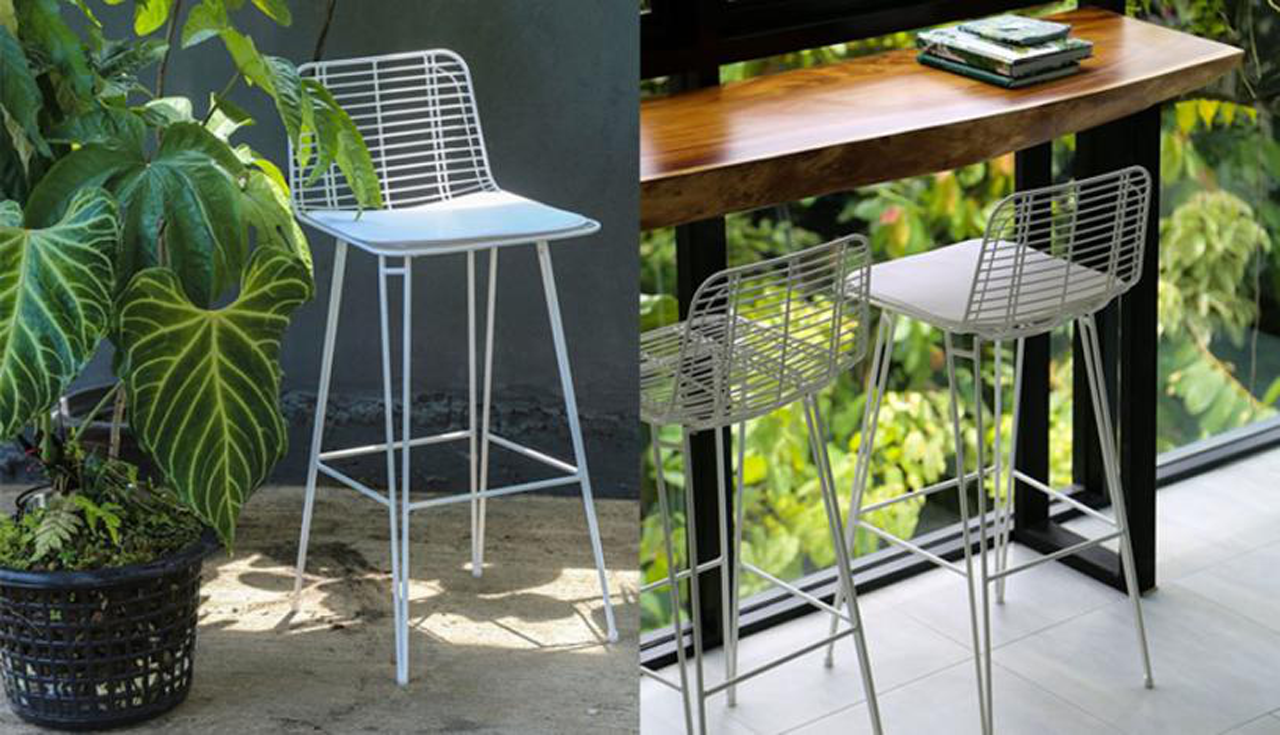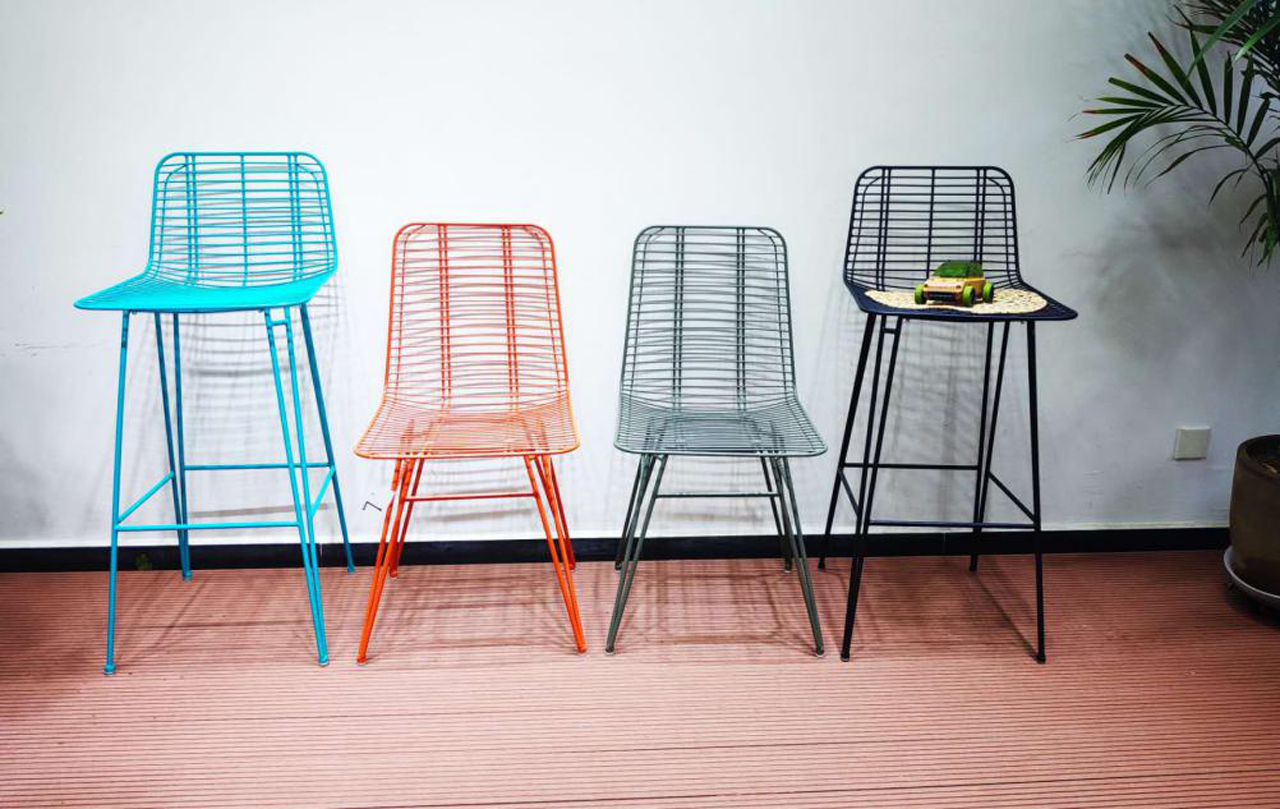 Above are our Top selling 10 models in Europe Market . Home furniture does more than fill your rooms. It's there for you, day and night. It's a chairs that invites you to relax, a dining table that hears the day's stories or a shelf that holds your memories. Whether you are looking for chairs or table, there are colours and styles that will work for your home.
Plan your ideal home with our range of easy to use planning tools. From kitchen and bathroom planning to office and garden solutions, you'll be able to create a unique space suited to your needs.
We offer a wide variety of home furniture products at discount prices. Find outdoor furniture made of durable plastic, fiberglass, metal wood, more interesting materials that are perfect for outdoor living. If any question, please feel free to contact us .