Wonderful designs need to be protected by patents.
This wire side chair item 5016B, which we have been well selling for many years, and has successfully applied for European patent EUIPO (European Union Intellectual Property Office) at the end of 2020.
The design of this wire chair is inspired by fishing nets. The diamond-shaped line and the wire wires are perfectly combined, which is giving people a natural atmosphere. The U-shaped frame design at the bottom makes this chair stronger and more stable when sitting. Equipped with a foot protection buckle, it can be used indoors without friction on the floor.
The unique design concept of this chair comes from our famous French designer Michel Millot, the chair he designed is not only unique in shape and design, but also in design line with ergonomics, making people feel comfortable when sitting.
We have been selling this chair in Europe for many years, and they all sell very well, especially in France, Germany, Spain and other European countries. The novel and unique design are very popular among home improvement designers. It will become the highlight of your home improvement and create a unique atmosphere. At the same time, its line hollow design is very suitable for small rooms, adding perspective to the house, reducing the blockage of the room, increasing the light transmission of the room, and making the small space more spacious and bright.
In addition to indoors, this chair is also suitable for outdoor use. After E-coating and outdoor powder coating treatment, it can effectively prevent rust when outdoor patio use. It is equipped with a high-quality PU cushion. The U-shaped base design makes it more stable outdoors, and can be matched with wooden long tables, which matching can increase the artistic mood even more.
You can go directly to EUIPO official website through patent number 008169643-0001 to view the patent of this wire chair. Interested guests can directly click on our official website link to get free samples https://www.bzmaka.com/product-item/wirechair5016b/, our professional customer assistants will give you one-to-one professional answers service.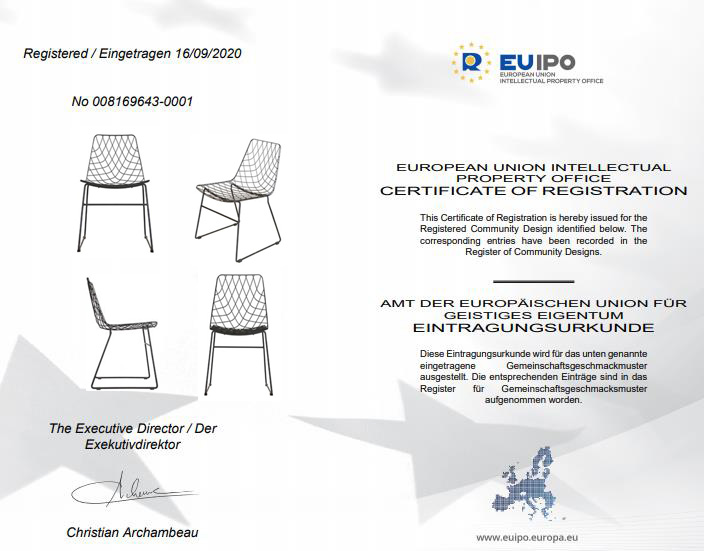 Wonderful! Share this Case:
This is What I Need, Contact ​to Customize.