After the epidemic, the sales trend and material of products have changed a lot, and the Metal wire chair is a new popular trend.
At present, there are more than 200 styles of metal wire furniture produced by MAKA furniture. These wire furniture contains different ideas. Steel bars can be mixed with small side tables, steel wires can be mixed with rattan weaving, all kinds of creative hollow iron patterns, and all kinds of smooth curves in line with human engineering are creative.
The hardware part of the iron style dining chair is mainly made of iron. The connection part is processed by welding process. After welding, the hardware chair frame will be polished. This not only makes the details of the iron retro dining chair look more beautiful, but also makes the hands more comfortable. After grinding, the hardware chair frame will be pickled, which is very important to ensure that the paint surface will not fall off easily on the metal frame. After that, the surface of the iron dining chair was painted. The cushions of iron chairs are usually made of leather, which can make the guests more comfortable. You can mix and match the cushions of the same color or different colors with the chairs. In this way, the theme dining chairs made in this way are more personalized and can make everyone have a good sense of wonder. Bring a modern and extraordinary effect to the surrounding environment.
The iron wire dining chair has a sense of industrial design, which can relieve people's pressure. The metal wire chair has a classic and generous atmosphere. The metal wire chair has a good balance and stability. It can be placed in any situation, and match with curtains, carpets, hangers, lamps and lanterns as a whole. In addition, it is equipped with personalized tea table and balcony flower rack, which makes the decorative furniture become flexible and full of passion.
A set of good dining table and chair can be used, and the dining environment is more comfortable. A family can not do without chatting after eating. The dining table and chair directly affect the happiness of family members when they have dinner and chat. The selection of dining chair size can be summarized as follows:
The seat surface height of dining chair is 45cm, too high feet can't touch the ground, too low will make sitting posture uncomfortable;
When the tables and chairs are used together, the height difference between tables and chairs should be controlled within the range of 28-32cm.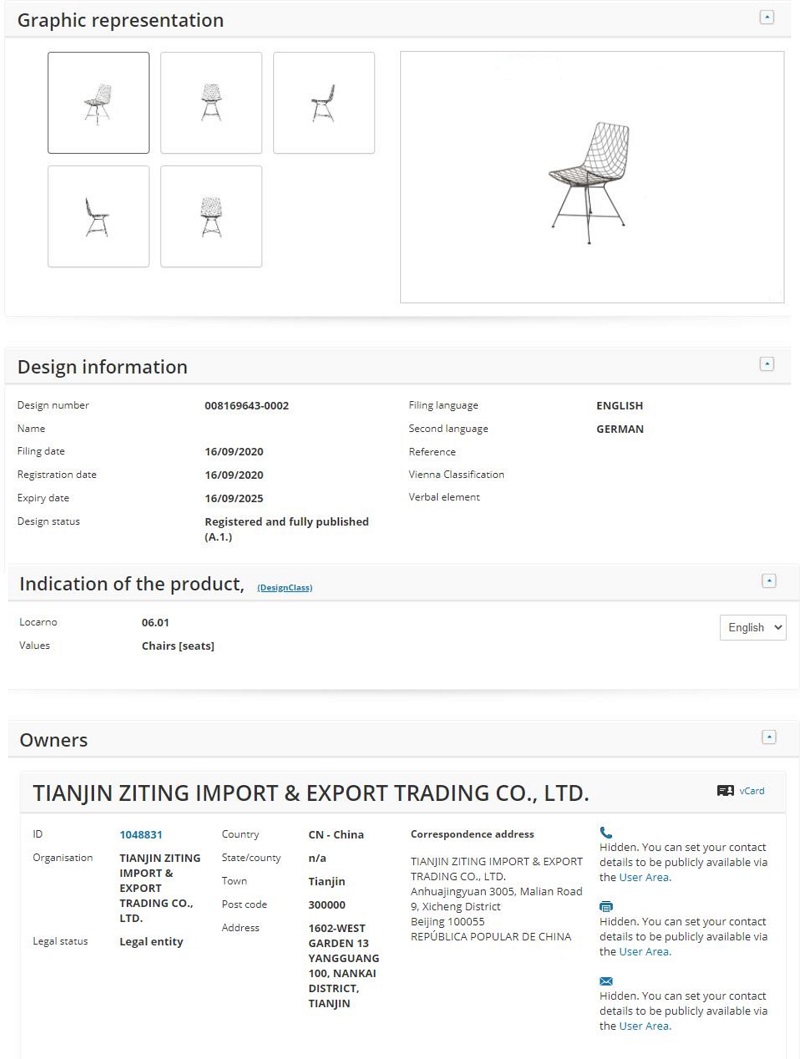 This lattice wire chair 5016a is very popular in European market, and its sales are very popular. It covers indoor, outdoor, household, hotel, wedding, decoration, garden, coffee shop, and can be used in all occasions. In particular, we have applied for the EU design patent, which is valid for 28 EU Member States
Including: Britain, Austria, Estonia, Belgium, Bulgaria, Cyprus, Czech Republic, Germany, Denmark, Spain, Finland, France, Greece, Croatia, Hungary, Ireland, Italy, Lithuania, Luxembourg, Latvian, Maltese, Netherlands, Poland, Portugal, Romania, Sweden, Slovenia and Slovakia.
No matter what country's e-commerce, furniture decoration stores, as well as wholesalers, large number of imports, retail furniture stores, DIY stores, outdoor appliances stores, Christmas gift stores, online shopping, B2C, TV shopping, large supermarkets, etc. can be sold.
If you are interested in our lattice wire chair 5016a, you can contact us online at any time.
Wonderful! Share this Case:
This is What I Need, Contact ​to Customize.