Whether it's experience or not, difference furniture designs come together all the time in the home's interior designs or some leisure areas. The contrast is always strong and easy to catch the eye. If you would like to combination, please try to mix chairs with difference style tables in your dining room, living room and yard. It's a very amazing look for this area of your house because it creates a fashion and comfortable area.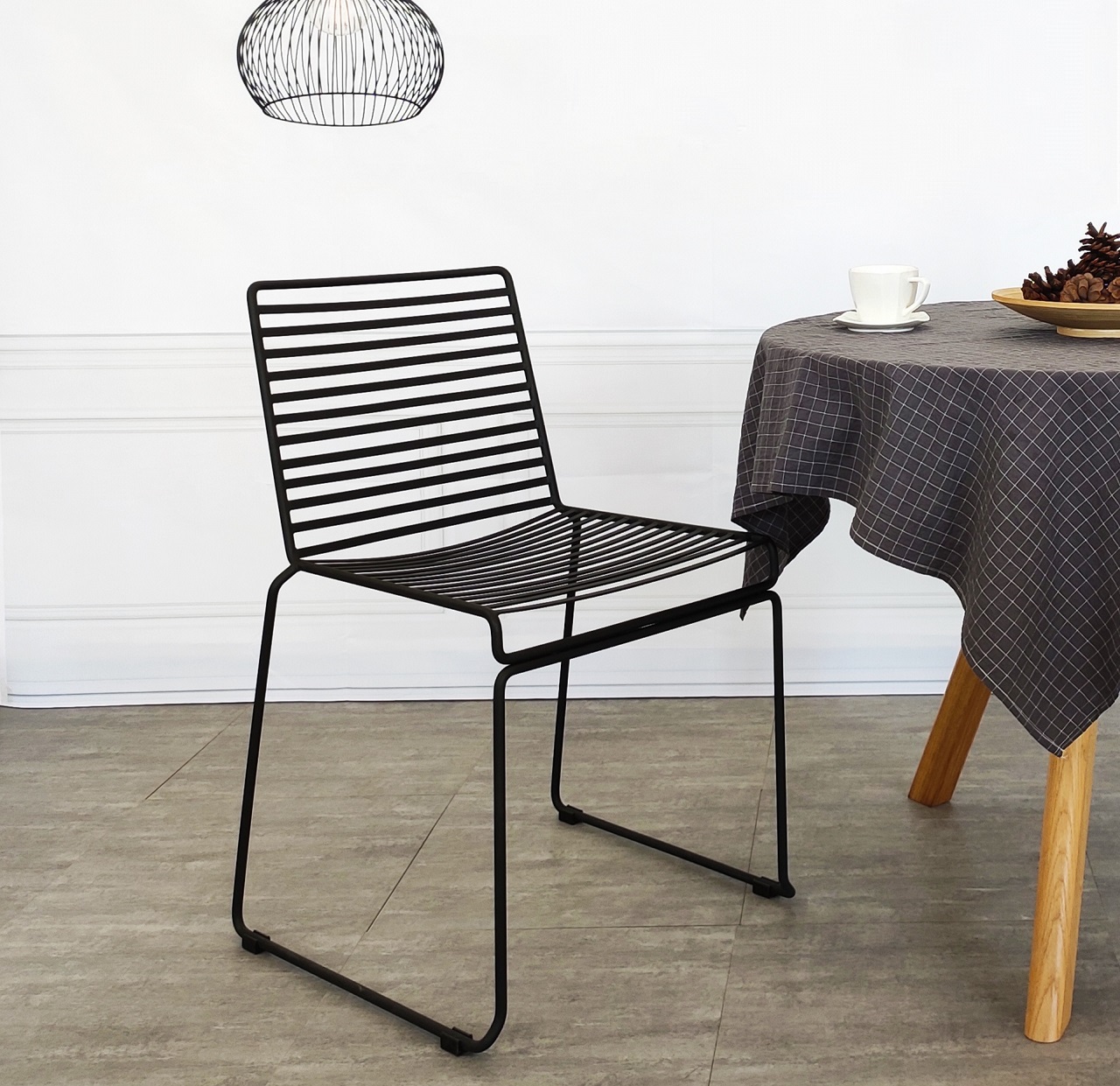 This combinations beauty is present in many ways. For example, the wooden table with a wire side chairs is perfect as the two complement each other wonderfully. Love the harmony lines between the frames of the wire side chairs and table. You will find the wire chairs are perfect if you wish to maintain transparency and spaciousness in your house. A small dining area can greatly benefit from these bent steel wire chairs design, in many designs, they also look very beautiful in combination with metal side table.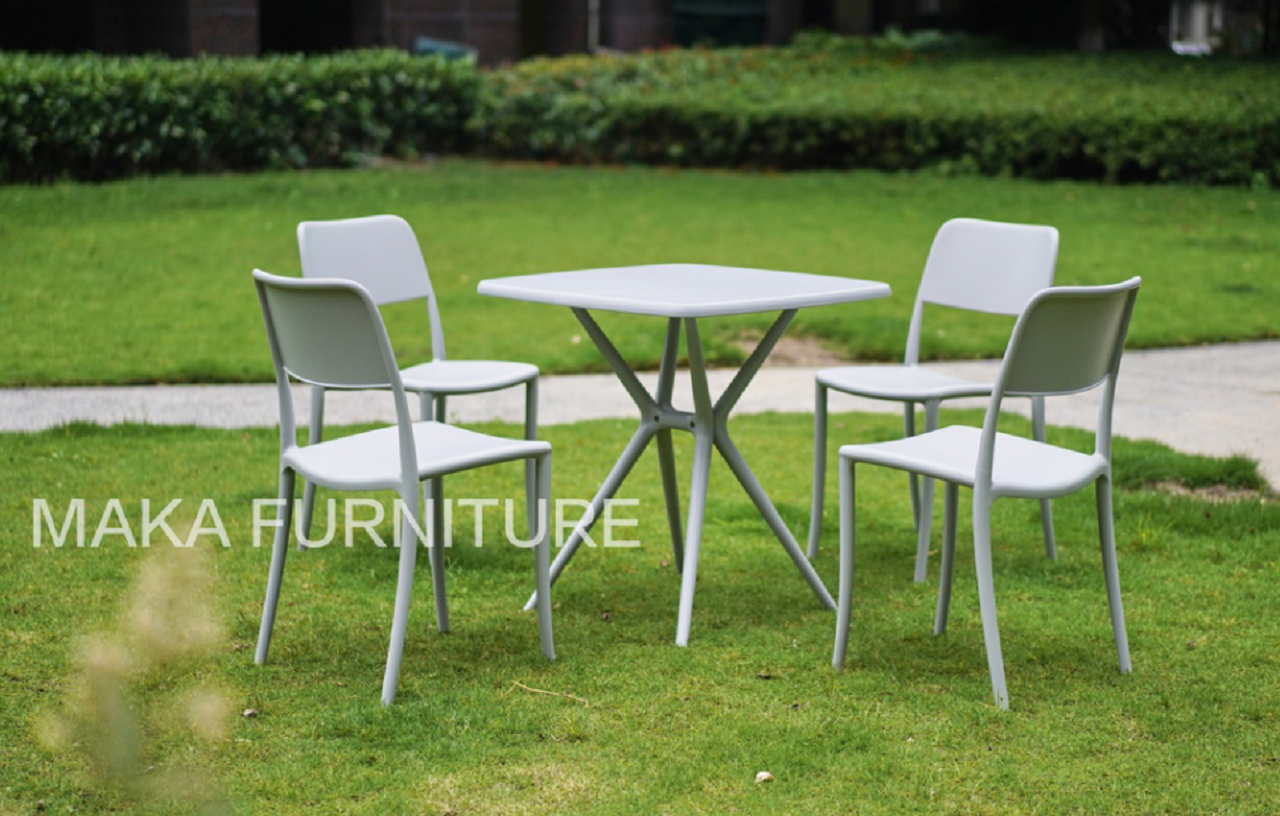 The plastic chair (PP chair) is all-purpose and popular furniture for the dining room and family garden yard. They are simple lines design but comfortable and nice. From the modern European style of simplicity, which seems to be simple but it doesn't mean there is no design, the kind of atmosphere and stable expression of temperament is the designer, polypropylene chairs with UV protection for outdoor use, and could be combined with free-style table and form a modern leisure decoration.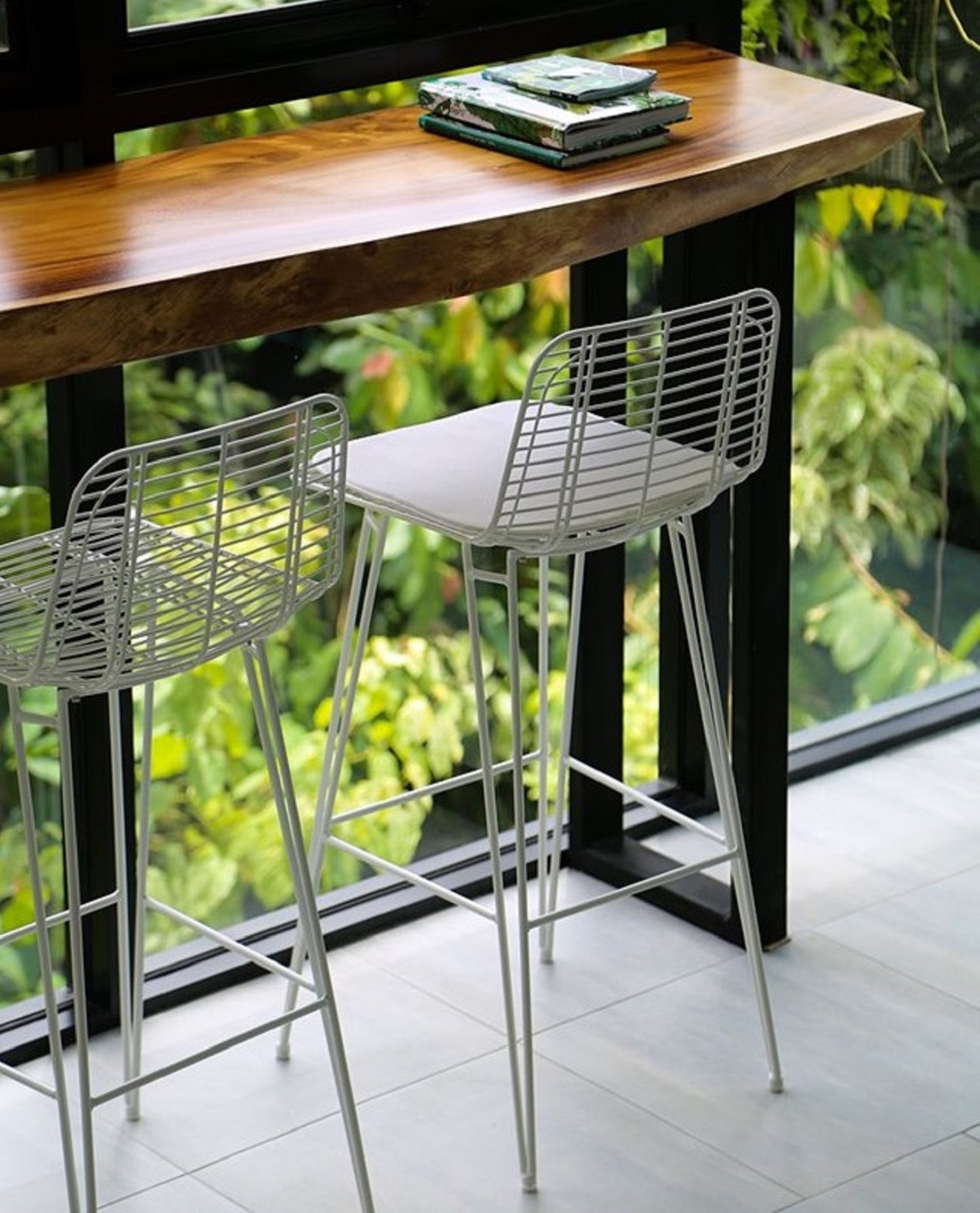 Complement your modern space with comfort and practicality with the wire bar stools, which are strong, sturdy iron frame for an ultra-durable design. Back and frame are durable metal solid wire with powder coating in a well finish for lasting good looks. Commercial-grade quality is durable enough to withstand everyday use at home or in your restaurant, bar, bistro or coffee shop. KD packing design for save your cost of postage. Sliders on the base to prevent slips and reduce damage to your flooring. Modern design matching with sleek style-lines for an industrial style, and fashion design ideal. Perfect for your home or bistro for sturdy and stylish seating.
After enjoy these beautiful combinations, let's first understand the origin and production process of these furniture before your perfect match.
These chair designs are all derived from Maka Furniture, more than 300 product models, and exports more than 700 containers every year to around the world, with an average of 2 containers per day. PP chairs and metal wire chairs are our main export products, which chairs sold to all over the world in the past 16 years. Over the years, we have pursued the quality of chairs, which is one of the reasons why our customers are loyal all.
Our story of the chair begins here!
Stackable polypropylene chairs
Maka Furniture's PP chair design is simple and easy comfortable, which accord with human body engineering, and adopts streamlined structure, and greatly improving the seat comfort, effective to alleviate fatigue, we always combined with fashion elements, walk at the forefront of fashion trends. Overall product designs with simple atmosphere, elegant, especially in Europe market, accordance with our products needs in all over the world.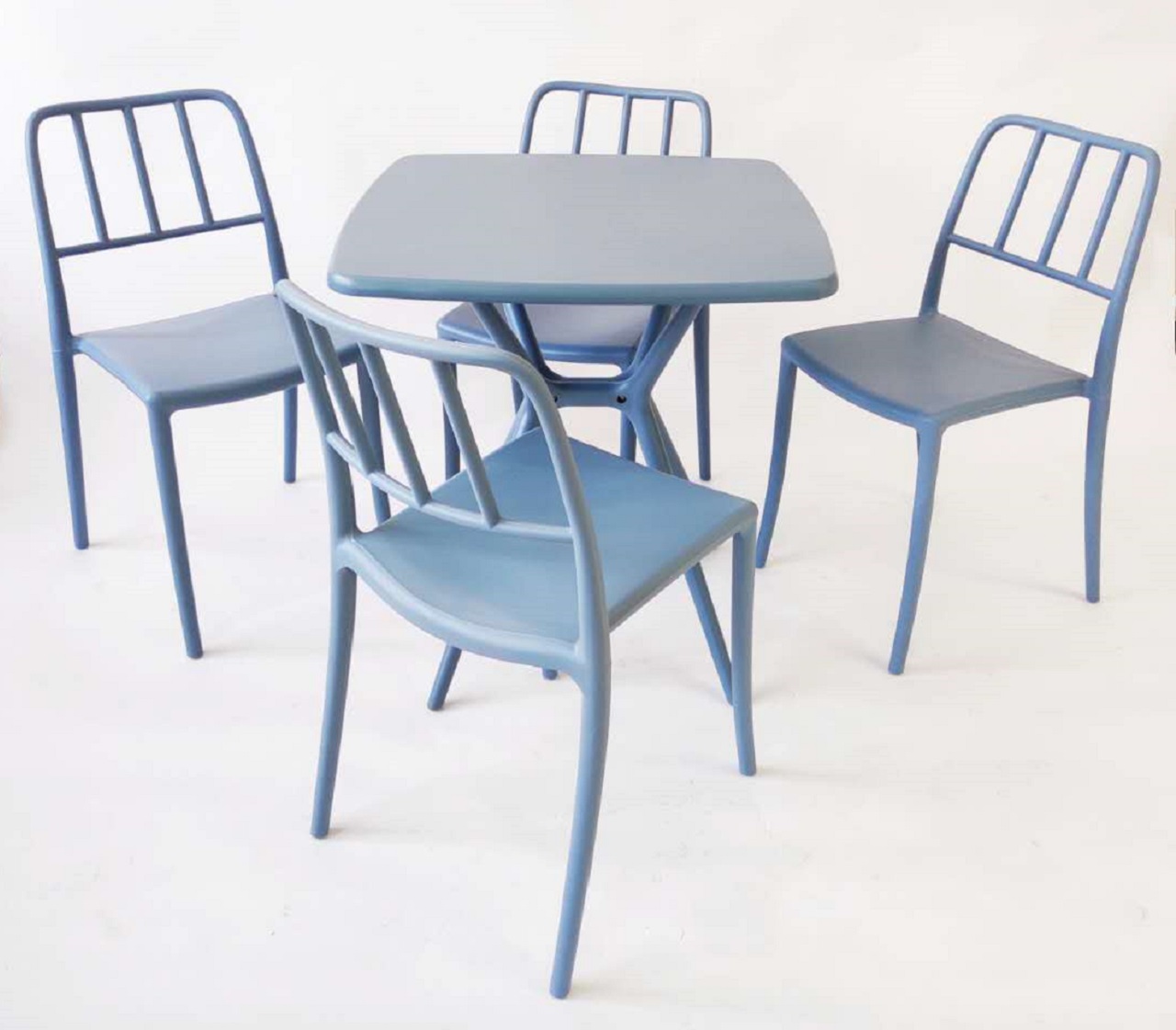 The PP chairs revolutionized furniture design with its durability and simple look. PP chairs belong to modern design and it's made of plastic (polypropylene). It's easy to understand why they're so popular and hot-selling in the world, which are manufactured in one piece around 2.5 kilograms or 5.5 pounds of polypropylene in injection molding process, they're cheap, light, waterproof and ultraviolet-proof, and easy to clean and disinfect. You can stacking chairs to save space when you don't use it. We love the way the designed of PP chairs, which is an create look with exciting beauty.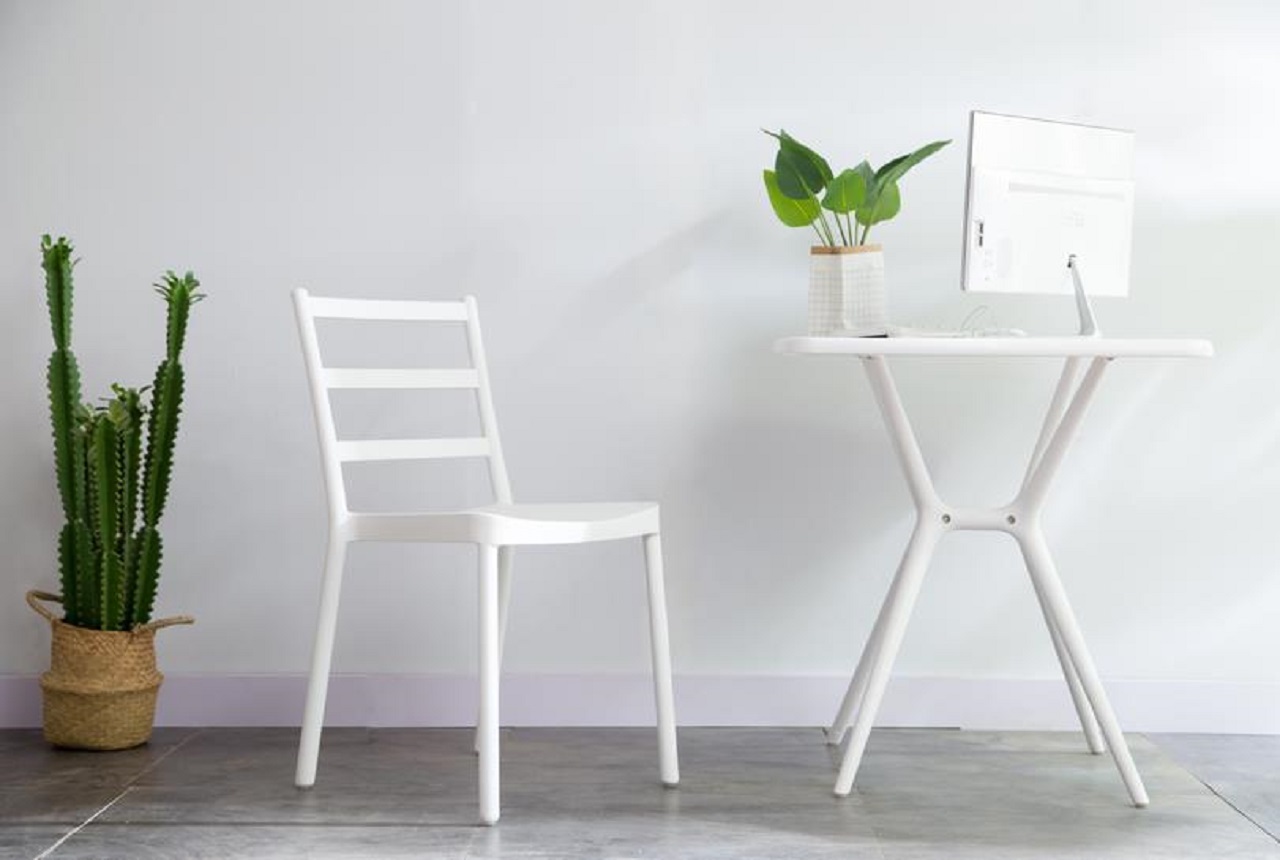 How to make the plastic chair? First of all, we need raw materials, such as PP particles, glass fiber, color master and UV. The PP is also resistant to warping and decay for an enduring structure. Stoppers on feet for stability and to protect your flooring. Strong footrest structure for a relaxed sitting position.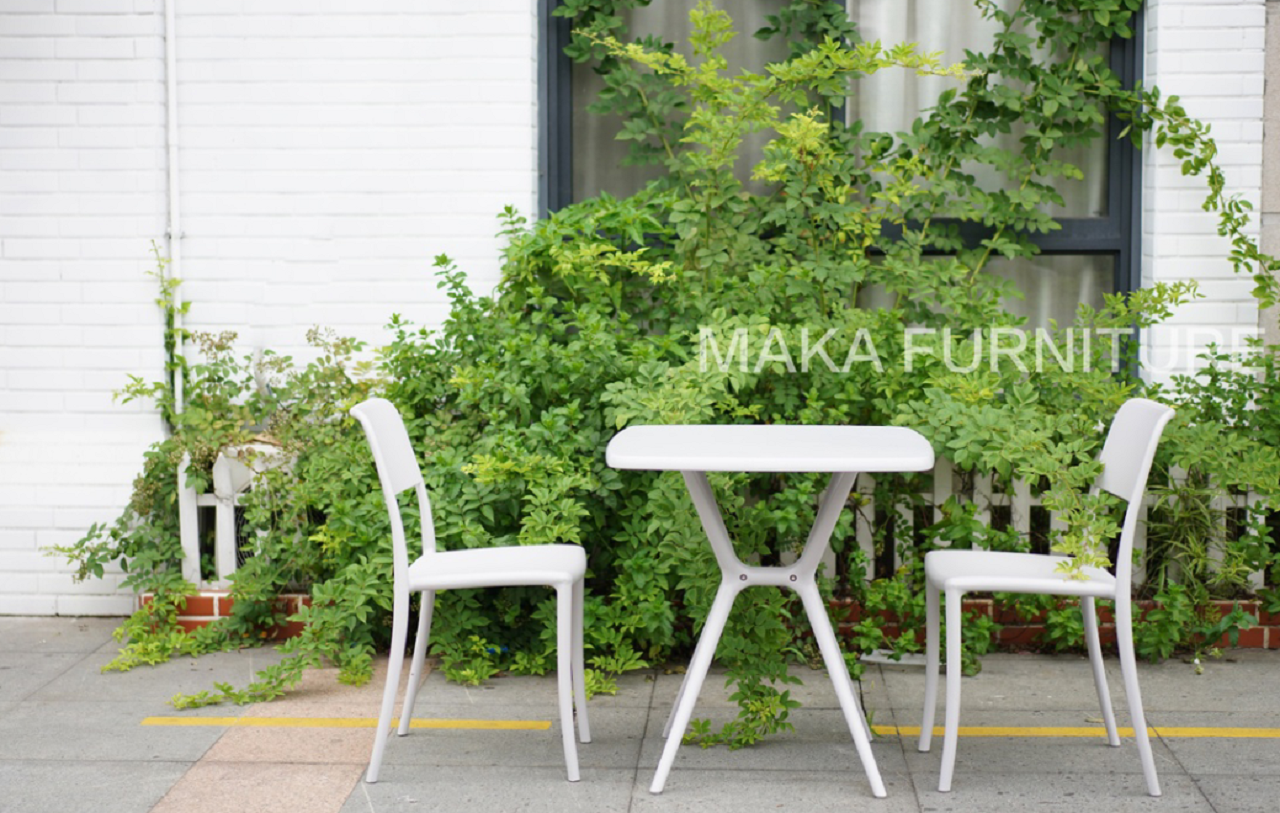 The plastic chairs had the material according to certain proportion mix well then we will put in a bag on the floor beside the injection machine, a bag of neatly packed in PP seat machine peripheral, next we pour the particles into the injection machine, from the mouth to enter after injection molding machine high-temperature melt mixing, molding into products, and then the process to make the product fully formed, this process takes three minutes, finally is a molding.
Maka Furniture's PP chairs have a very wide range of use since our factory is specialized in indoor and outdoor furniture, with an emphasis on outdoor. You should know that our many customers who buy outdoor patio furniture attach great importance to the following points: water resistance, easy cleaning, UV protection, firmness, and easy collocation.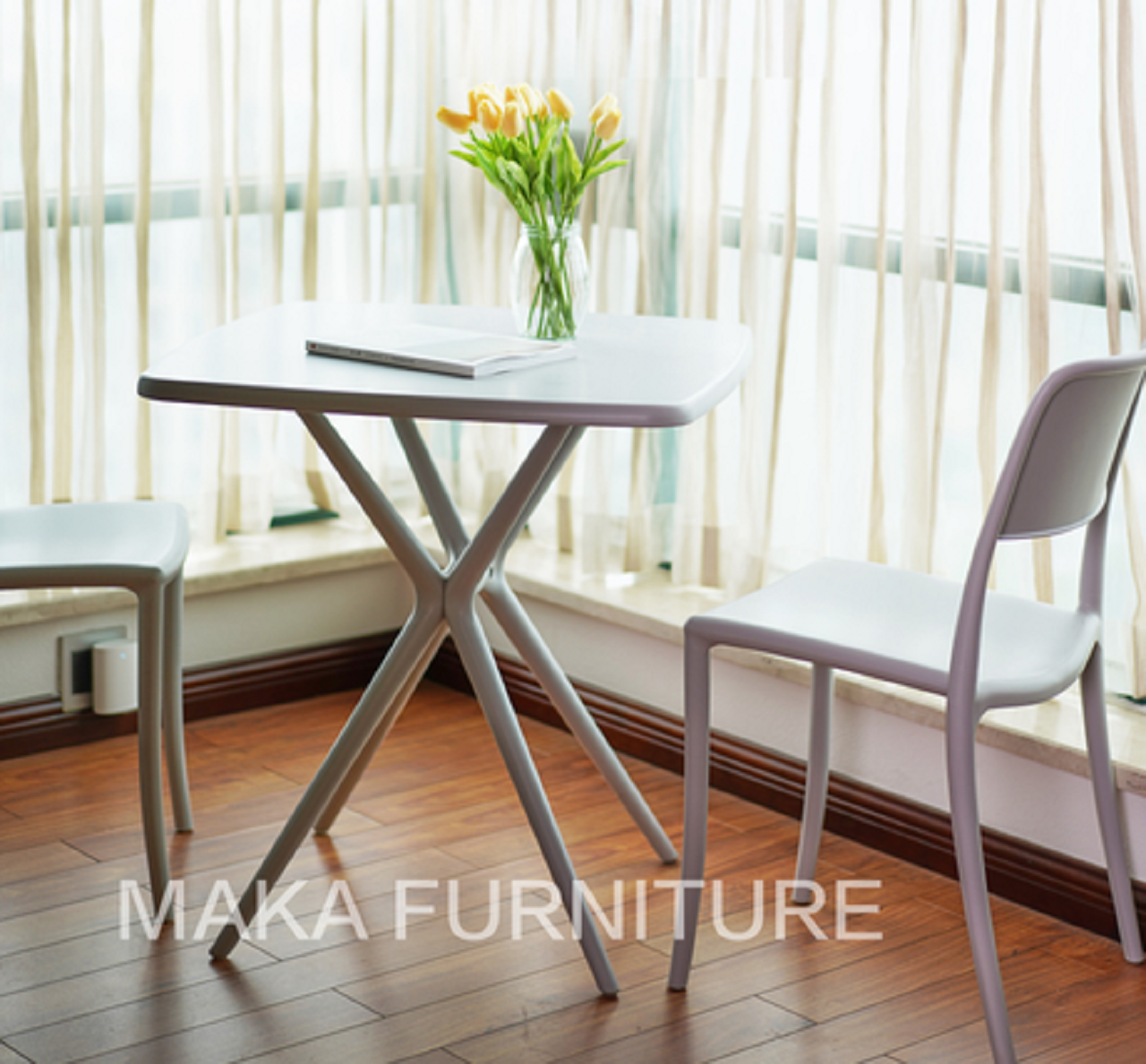 It is worth mentioning that our all plastic chairs are our original designs and registered with the European patent EUOPI. Their quality is in line with European standards and can pass the tests like REACH/EN581/EN12520, etc. Recently, our D & R team are working on more and better designs, and also create unique designs for you if the client has a specific design concept.
Metal wire chairs
Maka Furniture's another main product line is metal wire chairs.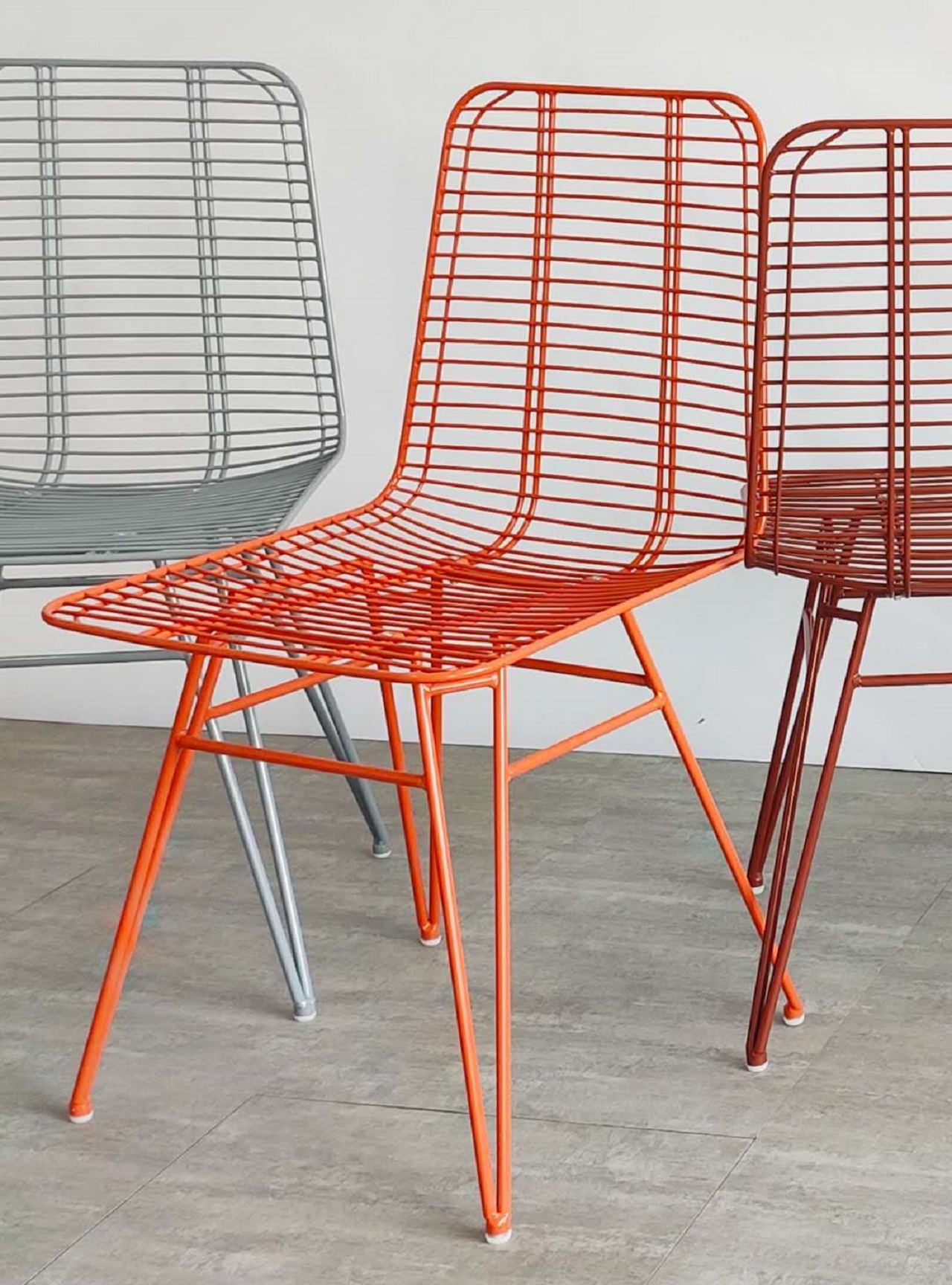 Due to the steep price tags of wooden outdoor furniture, metal wire chair is becoming an increasingly popular choice. Metal wire chairs are lightweight, durable, easy to assemble, and doesn't require much maintenance. Wire side chair is a well option, and both usually need to be coated with a protective finish known as outdoor powder coating. The good thing about metal outdoor furniture is there are a lot of options at any price point according to your needs. Powder coating and E-coating involves layering a protective coat over the metal for increased strength and resistance to corrosion.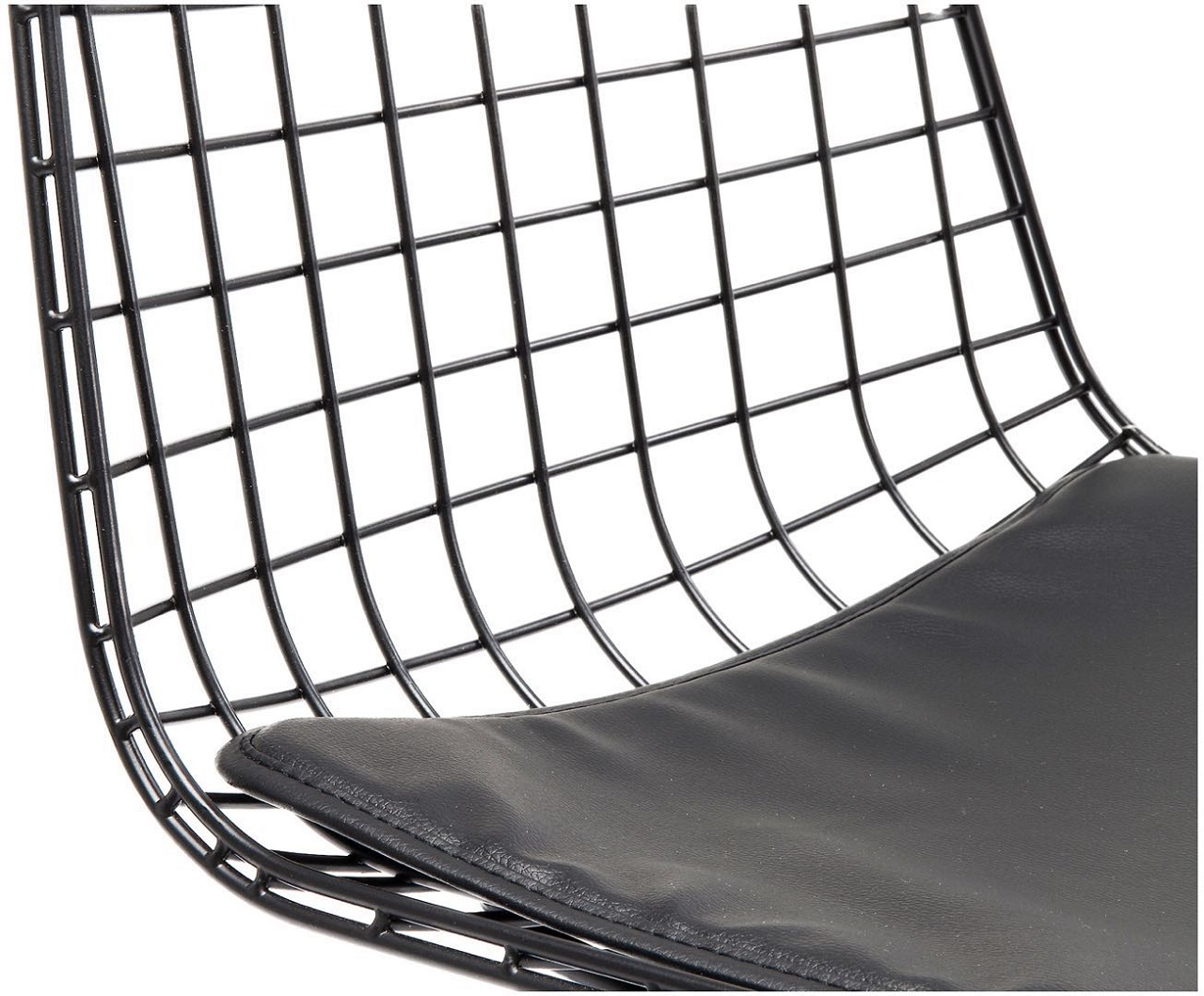 The material of the wire chair is metal iron, we chose the top-quality metal iron as row material, after a series of production processes, such as welding, polish, acid leaching, sand blasting, E-coating and painting, the strong structural design and stability can pass the European standard test. We have strict quality requirements for the painting of chairs, all using the EU standard green paint, smooth but not loose, strong adhesion and keep the gloss. And the paint, PU cushion are lead-free, mercury-free, o-benzene free, absolute environmental protection, let you more secure and no worries when using it at home.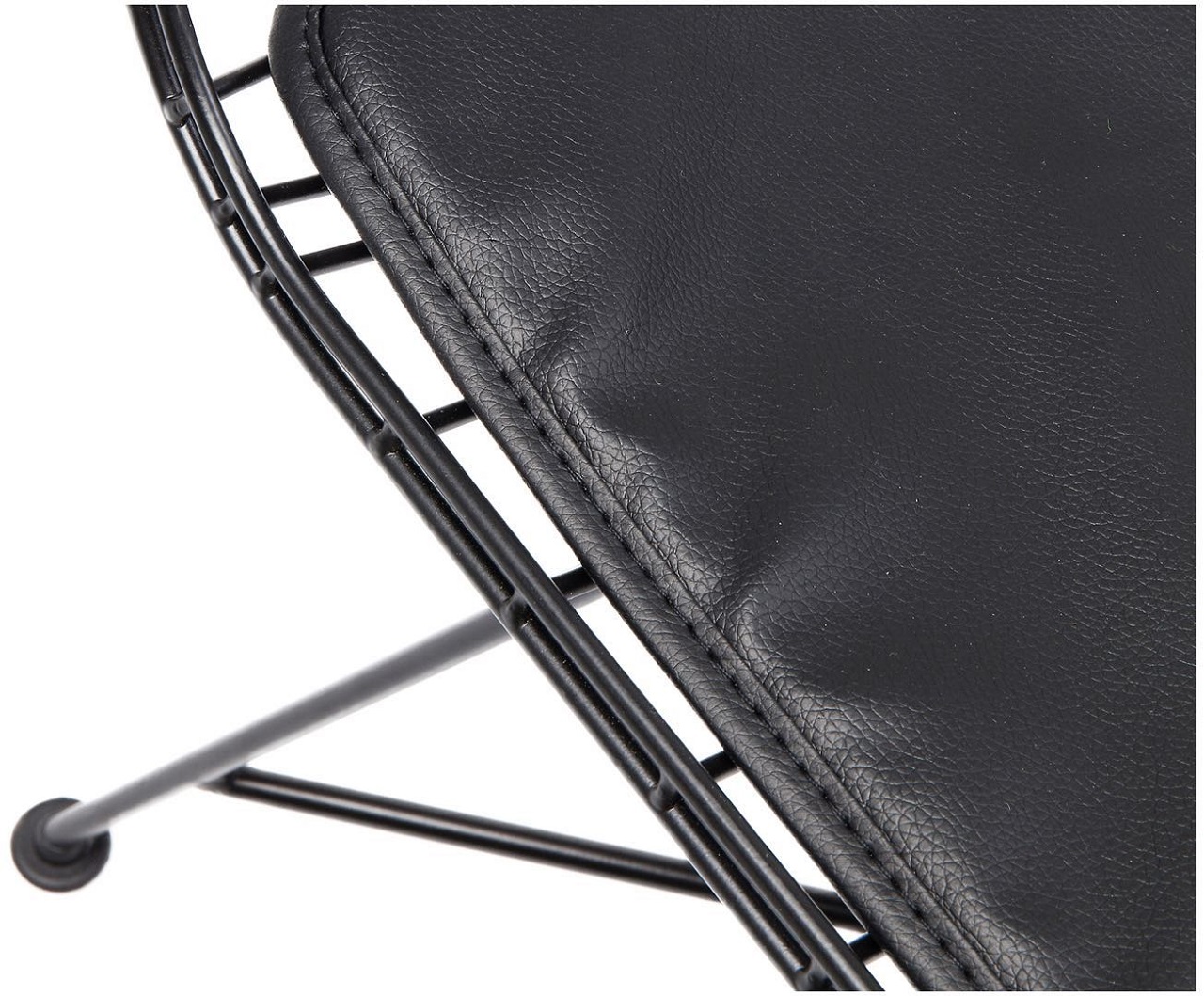 The color of chair of iron wire chair have classical white and black, additionally gold, silver, rose is aureate also be modern fashionable colors, the flowery degree of color is other furniture things can't achieve. Especially some engineering and leasing, wedding furniture customers, they are love beautiful colour, high-end atmosphere, which chairs bring advanced luxurious sense to their customers. And this kind of metal wire chairs suitable for various occasions, according to the data of the customer feedback in recent years , we also found that more and more families choice chairs focus on the color, and more leisure and lively.
Above designed chairs works well indoors and outdoors for adaptability. Classic design for timeless appeal. Weather resistant make chairs will not fade under direct sunlight. Channel laid-back vibes in your home with the casual and practical seating of the studio office, outdoor patio leisure chairs, and wire dining chair from your life interiors.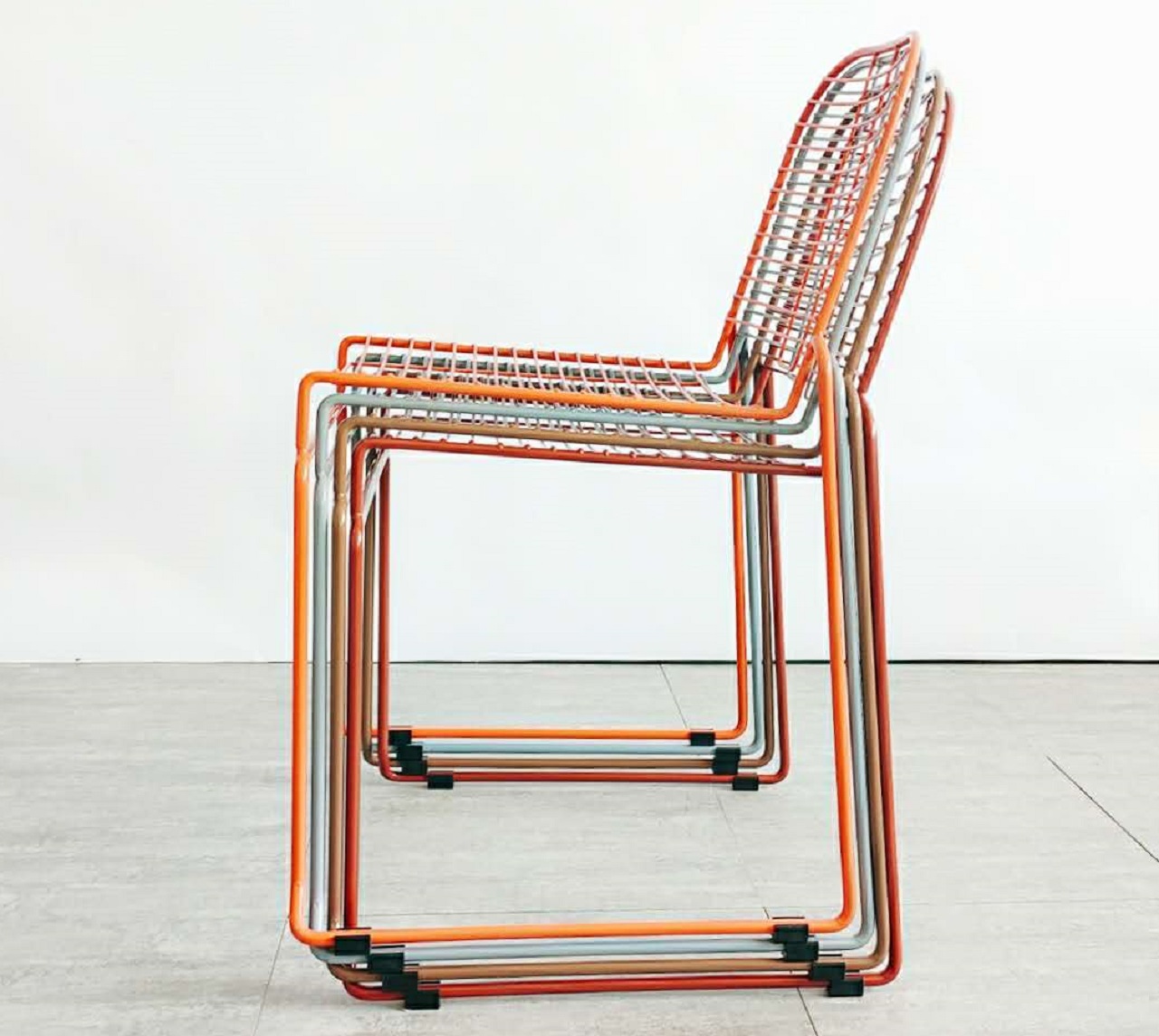 After understanding the characteristics of these chairs, you will be better able to match the different materials of the tables and chairs . Maybe this is a very interesting choice from your try and a nice way to add a modern decor and to make the room feel a little more modern and warm. You could try to well use these tables and chairs to decorate your space.
If you don't want to design it by your own for home decoration, we can also provide for you with an all round services. And a very fast lead time for you, It's important to be able to meet your immediate needs.
Maka Furniture's furniture was welcomed by many countries if you want to know the purchasing furniture product is the need for timeliness, so the delivery date is very important. Maka Furniture factory has many years professional export experience since the machine equipment with good and factory workers skilled and can give customers with the best time of delivery, the fastest lead time can help you occupy the local market. So, our factory is a long term and steady relations of cooperaton of customers from many countries, and we have developed into a leading manufacturer of furniture in China due to our good pre-sales and after-sales service.
Maka Furniture will not let you down, you will love it once you try.